Damnoen Saduak Floating Market - The Little Venice
Sujoy Dhar 18 Oct 2020, 10:52 am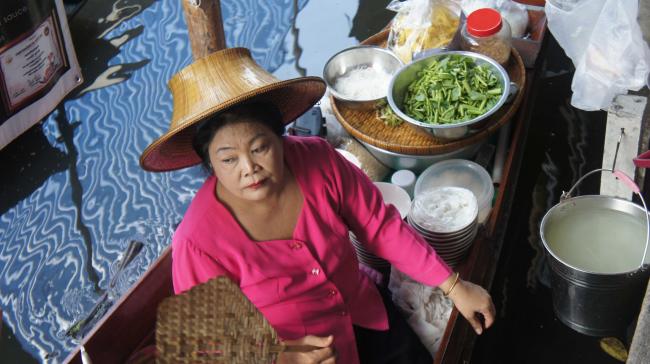 Floating Market
As you bargain with a persuasive Thai woman over a period sword to enrich your exotic souvenir collection back home or even try to buy a steaming local dish, a water monitor resembling a mini alligator scampers past you, giving you some creepy moments. But you soon calm down observing the absolute unconcern of the people around to the reptile, and go back to bargaining hard for a Thai mask or some Buddha statue. Imagine all these while floating in a canal on a boat quite luxuriously.
On a busy day teeming with tourists across the world, Damnoen Saduak offers a unique sight of a market that prospered in and around a network of inland waterways that characterize Thailand.
Antique Buddha statues, swords, masks or lip-smacking Thai street food prepared by the women on boats, Damnoen Saduak is a tourist's delight to shop effortlessly, appreciate some Thai delicacy or simply laze around reclining in your boat and take photographs as your boatman steers you around.
Damnoen Saduak is one of the largest among the floating markets in Thailand and in fact a trip to Bangkok is never complete without a visit to this one that has developed over time in the canal criss-crossed nation.
Bangkok's inland waterways are its major attraction earning it the sobriquet Venice of the East.
Damnoen Saduak is in Ratchaburi province, only about 80 km southwest of Bangkok. Take any of the bus tours that take you to Damnoen Saduak. A taxi ride is possible too, but that probably will burn a modest hole in your pocket.
Damnoen Saduak was actually the name of the canal dug during the time of King Rama IV by the military men. Rama IV, or King Mongkut (1804 –1868), was the fourth monarch of Siam (Thailand) under the House of Chakri, ruling from 1851-1868. He was highly revered.
For trade and economic prosperity, the King had dug the canals and linked the rivers Taachin in Samutsakorn Province and Maklong in Samutsongkram Province.
On either sides of the canal are several modest dwelling where people live. They are mostly farmers. The area is not squeaky clean, it is rather putrid in some places, but then this floating market has a flavor of its own.
The floating market is open from 8 am in the morning till around noon and it is a vibrant sight watching the many vendors selling their products- from vegetables, fruits and fast food to antique pieces and hats. Thai women row their boats spilling over with the products or farm produce to your boat and persuade you to buy them. On the banks there are bigger shops. Thai men standing with scary looking pythons wrapped round their neck and hands along side the shops make an interesting sight at Damnoen Saduak.
You can anchor our boat on the banks midway, disembark and go atop the over bridge and take splendid and colourful pictures of the floating market teeming with boats, Thai women vendors in traditional flat topped hats, myriad products for sale and tourists across the world. The sight of enterprising Thai women paddling along the canal is one you savour and come back with as a wonderful memory of this little Venice.
Besides traditional boats, the long-tailed motor-powered boats are now very popular and you most likely would ride in one of those.
Damnoen Saduak is a rural area with thousands of small plantations and quite famous for its vegetables.
The floating market is a focal point for people who reach there by canal to barter their farm produce in exchange of consumer goods from the city.
Besides the canal area, the place has many beach restaurants where you can relish the local seafood or a meal of difference while watching a glorious sunset.
Here in Damnoen Saduak is a museum set in natural surroundings, containing artifacts from the old period.
A huge cave with beautiful rock formations inside is also another place to visit.
Wat Charoen or Fish Temple here is alive with fish of many shapes, sizes and variety. You can feed the fish here too.
Tam Kang Cow is another lovely setting where at 6 pm you can see the sleeping bats awaken and fly out of a cave in countless numbers. It is a wonder and a must see here.
For the young couples or honeymooners, the place offers a very romantic resort for stay. It is called Baan Sukchoke and it is in a natural setting. From the resort you can visit the floating market in a boat or by tuk-tuk to other tourist attractions of the place.
The small wooden bungalows surrounding a pond are a bit rickety, but those who have stayed there say they are clean and comfortable.
The pond is connected to the canal and the water is beautifully floodlit at night. An outdoor restaurant here attracts all visitors.
Damnoen Saduak should not be missed on a trip to Bangkok.
FACTSHEET:
Damnoen Saduak is located in Ratchaburi province, about 80 kms southwest of Bangkok. It is most active between 06.00 and 11.00 am.
How to get there from Bangkok: You can visit there by bus or taxi from Bangkok. It takes around two hours. Start a little early so that you reach there at least by 8 am to enjoy the best of the crowded scene. If you are with a tour operator, they can take you by any of the SUVs or mini buses or cars. An independent taxi ride to the place can be around 700 Baht (plus) for a return journey.
Public buses leave the Southern Bus Terminal in Bangkok every 40 minutes from 06:00 am. The fare is around 50 Baht for air-conditioned buses. At Damnoen Saduak you can get a boat to the market from the nearby pier. It can cost around 100 Baht for a paddle boat. However, all depends here on the trip you want to take or the places you want to go.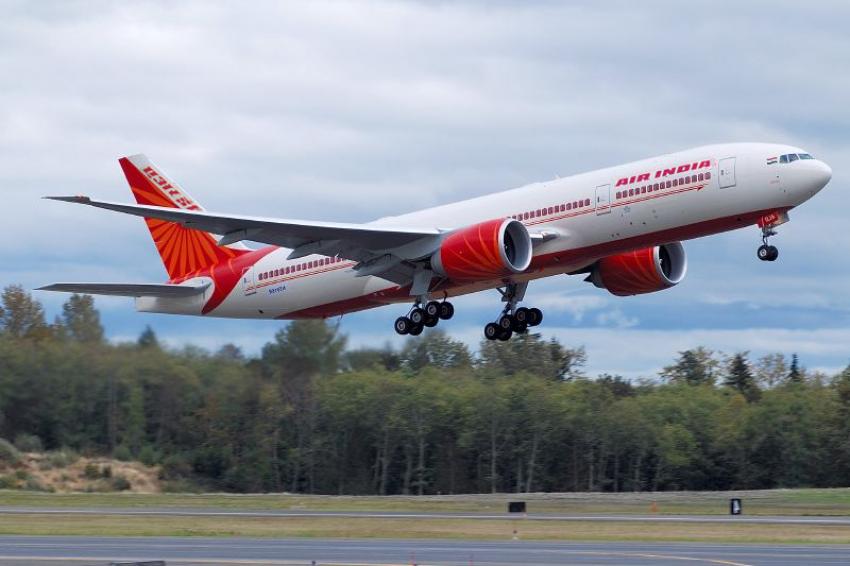 Air India deploys newly ind ...
Gurugram: Air India, a global airline in India, has initiated the deployment of its recently acquired Boeing 777 aircraft to serve all three non-stop routes from Mumbai to the United States.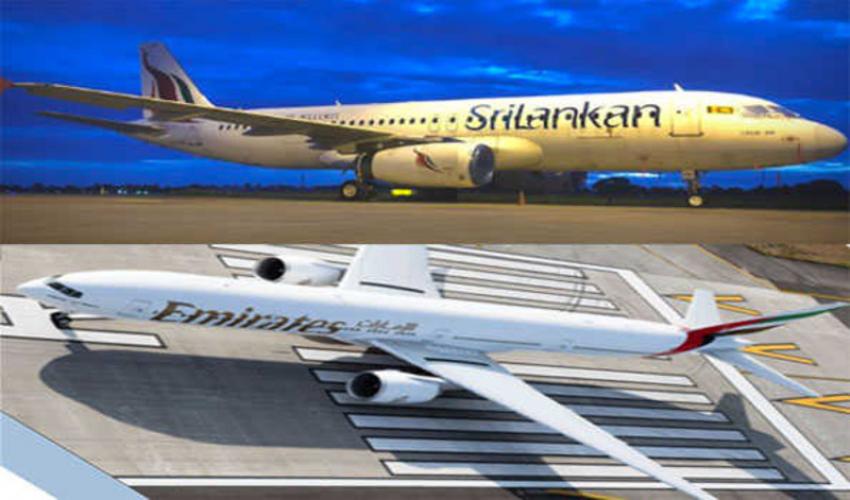 SriLankan Airlines, Emirate ...
Colombo/UNI: SriLankan Airlines and Emirates have entered into a reciprocal interline agreement aimed at bolstering connectivity for travelers.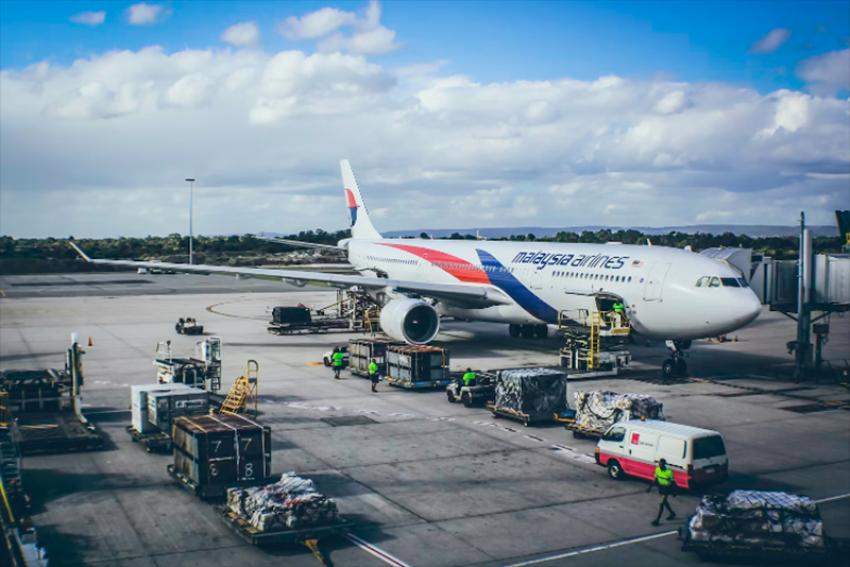 Malaysia Airlines introduce ...
Kuala Lumpur/NITN: Malaysia Airlines is offering introductory fares on their three new services between Kuala Lumpur and the Indian cities of Amritsar, Thiruvananthapuram and Ahmedabad.