Bandel: Pocket-friendly weekend getaway from Kolkata
Sudipto Maity | @notintownlive | 15 Nov 2021, 10:28 pm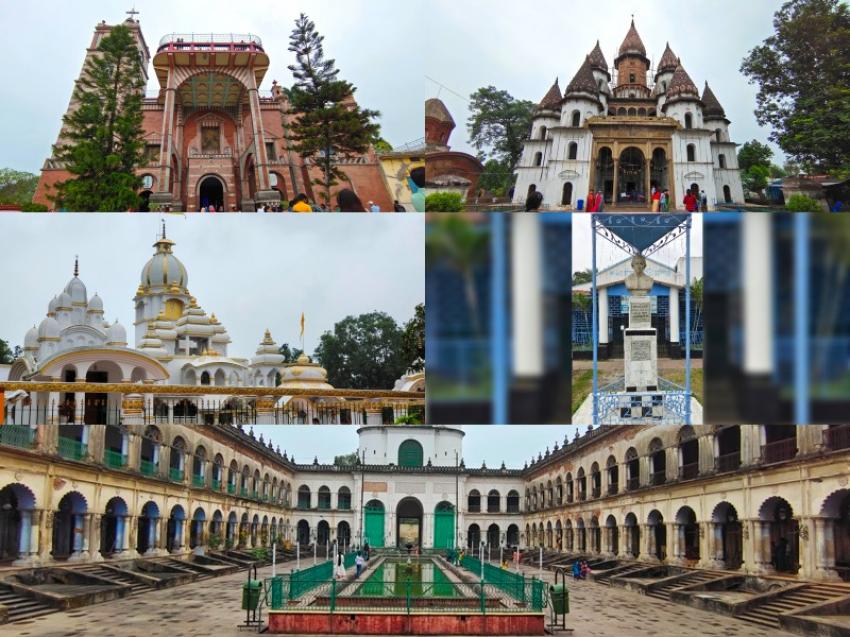 Bandel Tour
Top left to right: Bandel Church, Hangseshwari Temple. Middle: Lahiri Ashram, Sarat Chandra Memorial Library. Bottom: Hoogly Imambara. Photos by Sudipto Maity
It's that time of the year that witnesses a surge in picnics, outings and short trips in this part of the country, mostly due to the weather- which gets progressively better for outdoor activities- and partly because the year is about to end, heralding a fresh start.
So, if you are in Kolkata or within proximity of the city, here is a short trip that can fit perfectly into your Sunday/weekend, while keeping the expenses in check.
Our destination is some 50-odd kilometres from the capital, Kolkata, to the Portuguese heartland in Bengal- Bandel. You can either book a cab and travel to these or take a train. I prefer the latter (personal choice). For a cab, negotiate with the service provider. For train:
Reach Howrah Railway Station (Old Building).
Book a Howrah-Bandel return ticket for Rs 20.
Either board a Bandel local train (wait for the announcement at the station or take help of the display boards).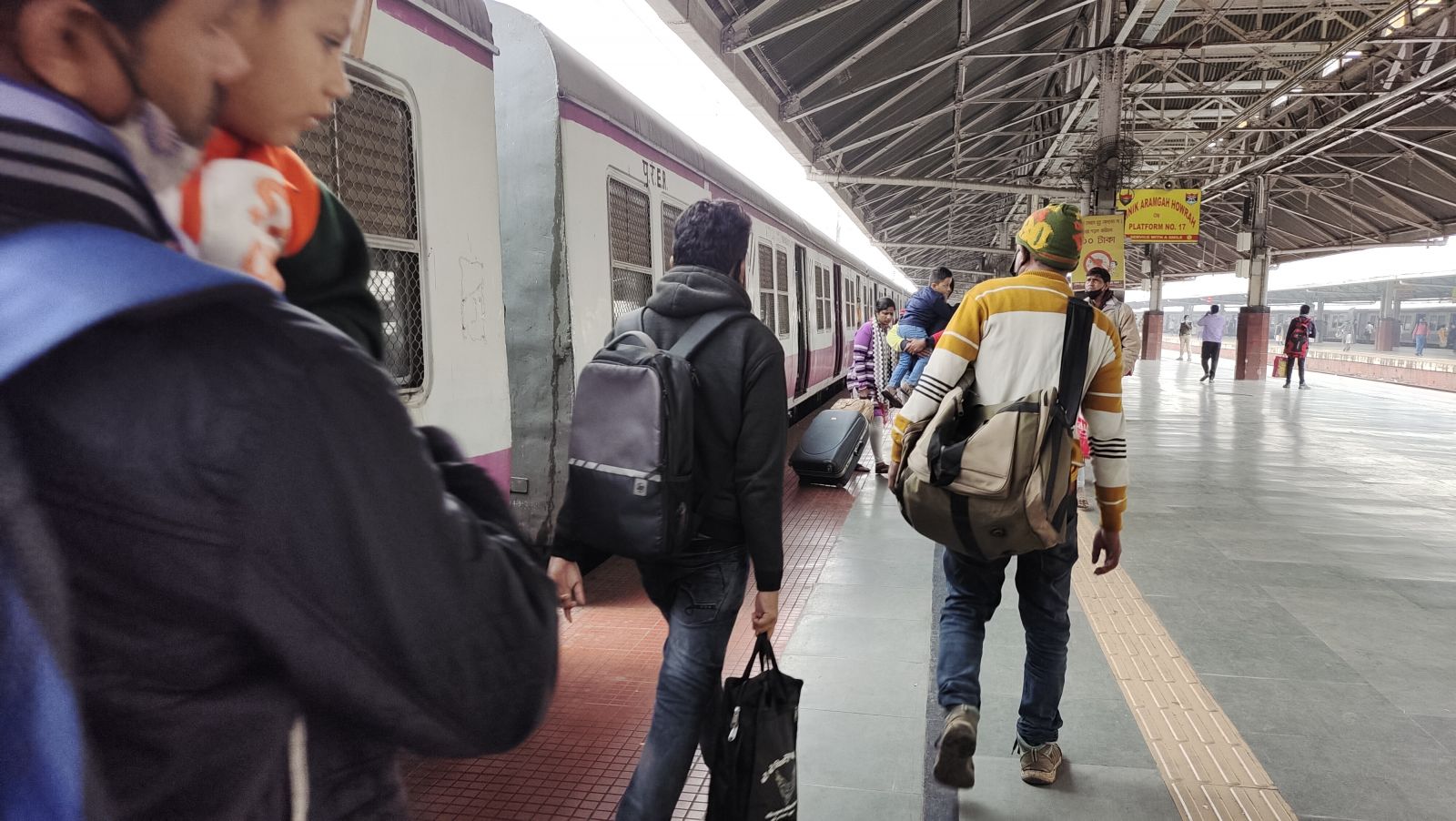 I boarded a Howrah-Bardhaman Main line train from the railway station. Photo: Sudipto Maity.
Or, board a Howrah-Bardhaman MAIN Line train. (There are two variants- Main and Chord. A Chord line train will use a different route)
If unsure, ask fellow commuters. Trust me, it is a very common query and people will be happy to help you.
Once inside, get yourself a seat and wait for the journey to commence.
If the train travels as per its original timings, you should reach Bandel by an hour.
Though famous for housing the Bandel Church- the place is home to several other attractions- transcending the religious barrier.
Here are five places for you to visit in Bandel: -
The Church
Declared a mini Basilica by Pope John Paul II, it is one of the most revered churches in India and attracts thousands of tourists during Christmas. The site is a lively proof of the Portuguese occupation in the area, responsible for the growth of Christianity in the region.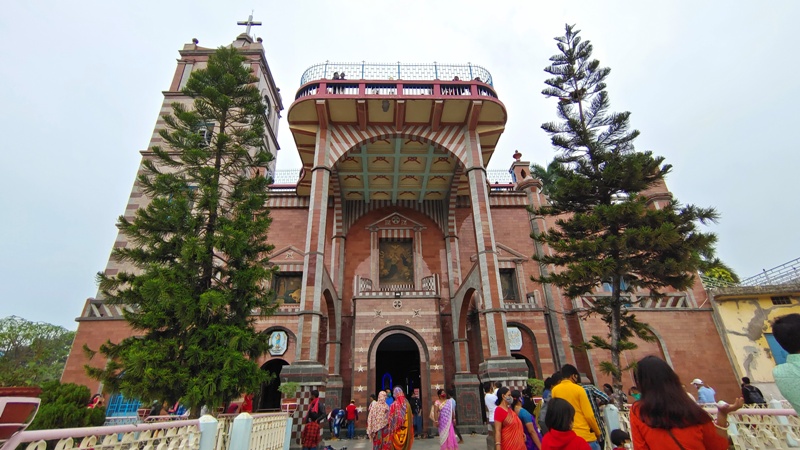 Bandel Church. Photo: Sudipto Maity.
Like most churches, the entry is free for all, as long as you abide by the Covid-19 protocols. Keeping aside the religious factor, visit the place to enjoy its beautiful arches and rich history.
Photo: Sudipto Maity.
Entry timings: Usually opens at 10:00 am and closes at 4:30 pm, but timings can change without prior notice, owing to an active pandemic situation.
Getting there: Hop into an autorickshaw or a toto (e-rickshaw) and there you go! The fare could be anything between Rs 30 and Rs 60, depending on the number of co-commuters.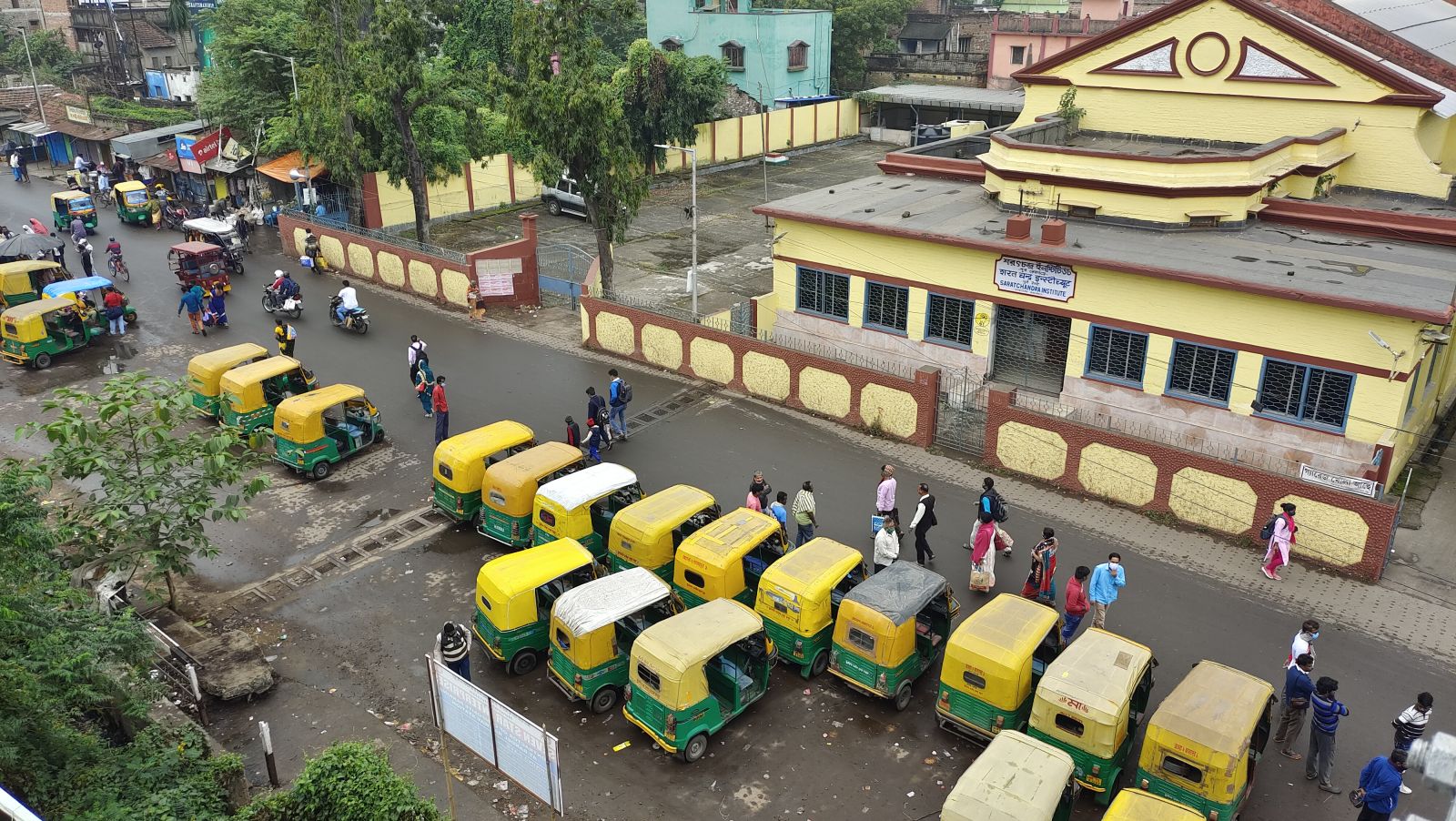 The autorickshaw stand is just outside the Bandel railway station. Photo: Sudipto Maity.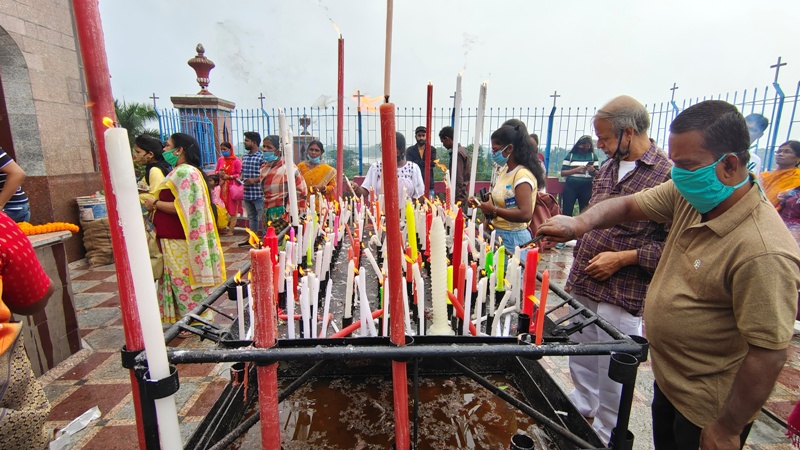 Photo: Sudipto Maity.
Time allocation: 30 minutes-2 hours
Hooghly Imambara
Less than a mile away from the church is this place that spells grandeur like no other. The Hooghly Imambara is a mosque for adherents of Shia Islam. However, unlike the church, the Imambara is not a free entry spot. You need to purchase a single-time entry ticket for Rs 10 to be able to enjoy its offerings.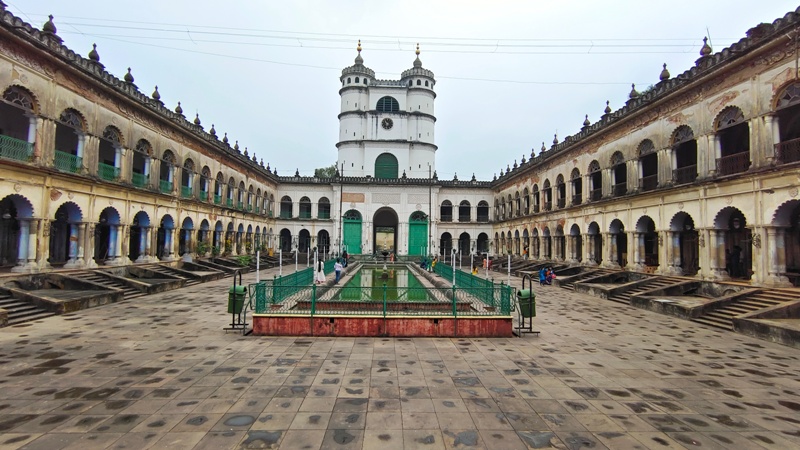 Photo: Sudipto Maity.
Apart from the breathtaking architecture, the place has a clocktower, facilitating a bird's-eye view of the place, if one braves the 156 steps to go all the way up. While at the Imambara, you can also enjoy a boat ride (negotiate for price) in the Hooghly river, which flows a few yards away from the building. Oh, and pray for a sunny day, only if you wish to witness a sun clock in action.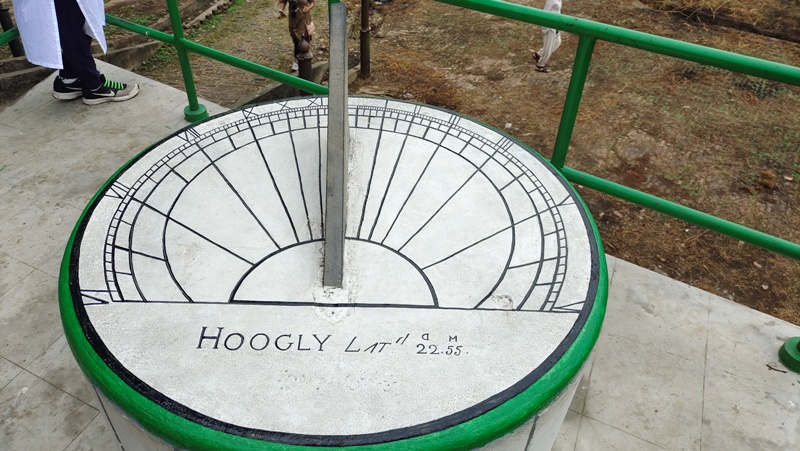 Sunclock. Photo: Sudipto Maity.
Entry timings: The site opens at 8:00 am.
Getting there: Same as the Church, though the fare may increase as it is further away.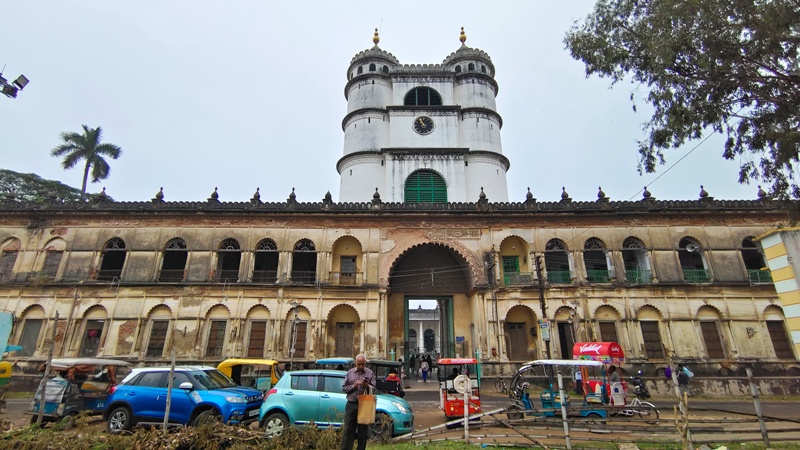 The Imambara facade. Photo: Sudipto Maity.
Time allocation: 15 to 45 minutes
Hangseshwari Temple
This Hindu shrine is one of its kind, from the architectural standpoint. It resembles a church more than a temple- devoted to Maa Hangseshwari, its deity. The entry is free, though you have to take your shoes off before entering the temple premises. If you are worried about your shoes, you can keep it safe with a shoe-keeper for a deposit of Rs 2 per pair.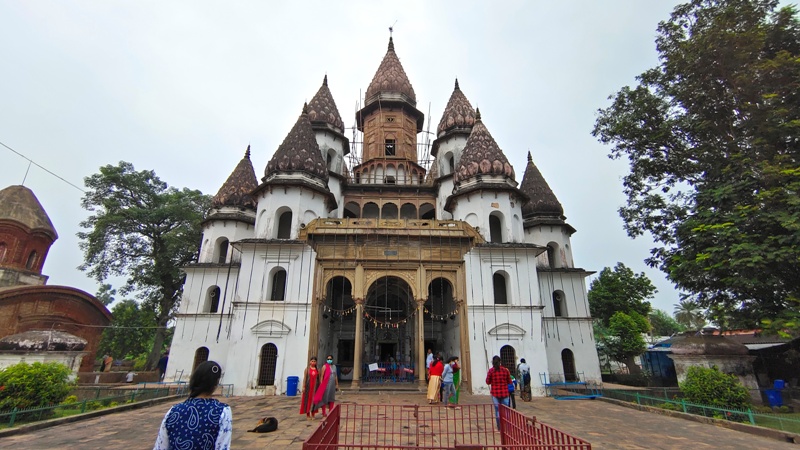 Photo: Sudipto Maity.
Apart from the main temple, it also has another one, dedicated to Lord Vishnu/Narayana. If you wish to offer prayers and sweets, there are several shops nearby to facilitate your needs.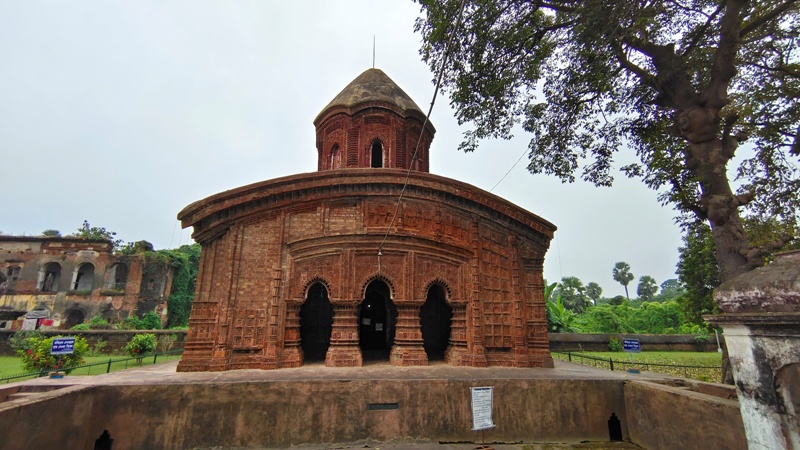 The Lord Vishnu temple. Photo: Sudipto Maity.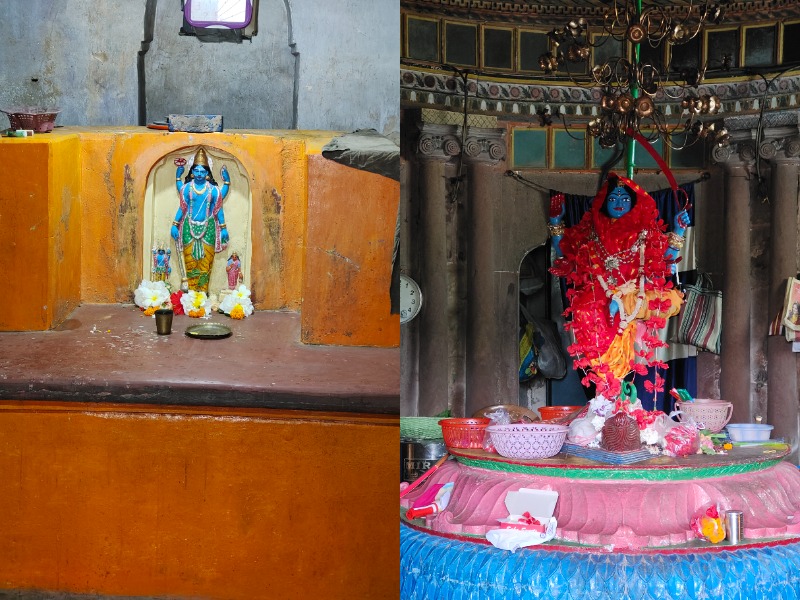 Left to right: Lord Vishnu/Narayana, Goddess Hangseshwari. Photo: Sudipto Maity.
Entry timings: The temple opens at 7:00 am and closes at 12:30 pm. It again opens at 4:00 pm and calls it a day at 7:00 pm.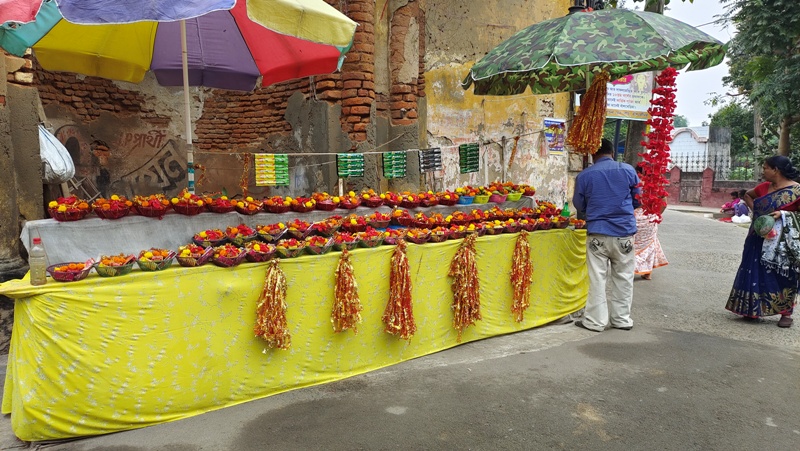 Stalls such as this one have been set up to facilitate devotees offering prayers. You can buy sweets, candles and incense sticks and offer them to the deities. Photo: Sudipto Maity.
Getting there: The drill is same, with a subsequent increase in the fare. Could be as high as Rs 200 (depending on your negotiation skills). It is a 25-30 minute auto ride from the railway station.
Time allocation: 15 to 45 minutes
Lahiri Babar Ahsram/Lahiri Mandir
Dedicated to Shyama Charan Lahiri or Lahiri Mahasaya, a 19th century yogi and mystic, the Ashram packs a sprawling campus, decked with flora and fauna. There are multiple temples inside, dedicated to various gods and goddesses, alongside the main altar. The campus also has various figurines of gods and mortals, a children's park and a host of birds. Entry is free, but make sure you reach there on time.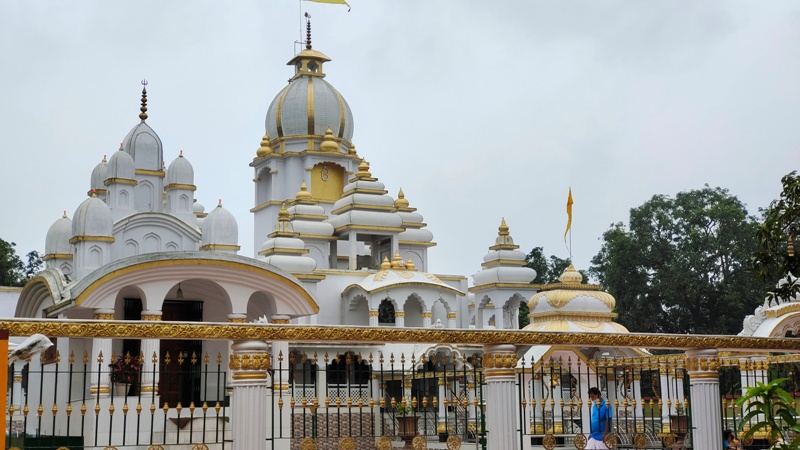 Photo: Sudipto Maity.
Entry timings: 10:00 am-12:00 pm and 4:00 pm-6:00 pm. If you manage to get in between 10:00 am and noon, you can stay there till evening. But, once the gate closes at 12:00 pm, it's a four-hour wait before you're allowed inside at 4:00 pm.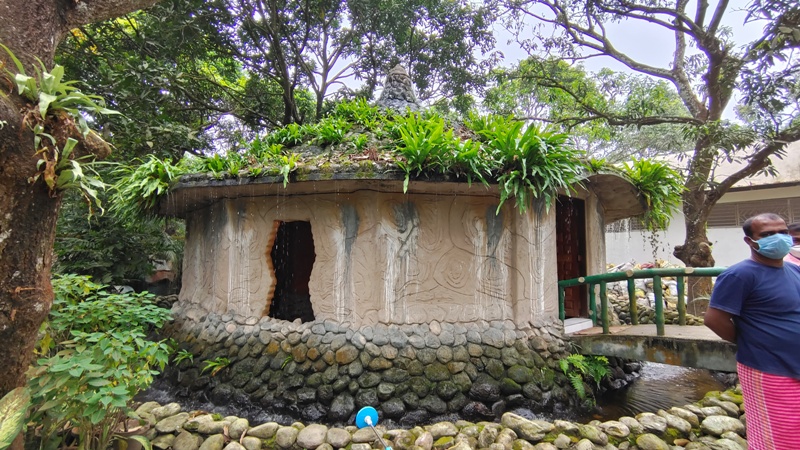 The Shiva temple is one of the many temples located inside the ashram premises. Photo: Sudipto Maity.
Getting there: The safest bet is to reserve or book an autorickshaw from the railway station. The place is set in a remote location, at Rajhat and hitchhiking a ride is difficult. Expect the cost to be around the Rs 200 mark for a two-way journey.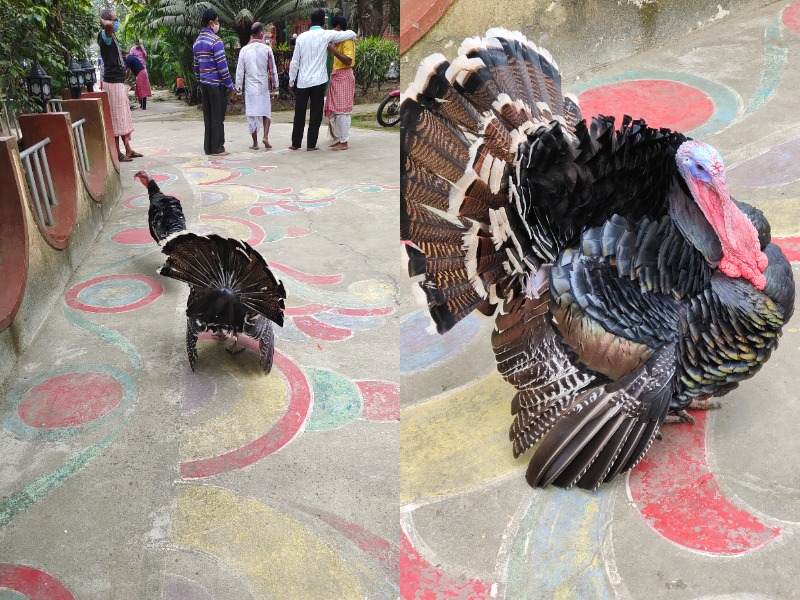 Photo: Sudipto Maity.
Time allocation: 45 minutes to several hours, depending on you
Sarat Chandra Smriti Pathagar/Sarat Chandra Memorial Library
This is the birthplace of legendary Bengali litterateur Sarat Chandra Chattapadhyay, the author of several cult novels, who gave us Devdas- one of the most complex characters in Indian literature, a pop culture icon, and a moniker (for men) one gets for going astray after failing in love. The site is situated in Debanandapur and is close to the Ashram.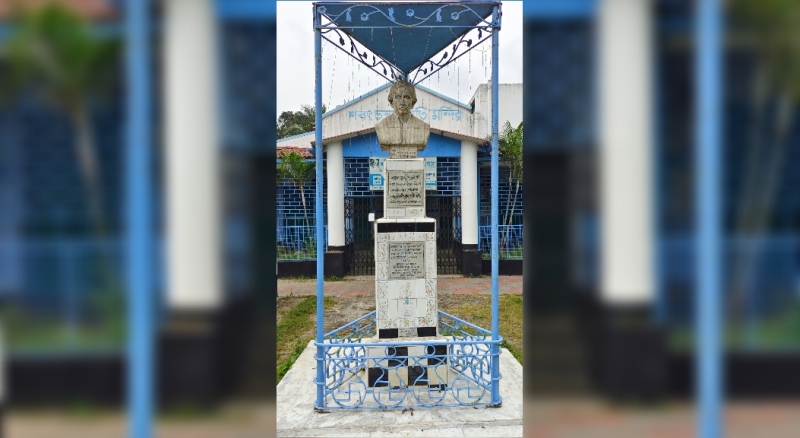 Photo: Sudipto Maity.
Ask your auto driver well in advance if you wish to spend time here. This is a free entry spot, however, the library may or may not be accessible depending on the day. It remains closed every Sunday, every 2nd and 4th Saturday of the month and on government holidays.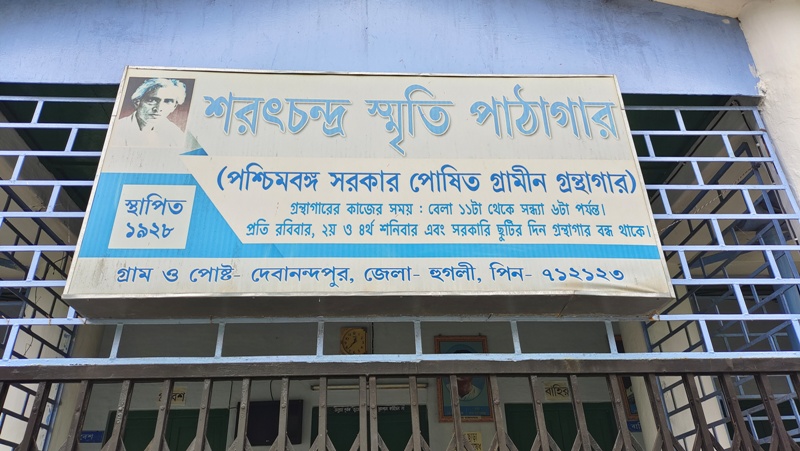 Photo: Sudipto Maity.
Entry timings: 11:00 am to 6:00 pm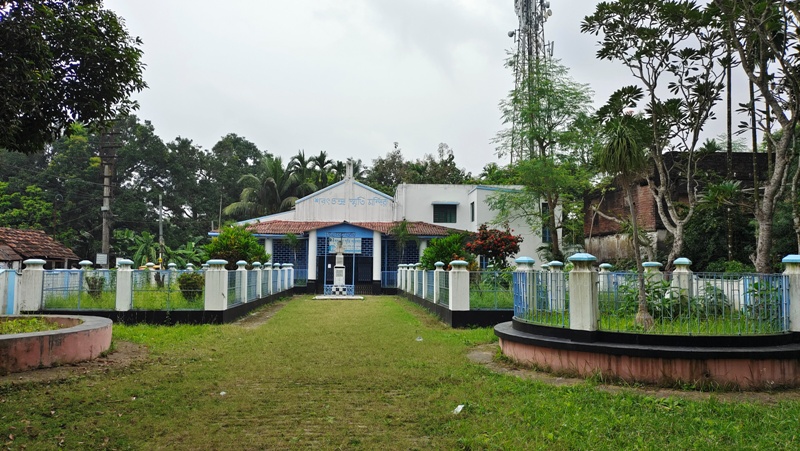 Photo: Sudipto Maity.
Getting there: Same as the ashram. But, make sure you let the driver know about your plans, for him to prepare accordingly. There are more than one route to travel to this place from the railway station.
Time allocation: 15 to 30 minutes

Once done with the trip, return back to the railway station and wait for the train back to Howrah. You should either board a Bandel-Howrah local train or a Bardhaman-Howrah bound train to reach your destination.
I personally booked an auto rickshaw for Rs 550 and visited all the spots in under four hours. Do carry a bottle of water and packets of biscuits, to satiate hunger pangs. It is effective to eat on the move as it saves time. Do leave your shoes at the auto rickshaw or car/cab at places you need to take your shoes off. This will not only save money, but keep it safe alongside saving time.
Images by Sudipto Maity.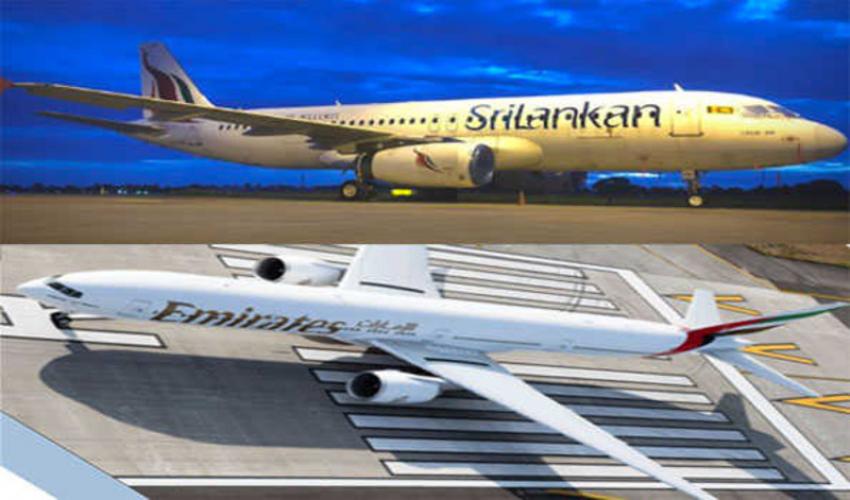 SriLankan Airlines, Emirate ...
Colombo/UNI: SriLankan Airlines and Emirates have entered into a reciprocal interline agreement aimed at bolstering connectivity for travelers.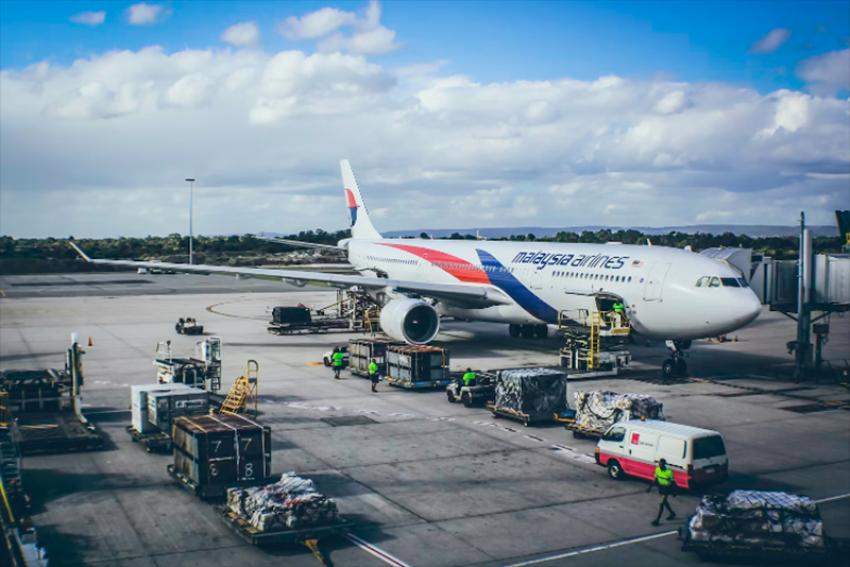 Malaysia Airlines introduce ...
Kuala Lumpur/NITN: Malaysia Airlines is offering introductory fares on their three new services between Kuala Lumpur and the Indian cities of Amritsar, Thiruvananthapuram and Ahmedabad.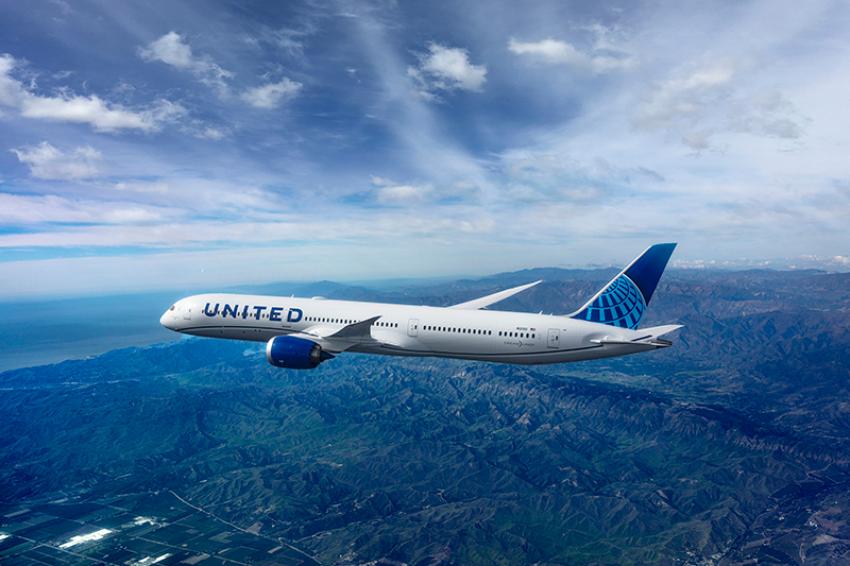 United Airlines increases n ...
New Delhi: United Airlines has announced an increase in service between New Delhi and New York/Newark, with a doubling of flights from once to twice daily during the winter season 2023/24.