Sea, sand, sugar and history: A 7-day trail of Mauritius' symphony of nature and Indian heredity
Sujoy Dhar | @notintownlive | 26 May 2022, 10:44 am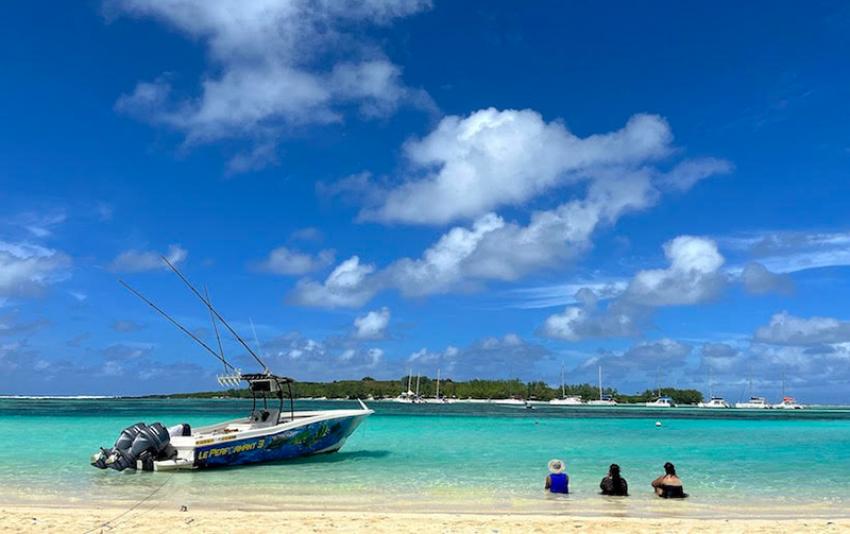 Mauritius
'Mauritius was made first and then heaven, heaven being copied after Mauritius'- Mark Twain.
If you google up Mauritius travelogues, these words of Mark Twain helm the introductory paras of several write-ups that Internet's default search engine calls up. Well, you might think of the verdict of Twain as good copycat templates for travel writers at wit's end to drive home in true sense the unsurpassed beauty of the African tropical island nation.
But trust me, I ended up lifting the same words to begin this piece on the gem of the Indian Ocean that is Mauritius. The experience was as overwhelming as it was easy-going for me.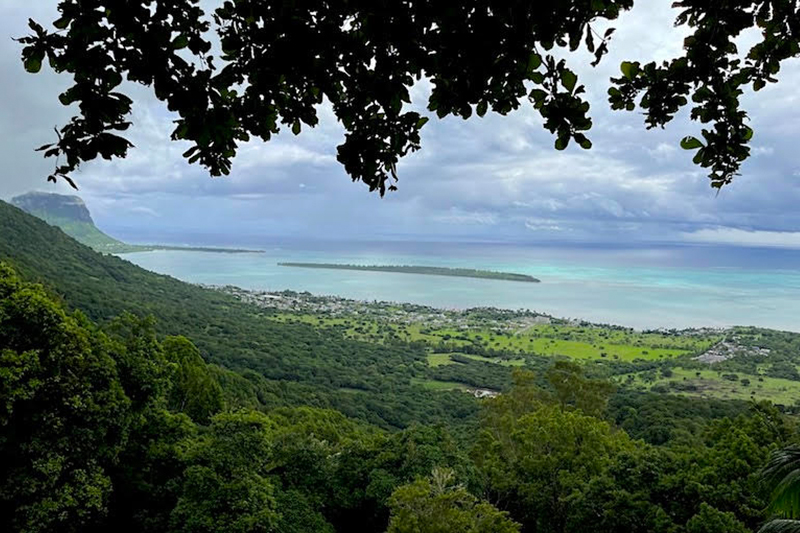 Is Mauritius a wondrous amalgam of turquoise blue waters (well, the sea here is part turquoise, part sapphire, part azure and part a shade of denim), white sandy beaches, vast swathes of drone-friendly sugarcane fields and dramatic mountains that mutate into a somewhat occult skyline when the setting sun silhouettes its jagged peaks?
Well, every bit of it is true!!! But Mauritius is much more than its abundance of natural beauty or boho-chic resorts and hotels.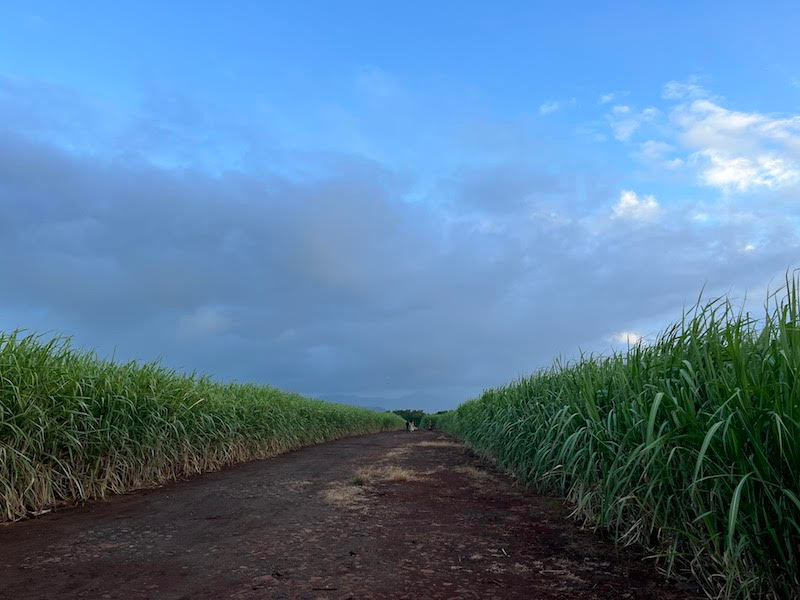 This is a land of the Britishers' historic experiment of introducing indentured labour practice to replace slavery, a move that saw hundreds of thousands of people, mostly Indians, arriving at the shores of the island in the quest of a new life for over a century.
That unending flow of migrants gave birth to a cultural synthesis which social scientists call Creolization, a term that describes new cultural expressions brought about by contact between societies and relocated peoples.
In Mauritius, this cultural fusion has become a way of life. What the colonists began as an experiment over centuries have given birth to a vibrant culturally rich creolized society that is modern Mauritius.
I would share our magical itinerary for the week for travellers to decide how they may plan a 7-day trip to this heaven on earth.
Day One:
During our nearly weeklong stay in Mauritius, we began with the West coast. After a nearly 6 hour long flight from Mumbai we reached Mauritius, where Indians get a visa on arrival and need not pay anything for the same.
From the airport we headed straight for a hotel (read Veranda Tamarin) in a vibrant village of Tamarin overlooking the mythical bay of Tamarin. This is one place with a laid back vibe and certainly good for those wanting to slow down a bit. But this is also one place for the avid watersports lovers, surfers and adventure-seekers. The river fits kayaking and stand-up paddling activities.
After checking in into the hotel and after our breakfast and rest for lunch we went to a restaurant called Wapalapam. The good food apart, a meal at Wapalapam is an amazing experience because of the location.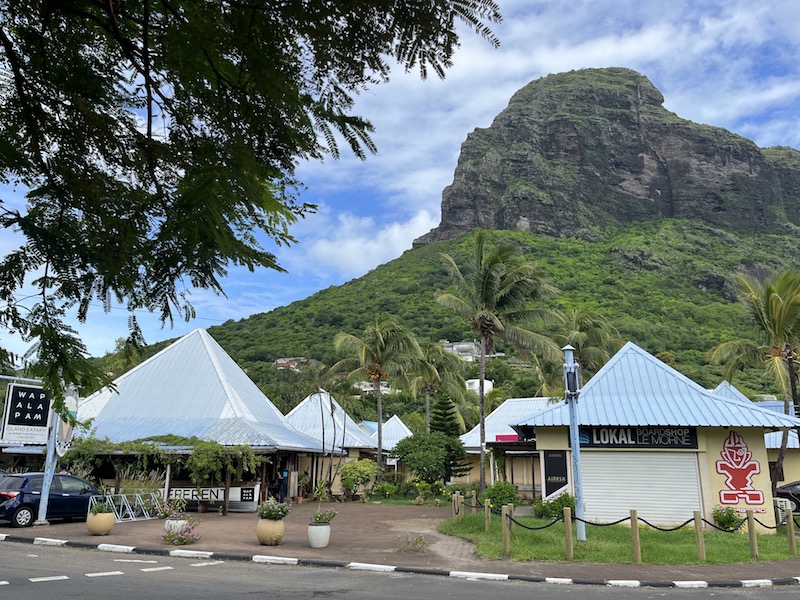 It is on the foothills of the beautiful Le Morne Brabant mountain that offers a perfect setting as the rocky mountain lords over it while you dig into the dishes of authentic Indian Ocean flavours ranging from chilli prawns, local lobsters and roasted fish to octopus salads.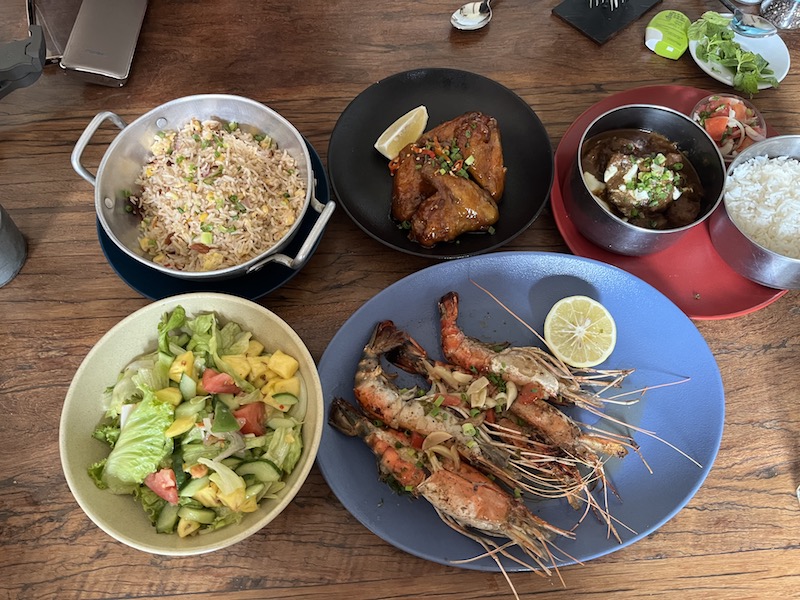 Well, the most touristy and kind of bucket list spot in the West is surely Maconde Point.
This most photographed spot in Mauritius is on the way to the south-east at Baie du Cap, a small fishing village. Baie du Cap road is one of the most scenic routes of the island. Driving through Baie du Cap every tourist stops at the famous natural promontory with its panoramic view of the ocean.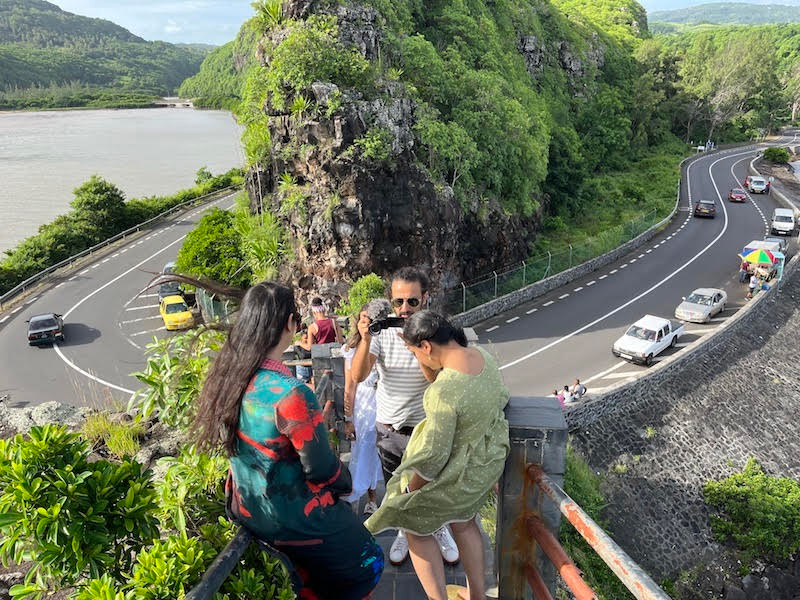 Climb up a set of narrow stairs to a small rocky cliff and experience your Titanic moment from the viewpoint which you might have seen in films or TV ads. Get swept by the wind as you enjoy the view of the ocean and the coastal village from the viewpoint.
The name "Maconde" is believed to be derived from the slavery period, when runaway slaves from the Makonde tribe of Mozambique had come there for shelter. Some also hold that it was named after Governor Jean Baptiste Henri Conde, who built an outlook on the cliff.
The winding road hugging the basalt cliffs on one side and the ocean on the other offers a dramatic landscape.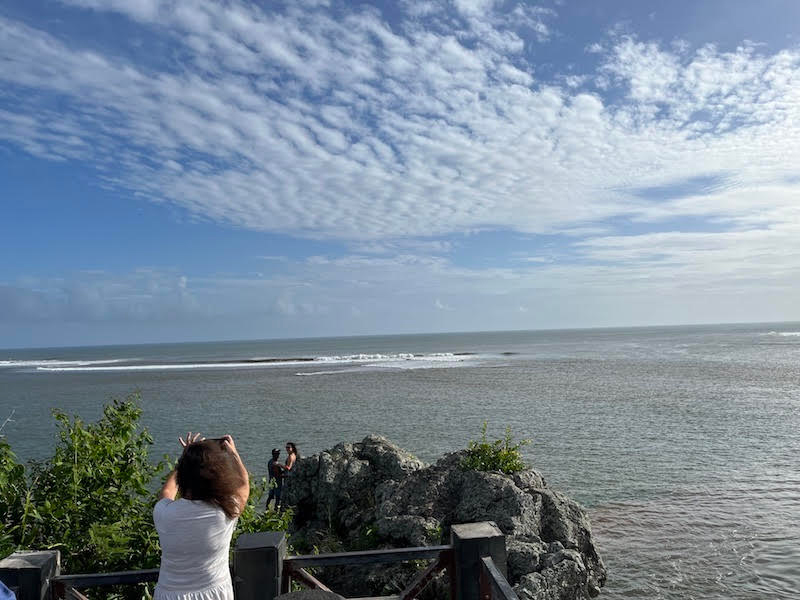 While in the West, also visit Le Morne, which lies further south, and is associated with the tragic past of the island when during the colonial era, runaway slaves- who were living in some hidden cavities of the mountain- had climbed up and threw themselves into the void to escape being taken back. A memorial site with sculptures at the foot of Le Morne Mountain is another tourist draw.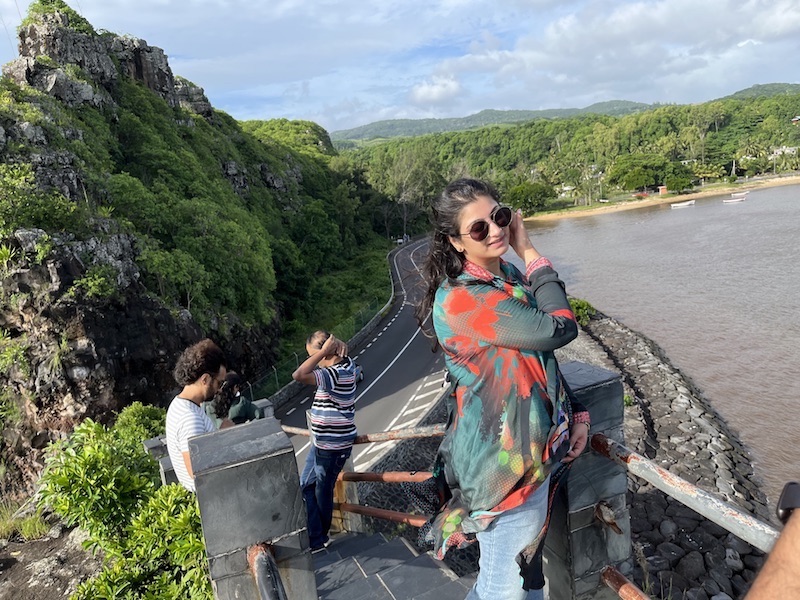 The International Slave Route Monument at Le Morne was unveiled in 2009 at the foot of the Le Morne Brabant Mountain because of its linear connection between the sea, beach, a historical and legendary place called 'Valley of Bones' (where the slaves threw themselves for their final freedom) and the west cliff face.
Day Two:
Your day two in the West can start with dolphin watching. Watch or swim with spinner and bottlenose dolphins in a speedboat tour of the Black River coast.
The west and south-west coast of Mauritius is the sunniest and driest region of the island. The beaches of Flic en Flac, Tamarin and Le Morne are the most popular for family outings, surfing and kitesurfing and for its heritage as well.
While nature lovers can explore the Black River Gorges National Park, we took a trip out to sea and watched dolphins. Some in our group in a been-there-done-that experience, swam with them and spotted them closer.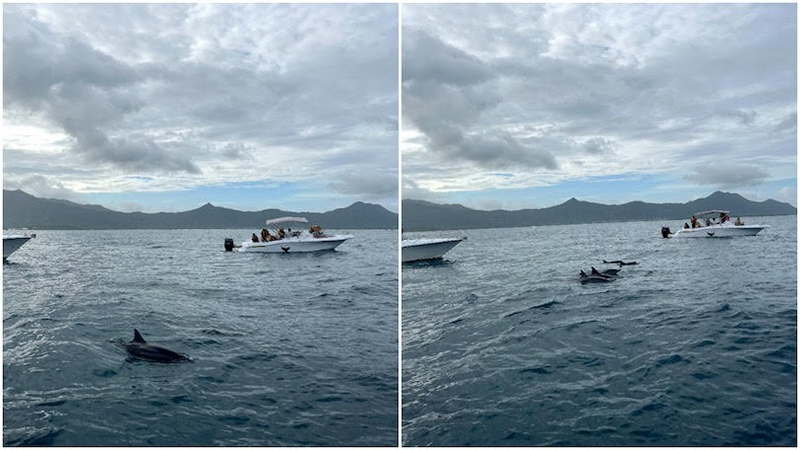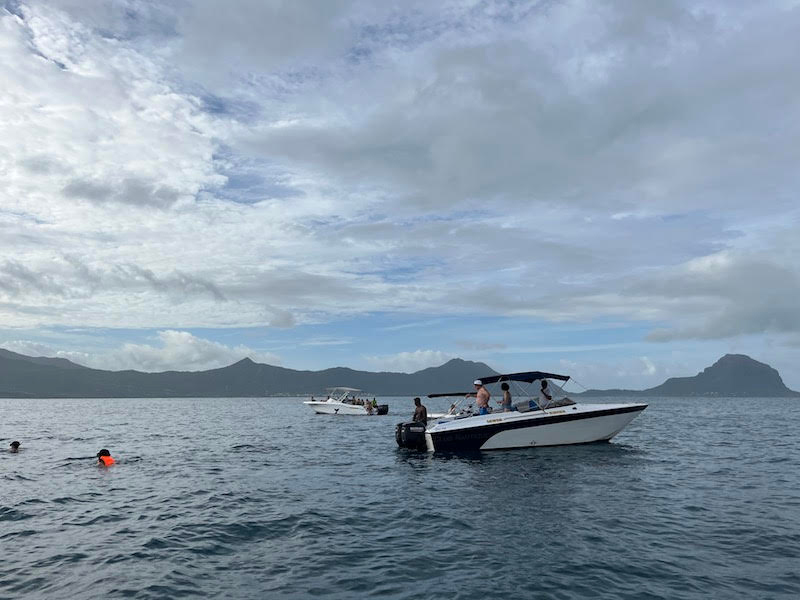 Dolphin encounter is a yearlong activity in the Black River or Tamarin Bay where you just take this exciting tour in a speedboat or a catamaran. One can also snorkel outside the beautiful reef of La Preneuse.
While in Tamarin Bay, also visit the traditional salt pans. This century-old tradition of salt making can be explored here just walking a few metres as the Tamarin Salt Pans (Les Salines of Tamarin), the oldest Salt Farm in Mauritius, is right here.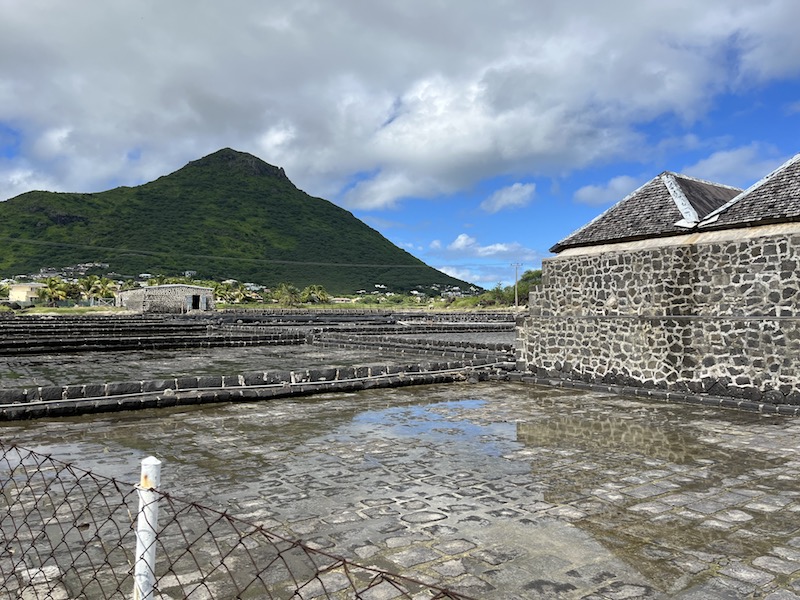 Next we left for the Grand Bassin from Tamarin Bay. Known as Ganga Talao this is a crater lake in a secluded mountain area. It is about 550 m (1,800 ft) above sea level.
Grand Bassin, or Ganga Talao, is a sacred lake for Mauritian Hindus and draws a large number of pilgrims during Maha Shivratri. Lord Shiva and Durga Mata lord over the place as it boasts of two giant 108 foot tall statues of Shiva and Durga looming on you, drawing awe and reverence.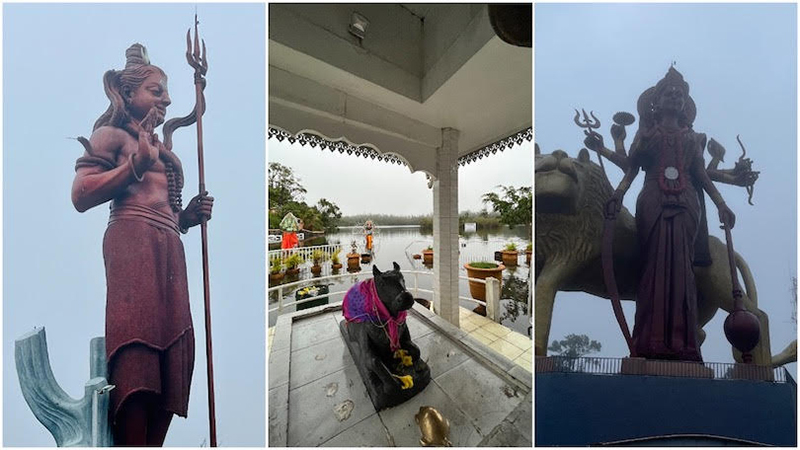 Inaugurated in 2007, it is the tallest statue in Mauritius replicated from the Shiva statue in Sursagar Lake in Vadodara in India's Gujarat.
Durga Puja and Navratri are celebrated with grandeur too here.
While our visit to Ganga Talao was somewhat marred by the foggy weather and some rain despite its auspiciousness, our next spot was ready to welcome us with a broad epicurean grin.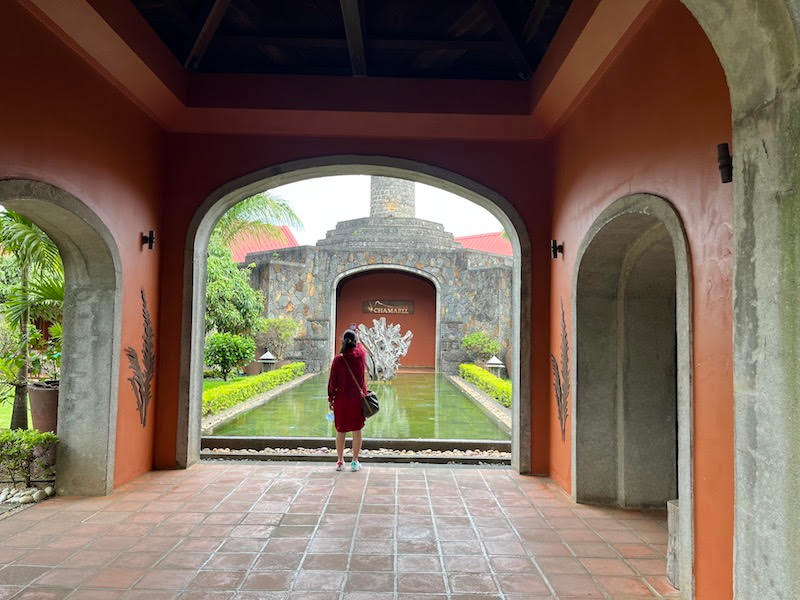 We are in Rhumerie de Chamarel, in the South West in the heart of a fertile valley. Situated in the vicinity of the "Coloured Earths of Chamarel", one of Mauritius' most popular tourist attractions, the road leading to the Rhumerie is lined with vast plantations of sugar cane growing side by side with pineapples and other tropical fruits.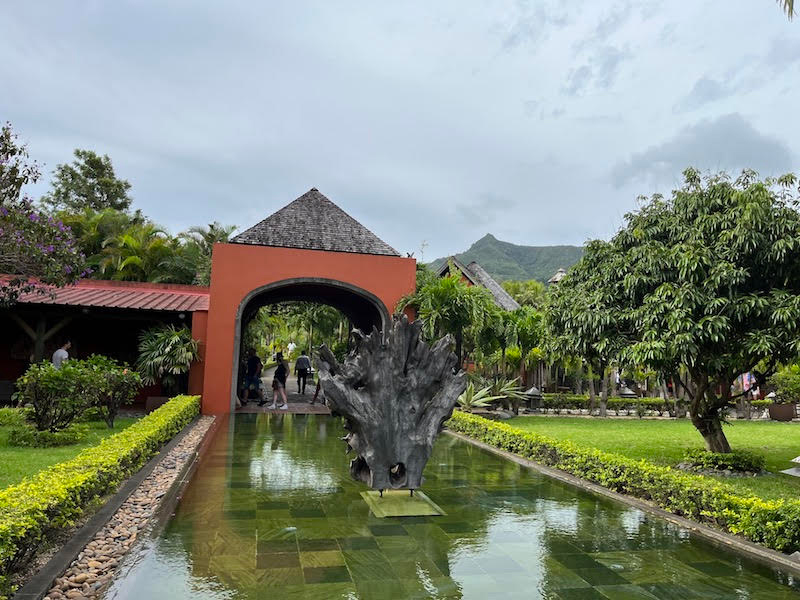 Perched 300 meters above the coast of South West Mauritius, the Rhumerie de Chamarel is influenced by its own micro-climate combining a distillery and an agricultural plantation on an eco-friendly estate.
The guided tour of the distillery- when you learn the rum making process from experienced tour guides- ends with the tasting of the best quality rums. Mauritian architect Maurice Giraud has created a building that blends harmoniously with the beautiful surroundings. Wood, natural stone and water provide a sense of communion with nature.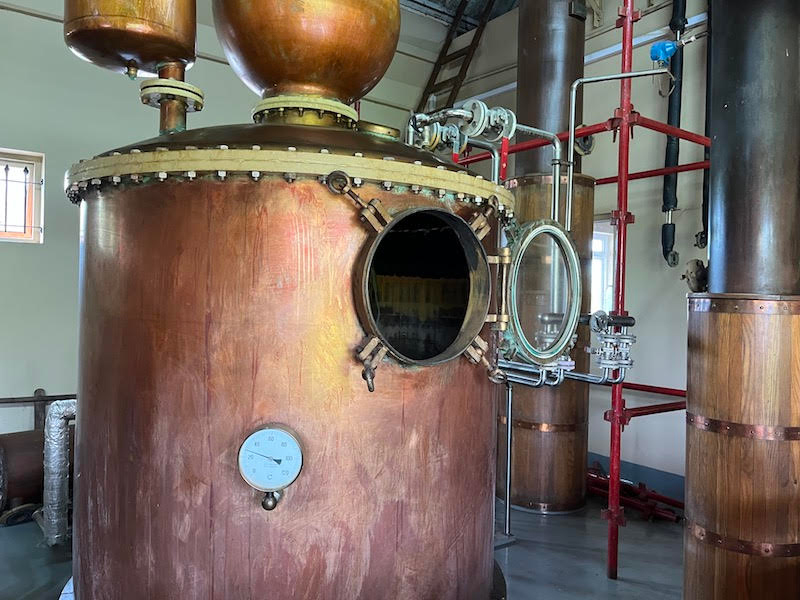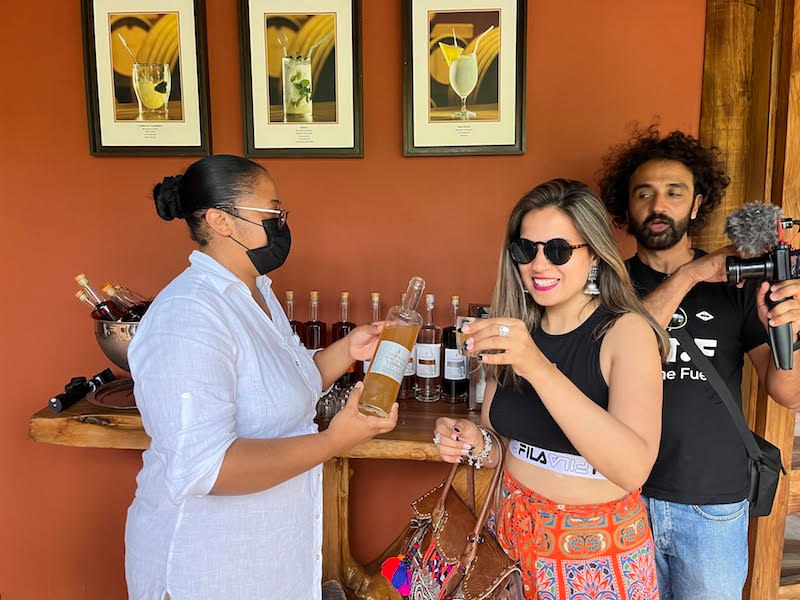 The finest rums of La Rhumerie de Chamarel are prepared from their own sugarcane cultivation. They are carefully selected and grown exclusively for the production of the Chamarel Rums- the aged rums, the premium rums and the premium liqueurs.
Our next stop was one of the most popular and colourful destinations in Mauritius. After traversing a twisting mountain road you end up at a geological hotspot where you see acres of dunelike mounds painted in browns, reds, blacks and purples.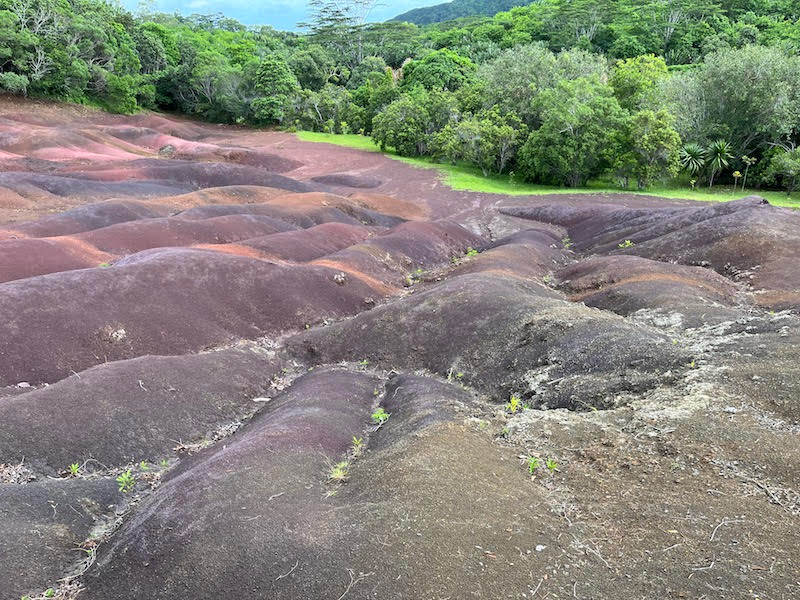 Chamarel's Seven Coloured Earth has its 600 million years of history. The island's original and premier geopark provides a unique experience for geology enthusiasts, nature lovers and those who simply want to understand more.
The 8.5-hectare park is ideal for that immersive experience blending geology, education and conservation.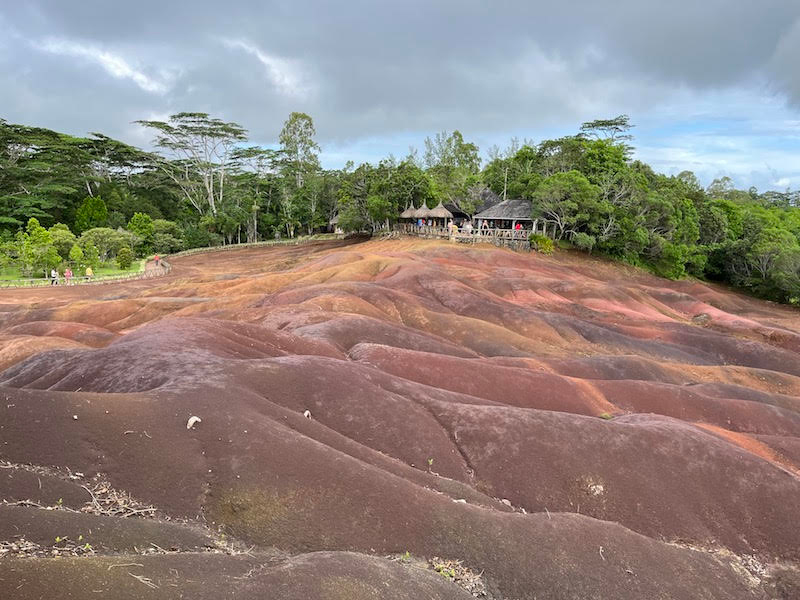 And before we went back to the hotel we did not miss a childlike fun time at the Curious Corner.
The Curious Corner of Chamarel is a magical place of optical illusions and more. Here things are not what they seem- much like our life- and then here is one place you enjoy that deception but it takes you to a world of mind bending fun and crazy photo opportunities.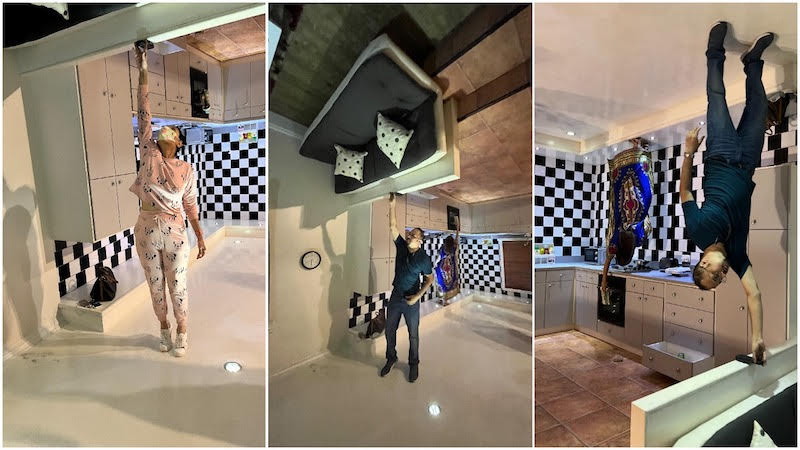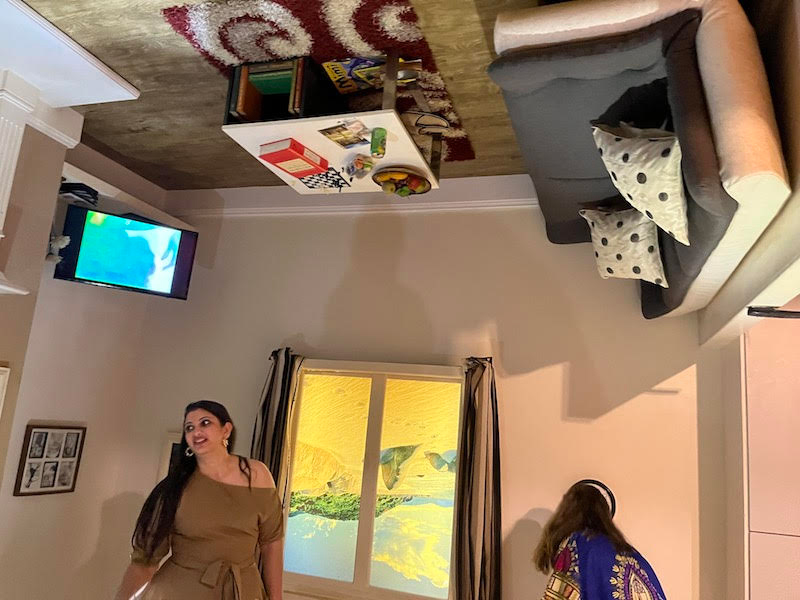 Be a child again at Curious Corner exploring a kitchen, living room and dining room which is upside down, a room where you stand on the left and appear tiny in comparison to your giant friend on the other side of the room or see in the mirror maze infinite reflections of yourself and have a laugh as you use all your senses to find your way out, at times bumping into the glass.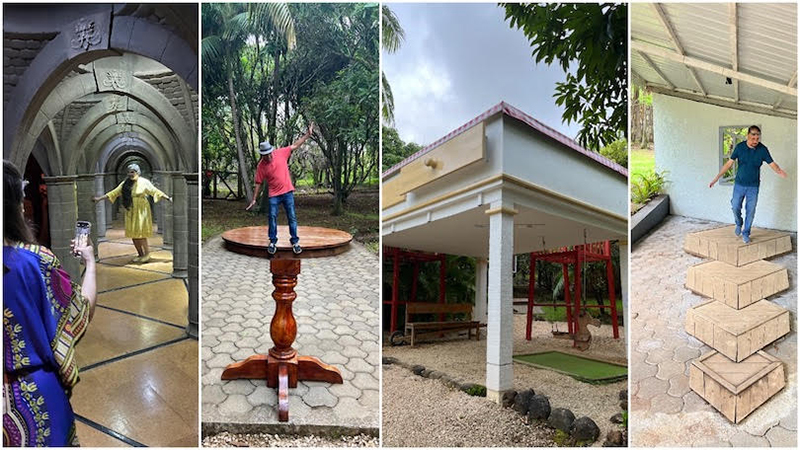 Day Three:
Our day began with a visit to Casela Nature Parks, billed as one of the prime attractions in Mauritius that packs interaction with predators like lions and cheetahs.
Among the most popular day activities here are the Walk with Lions, interaction with rhinos, the Safari Quad, the Canyon Swing at Thrill Mountain and encounters with various animal species. You will also experience nature's best, surrounded by Mauritian flora and fauna, including endemic species and centenarian trees.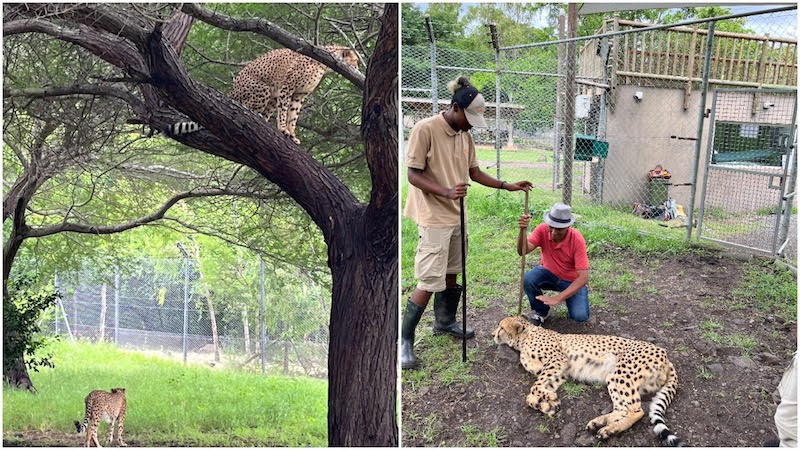 The park spans over 350 hectares and is divided into 5 zones, each with its own unique characteristic.
The 5 zones are Thrill Mountain, Predator Kingdom, African Safari, Pangia Birds and Rides and World of Events.
At Casela you can enjoy a secured vehicle ride called 'Drive Thru To See Lions and Tigers' when you are taken on a 45 minutes trip into the territory of the park's lions and tigers.
We signed up for a 10 to 15-minute encounter that takes you into the cheetah enclosure, where you will get to discover these magnificent animals from up close.
We patted (read patted, not petted:)) them gently and yes, they are not sedated. But while you do so, always wield a baton that keep them under human's control.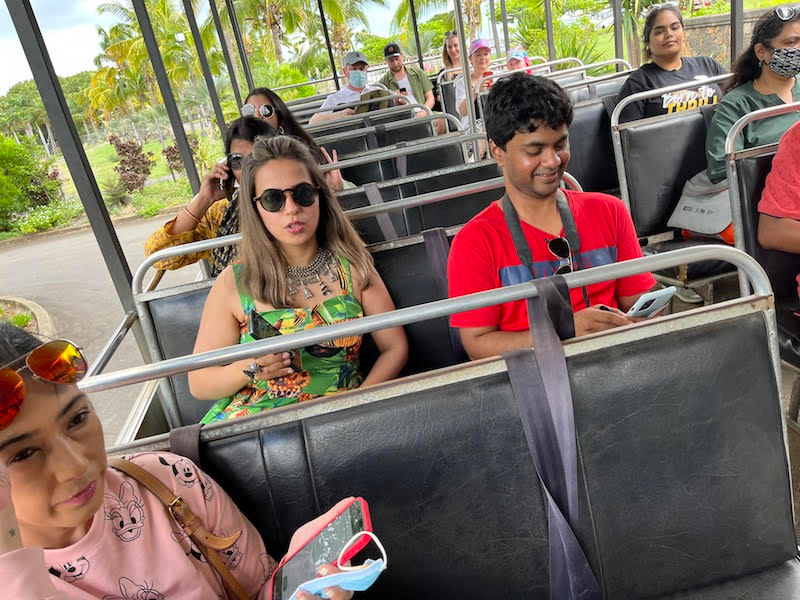 The lion encounters and walking with them are a unique thrilling experience between man and beast at Casela.
Well, the park has an amazing zipline, the biggest of Mauritius. Thrill Mountain at Casela combines all the mountain and rope activities for thrill-seekers.
You can jump from a 40m platform into the canyon, zip across breath-taking scenic valleys, walk on a spectacular Nepalese bridge, Zip and Splash into the river and climb on the Via Ferrata.
After our time with the animals, we headed for lunch at Le Chamarel Restaurant. The restaurant boasts of an "indulgent refined creole cuisine and unique panoramic views." Well, I must say this is the most spectacular view of nature I ever had while digging into sumptuous food.
Le Chamarel Restaurant offers a mind-blowing view over a verdant mountainous landscape and across to the captivating coastline fringed by the clear blue waters of the Indian Ocean.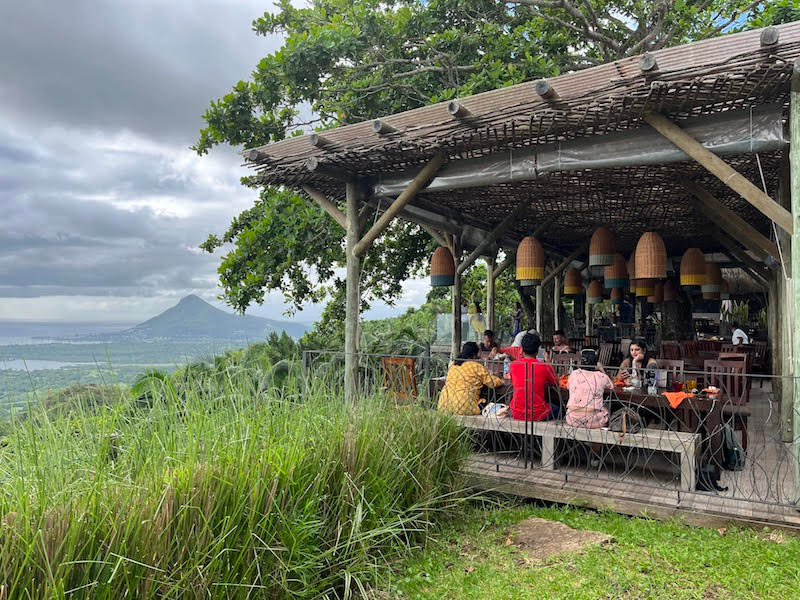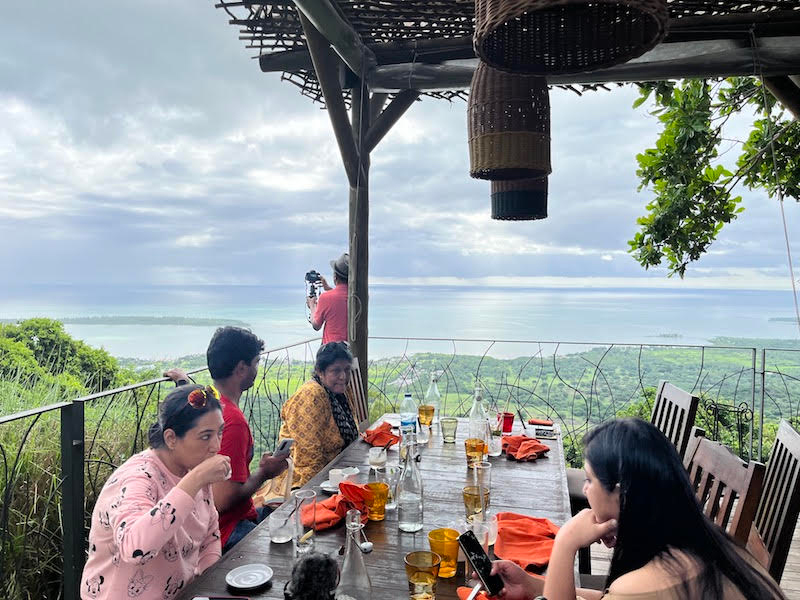 This is a must visit food joint to immerse in a distinctive Creole culinary journey with soulful, authentic local cooking, a peaceful bucolic ambiance and superb service at 260 m above sea level!
If you have time, also visit the Mauritius Glass Gallery on the same day. Here you experience the amazing world of glass blowing and glass ornaments with skilled craftsmen creating unique handmade pieces of art from glass.
For the night we retired at Domaine de Grand Baie, a go-to luxury service apartment in Mauritius.

Day Four:

This is the most amazing and adventurous day in my entire stay in Mauritius. Or I would call it the high point of the trip.
From the hotel at around 8 in the morning we headed for Bain Boeuf beach to take the speedboat ride to the famous Flat Island found at the North of Mauritius. Flat Island, or Île Plate, is an 11-km cruise north of Cap Malheureux, the main island's northernmost point. Ile Plate Beach is a paradise on earth for nature lovers and those eager to swim and snorkel inside the lagoons and explore marine life.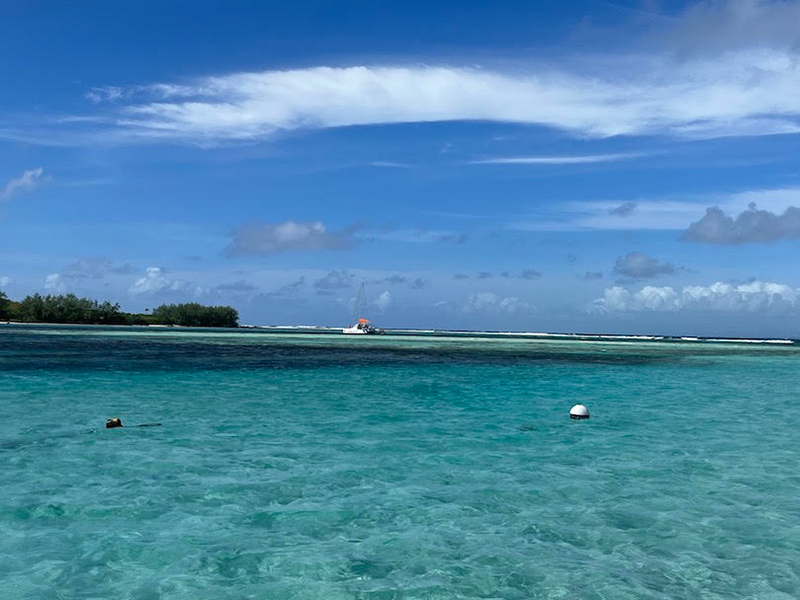 The boat ride through the choppy sea with the bulging sea waves lashing us at times was scary. We were screaming at times tossed by the sea in our small boat, all drenched, but after we made it to the tranquil turquoise blue water and the white sand beach of the island, we knew we should be grateful to the god for such an experience.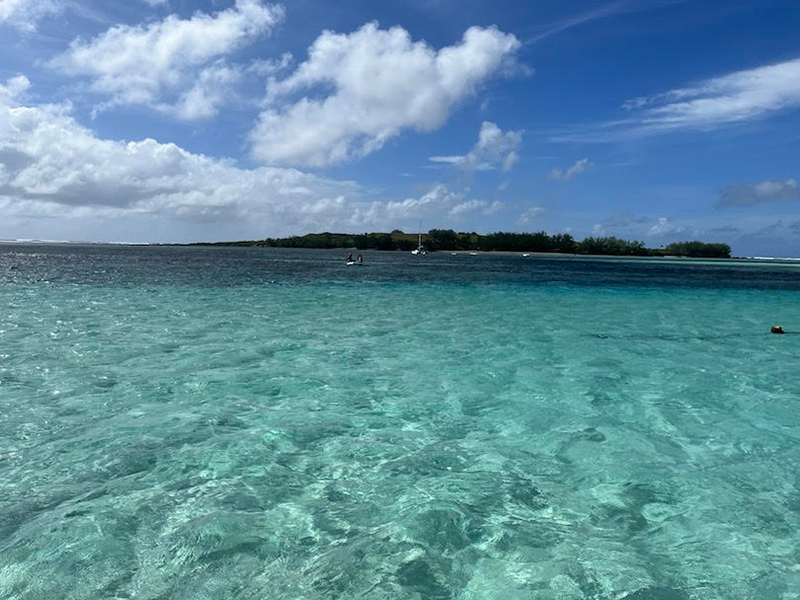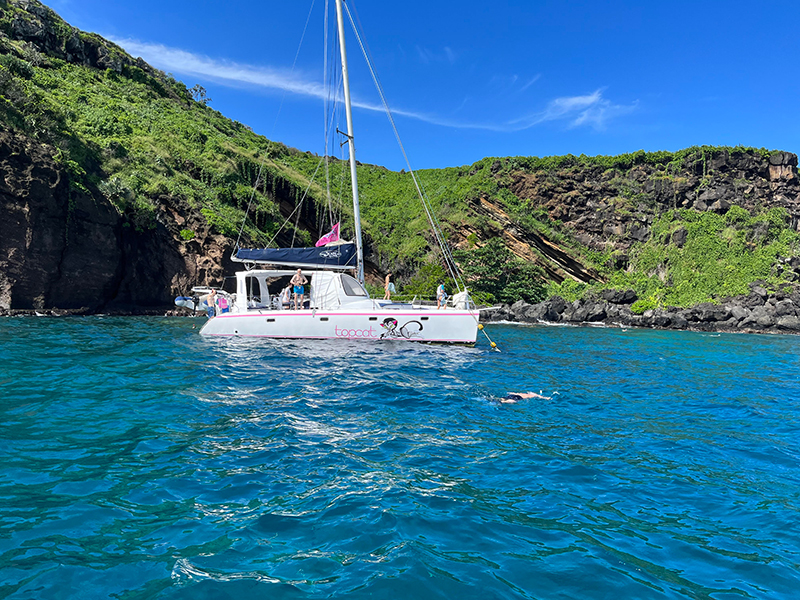 We relaxed almost half a day there and enjoyed a delicious seafood lunch under a wooden shade amid the beachside shrubbery and seabirds nesting inside.
Day Five:
This is the day when we explored Port Louis, the capital of Mauritius. Much of the day was spent in the minivan in which we were travelling and as we negotiated through the main thoroughfares of the capital city we caught enough glimpses of the vibrant city and its life.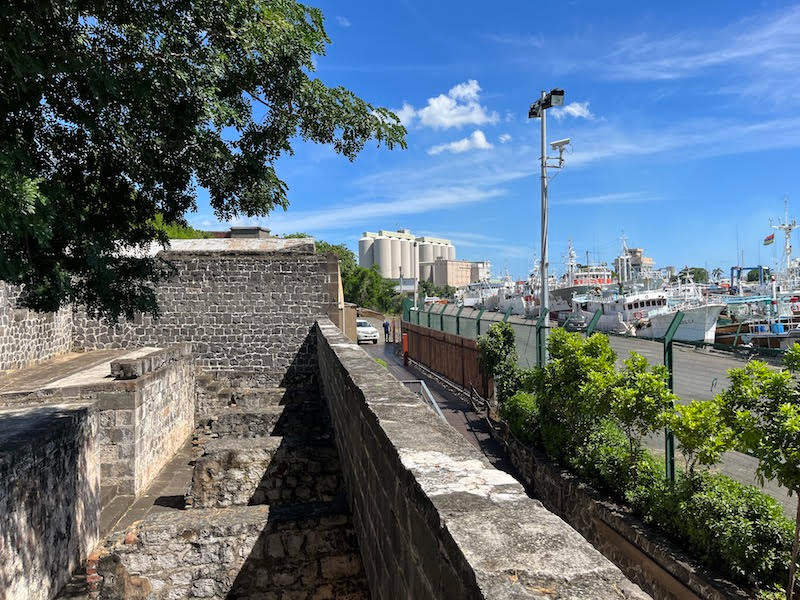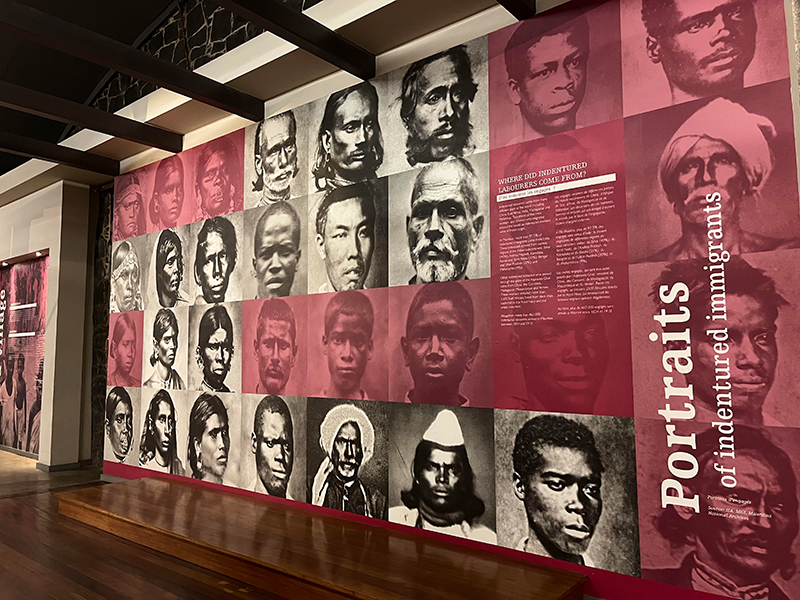 This is also the day when a new insight into the history of India's diaspora was revealed to me. Well, we visited the historic Apravasi Ghat to learn about the largest human migration in history that occurred between 1834 and 1923 when the British in its experimental bid to abolish slavery brought mostly Indians as indentured labourers to work in the sugarcane estates of Mauritius.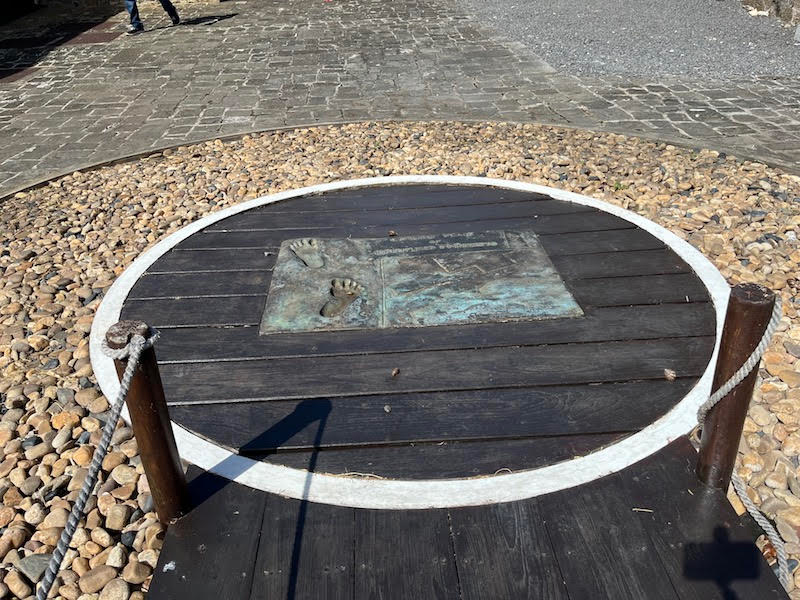 Aapravasi Ghat, an immigration depot in capital Port Louis, is where you retrace the footprints of some half a million people who landed there over nearly a century in quest for a better future.
The Aapravasi Ghat Immigration Depot by the harbour is the site from where the modern indentured labour diaspora (mostly from India) emerged. Recognising the Immigration Depot's role in social history, UNESCO declared it a World Heritage Site in 2006.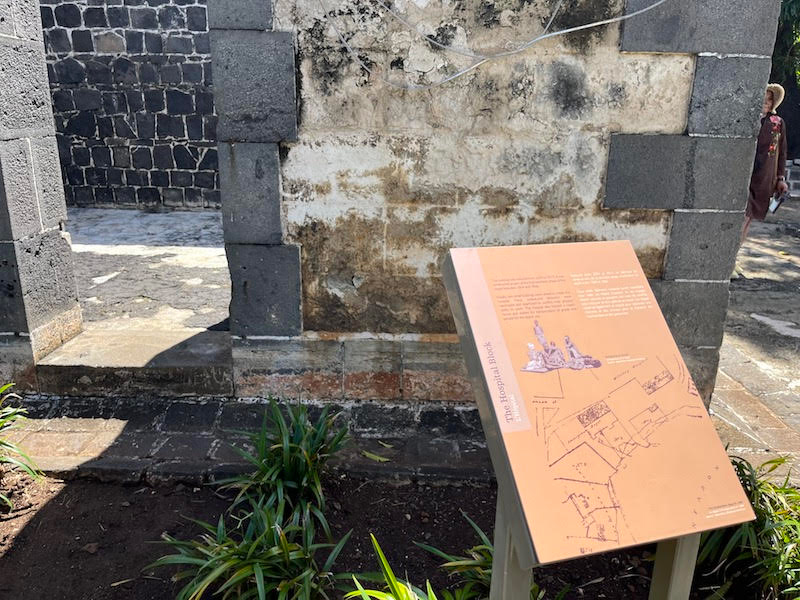 Inside the museum now, one can not only learn the story of that nearly a century long migration, but also the lifestyle of the men and women who came with the hope of a new life. So the replica of a ship, the mock-up kitchen or the hut in which they lived throw light on the hard life of the labourers, our forefathers who dared to take those voyages of faith.
After a lesson in the history of Mauritius and its Indian roots, we headed for Fort Adelaide where you see the vestiges of colonial rule in Mauritius. Fort Adelaide is atop La Petite Montagne, meaning The Little Mountain. The Citadel Fort (Fort Adelaide) was closed but we got the most sweeping view of Port Louis from here.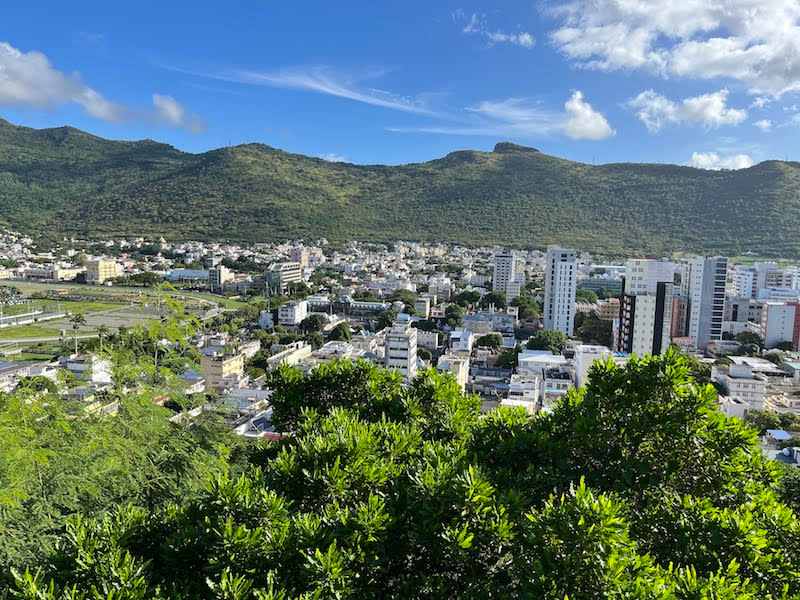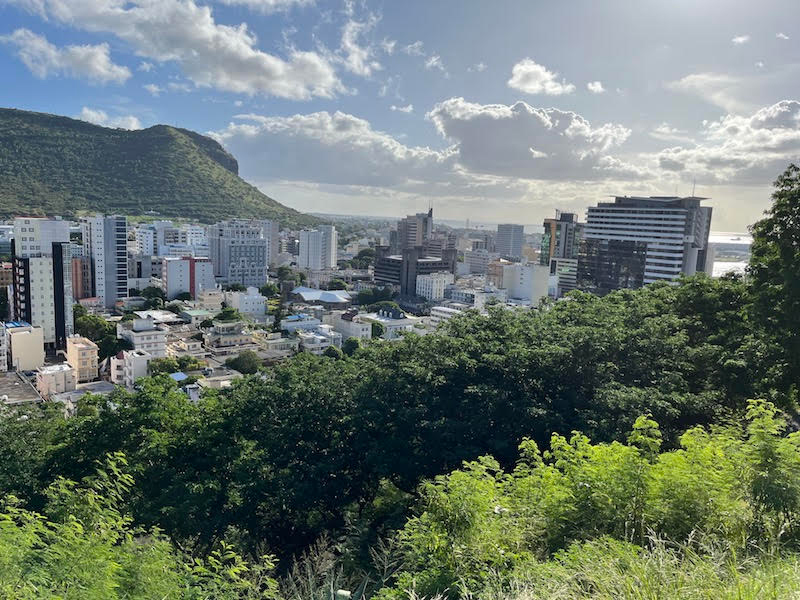 Since Fort Adelaide offers the most breathtaking and bird's eye view of Mauritius, one must not miss this spot for capturing in lens and in memory the beauty of the island and its urban skyline from here.
Our next spot in Port Louis was Odysseo, the largest oceanarium in the Mascarene Archipelago and the first of its kind in Mauritius. Over and above the richness of its onsite aquariums, Odysseo is a place where you can have fun while learning and educating yourself.
This is a fully immersive experience of stingrays, sharks, eels, sea dragons and a multitude of colourful fish that swim alongside you when you pass through the aquariums and tunnel. This is truly a real underwater trip without a scuba mask or tank.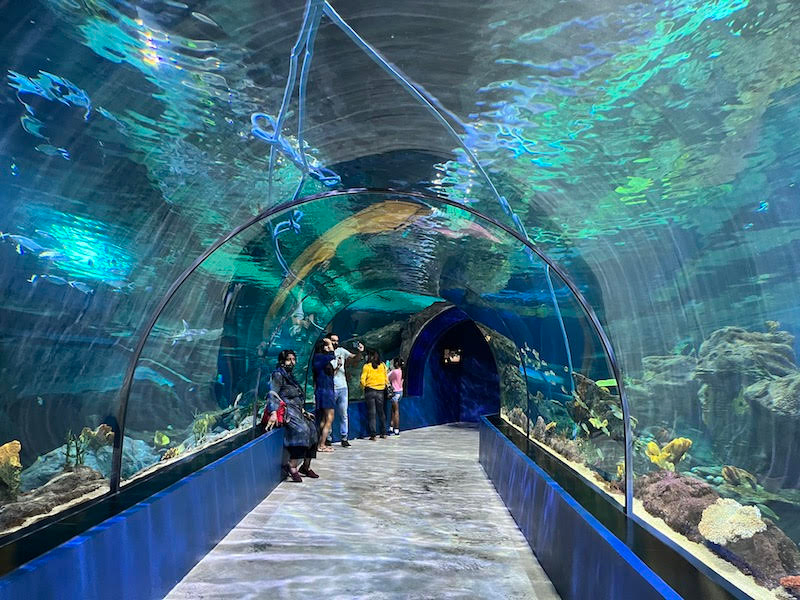 After the visit to Odysseo, it was time to explore the famous Caudan waterfront for a leisure time. This is the place for shopping amid other attractions like eateries, cafes, casinos and a craft market in a two-storey building.
Several Bollywood films were shot here and even during our visit we spotted actor Kartik Aryan shooting in the vicinity. The spot is absolutely Instagramable with the canopy of umbrellas in all different colours adding to the feel-good charm.
Pick up souvenirs like a sailing ship's replica from here, or simply just enjoy the waterfront or have a nice meal at an upscale restaurant. We had a scrumptious lunch at Hotel Labourdonnais, a leading 5-star city hotel offering exotic dining options.
On our way back to the hotel we also visited a beautiful South Indian (read Tamil) Hindu temple. The Sockalingum Meenatchee Amman Kovil (a Tamil temple is called kovil in Mauritius) is a wonderful shrine dedicated to Lord Shiva and marked by its bright colours, ornate interiors and intricately carved statues.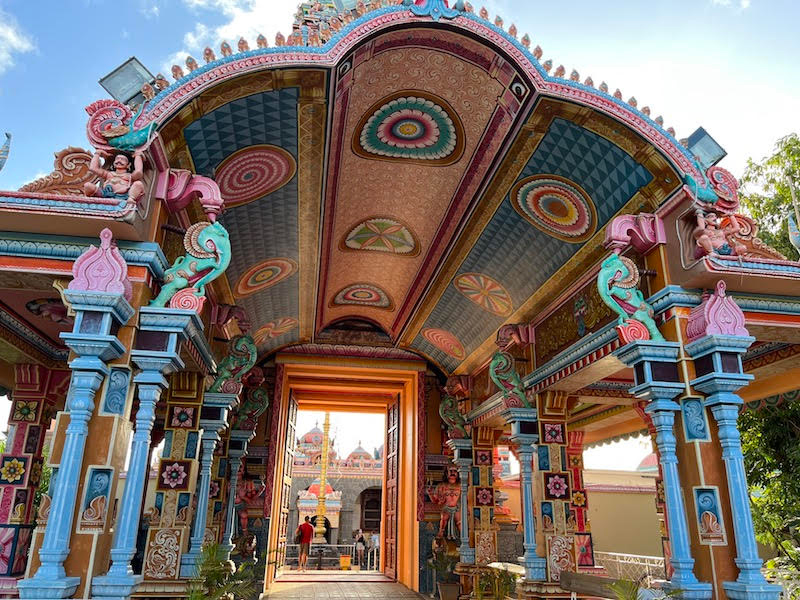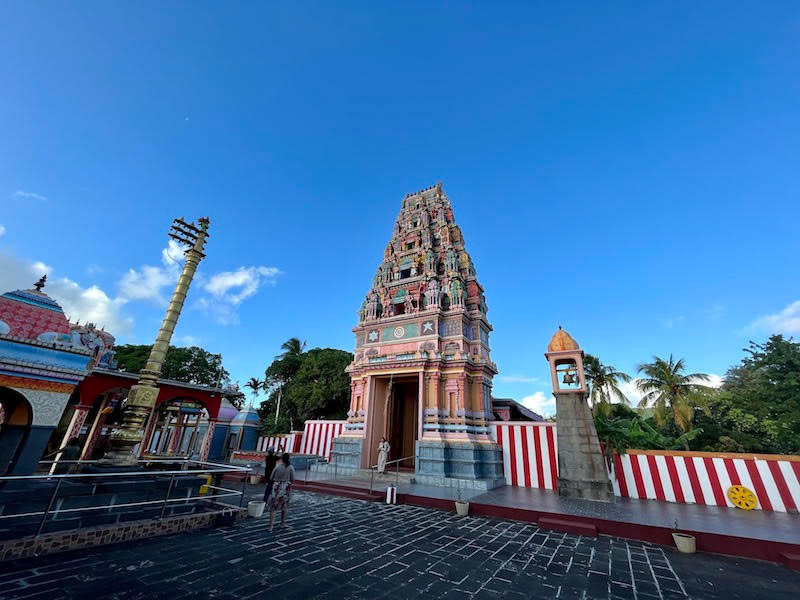 Day Six:
The day of exploring the French chateaus of Mauritius. These mansions were mostly built in the 19th century by those who were agricultural landowners.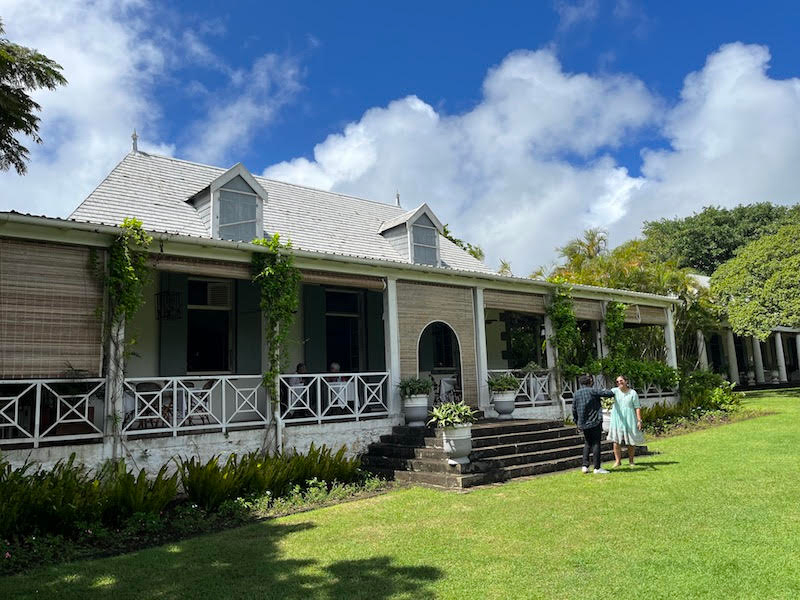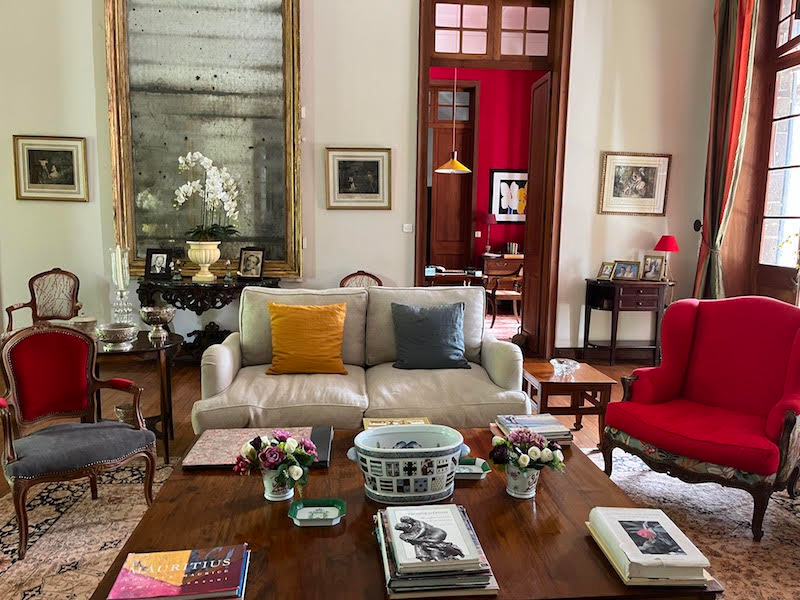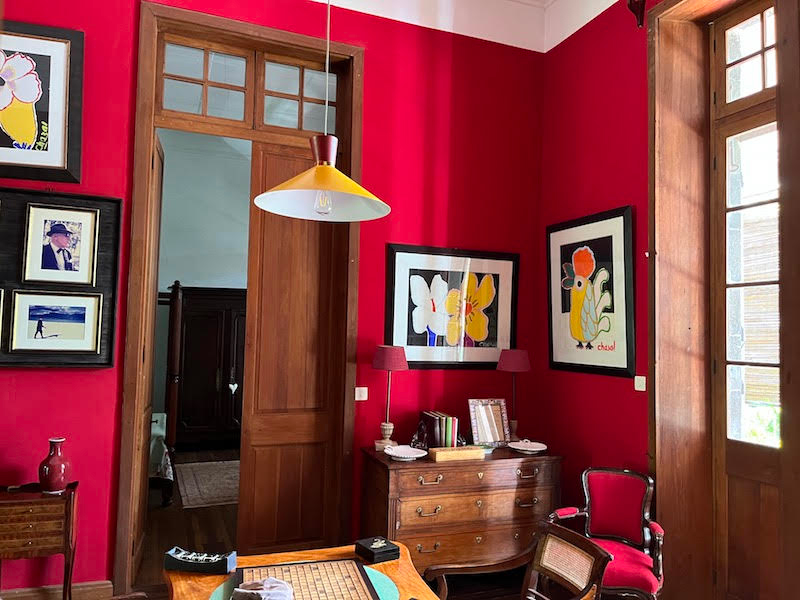 We first visited the Demeure Saint Antoine, a mansion that had belonged to the same Mauritian family since 1830. This magnificent building is representative of the best of Mauritian architecture. The rooms are elegantly decorated with period furniture and adornments transporting you to a bygone era of luxury and aristocracy. The colonnaded veranda is a unique example of the colonial style.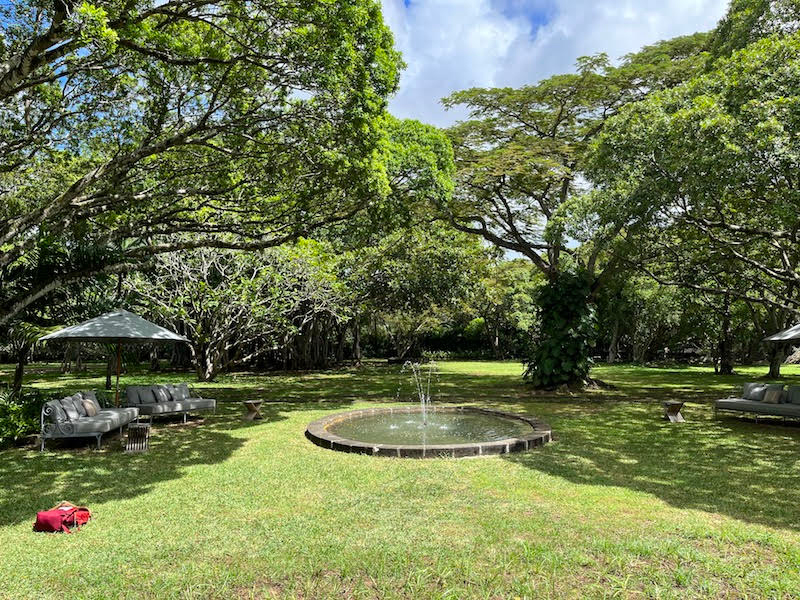 We had lunch here and loosened up in the garden of the property under tree shades in a truly immersive experience!
Next was our exploration of the sprawling Chateau de Labourdonnais , an estate also in the north of the island.
Besides the beautiful 19th century mansion itself, one can explore the gardens and orchards, discovering several varieties of century-old mango trees, a selection of spice plants and trees bearing different exotic fruits. The visit to the Château ends at the tasting bar, where visitors can taste the authentic Mauritian products produced at Les Vergers de Labourdonnais and La Distillerie de Labourdonnais.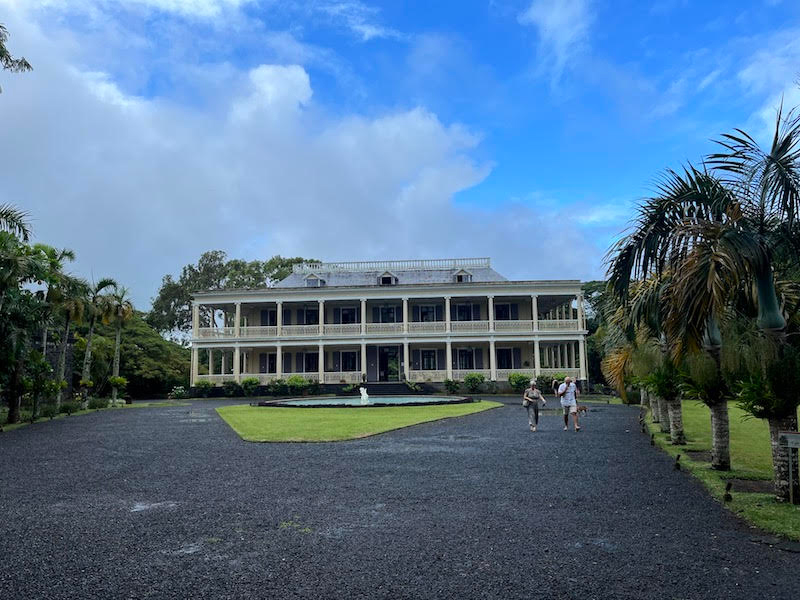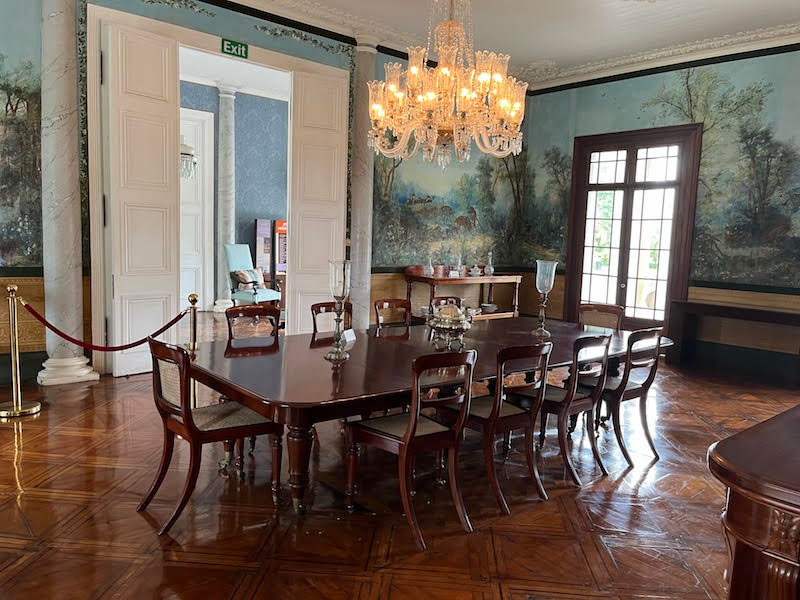 You can enjoy a breakfast or a lunch at La Terrasse, a café offering both Mauritian and European dishes. Alternatively, they are invited to discover the gastronomic cuisine prepared at La Table du Château.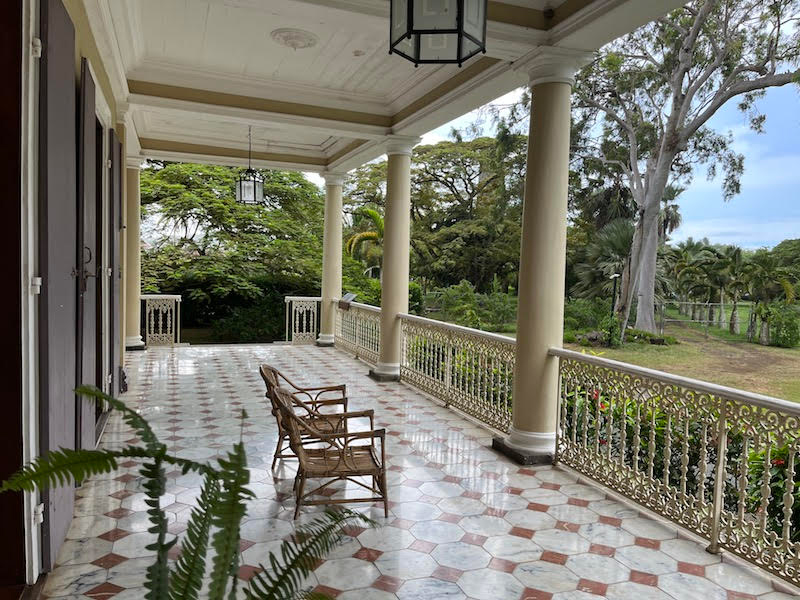 Domaine de Labourdonnais is also famous for its fruit pastes as well as its guava, lychee, papaya and tamarind jams.
Day Seven:
Our last full day on the island before our flight back to India the next day. Highlight of the day was a visit to L'Aventure du Sucre or the Sugar World, a museum and factory that encapsulates the sugar industry history of Mauritius .
The setting for this museum is an old factory that kind of recreates a bygone era and stands as a symbol of all that sugar represents in Mauritius and its history. It lies within the beautiful Beau Plan Sugar Estate, located close to the famous Pamplemousses Botanical Gardens.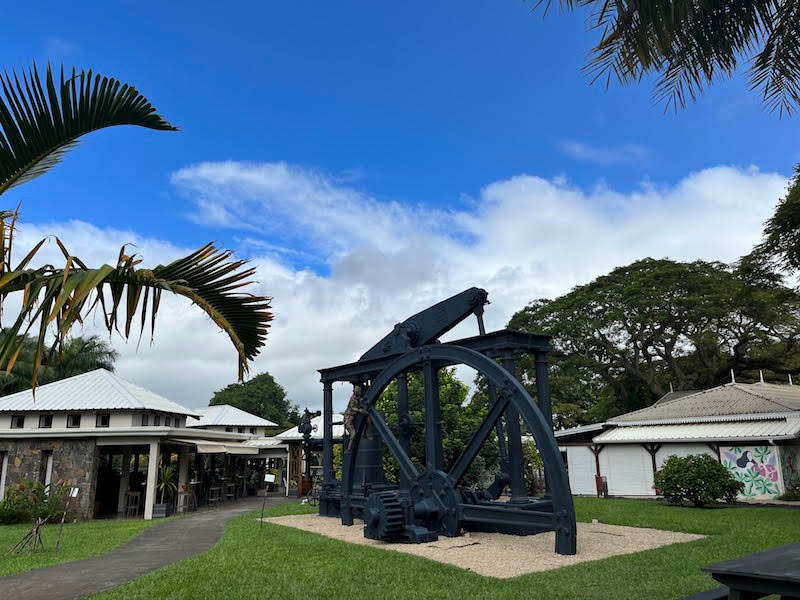 The massive sugar factory is a big draw among tourists. A sugarcane hedge runs alongside the final pathway and to the restored and converted factory. The vast factory boasts of its old machines decked with lights. There are giant screens, films, a barge floating and the sudden whistle of a railway engine. This is an interactive tour, helping you to learn more about the island's history and cultures.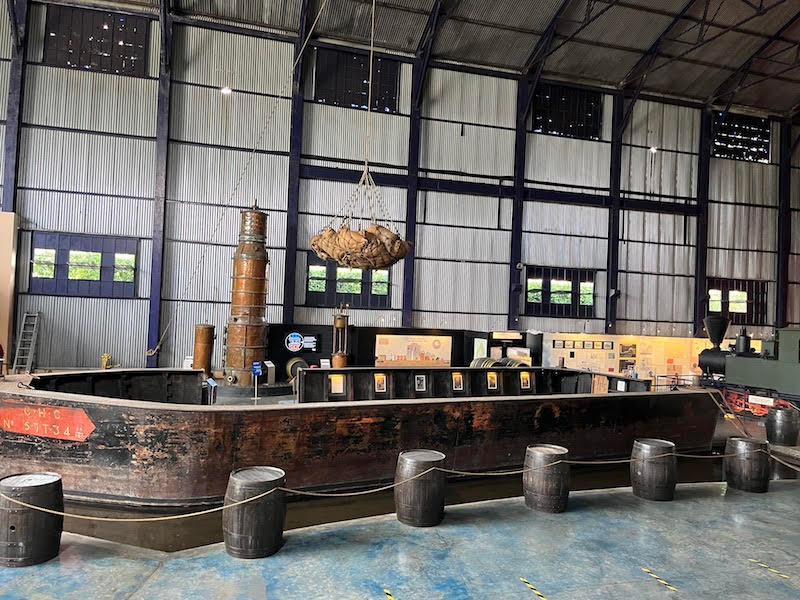 After a tour of this massive sugar factory museum, it was time to check in The Village Boutik on the premises, a place to buy special sugars and the Mauritian rum, as well as gifts and souvenirs made by local craftsmen.
L'Aventure du Sucre has a House of New Grove display in its Village Boutik. New Grove's prestigious range of rums are what you want to bring back from Mauritius.
New Grove's amber-coloured rums are aged in oak barrels and include Plantation rum, Oak aged (3years), Old Tradition (5years) and Old Tradition (10years). There are also exotic liqueurs flavoured with coffee, vanilla and Rodriguan honey. One of the collection's great successes is a range of rums featuring special sugars (molasses, demerara and golden bakery).
The tour of the Museum ends with a wonderful opportunity to taste the twelve special sugars and various rums, all produced from cane sugar. The House of New Grove helps visitors to learn more about rum-making with its traditional equipment such as a water distiller or a press enjoying a gleaming new existence.
Departure:
The last two days of our stay in Mauritius was at this beautiful property- Le Méridien Ile Maurice which boasts about its 1-km-long span facing the sea. It is indeed positioned alongside a kilometre of sandy beach on the northwest coast of the African island nation.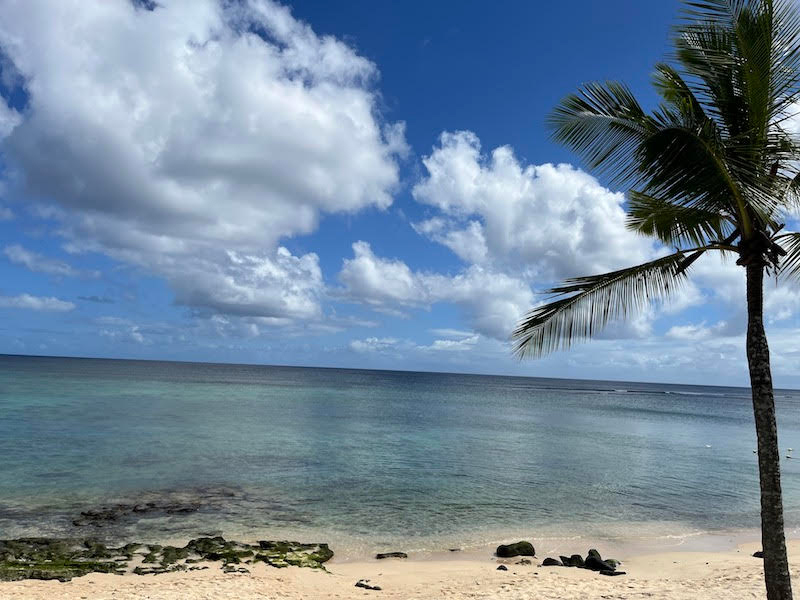 Before we headed for the airport, the stay in Mauritius was wrapped up by an experiential culinary engagement while we suddenly rushed and gushed to see a rainbow in the horizon that actually melted in the Indian Ocean. There cannot be a better happy ending to our weeklong Mauritius rendezvous.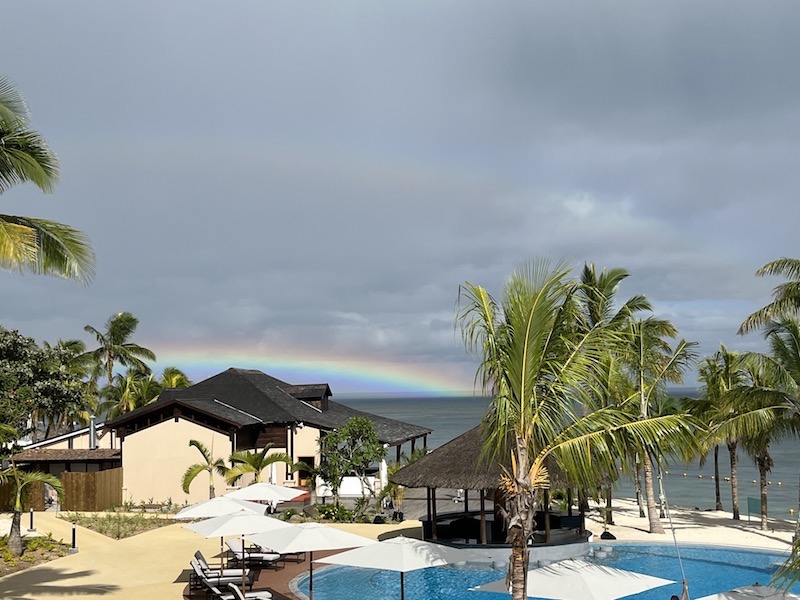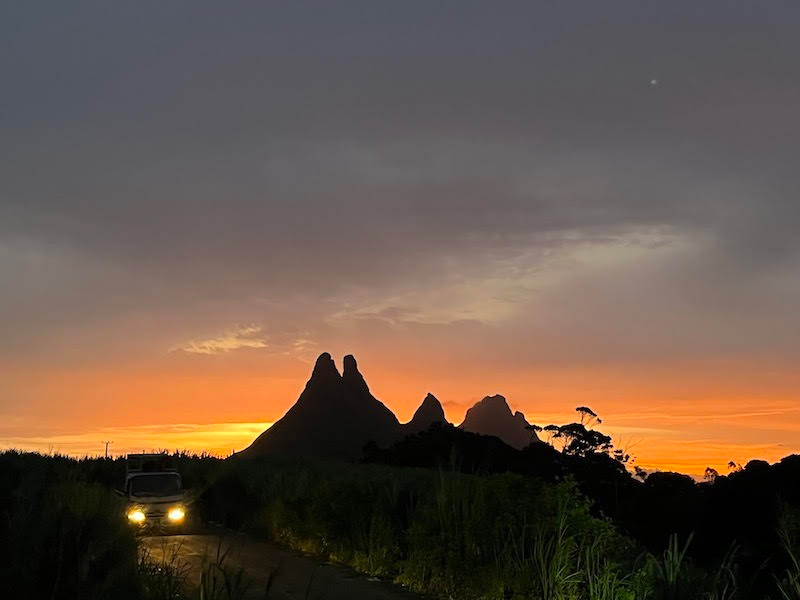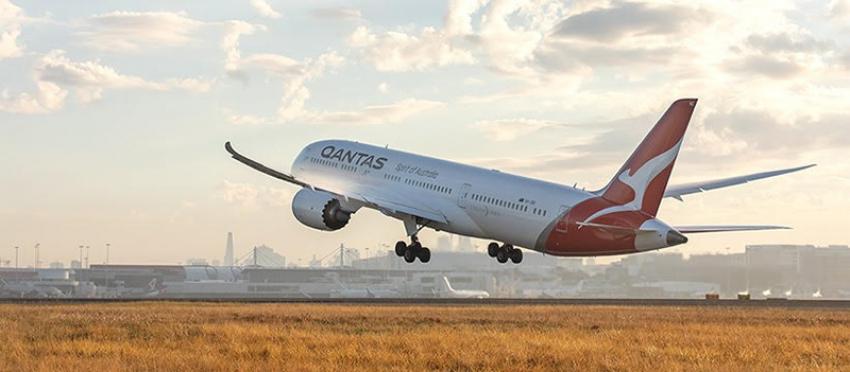 Qantas connects Australia w ...
Qantas, the national airline of Australia, created history on Sep 14 when QF 67 took off from Sydney's Kingsford International Airport to touch Bengaluru, the southern Indian city famously known as 'The Silicon Valley of The East', completing the non-stop flight in less than twelve hours.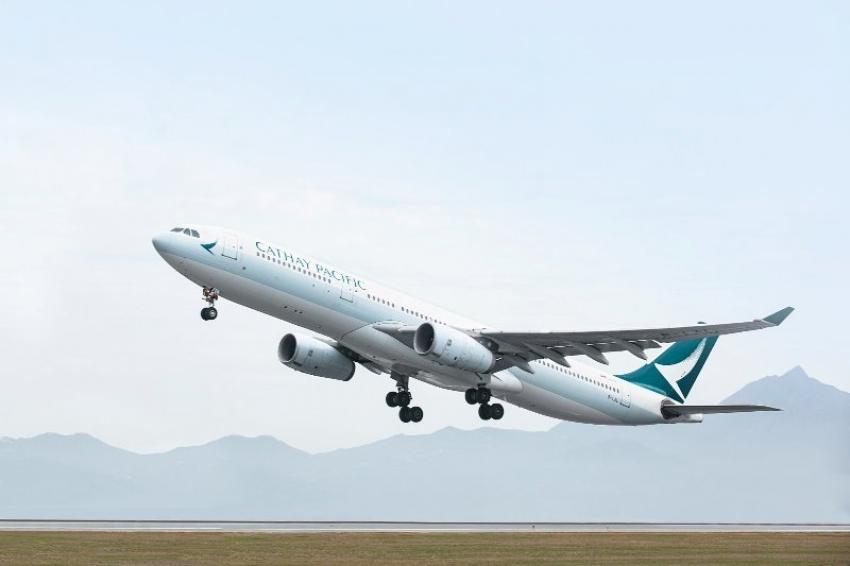 Cathay Pacific to commence ...
Bengaluru: Hong Kong's home airline will start twice-a-week direct flights from Bengaluru to Hong Kong and beyond from Oct. 11.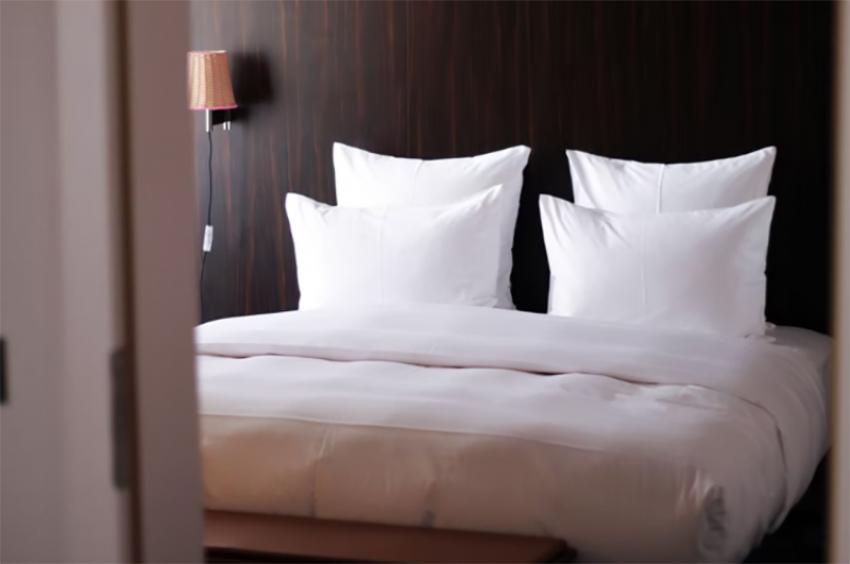 Independence Day: OYO annou ...
New Delhi: Indian Hospitality enterprise OYO on Monday announced reduced prices on stays with tariffs which now begin at Rs 399 for the period between Aug. 8 and Aug. 21.