A natural healing paradise in the heart of New Delhi
Sujoy Dhar | @notintownlive | 01 Aug 2017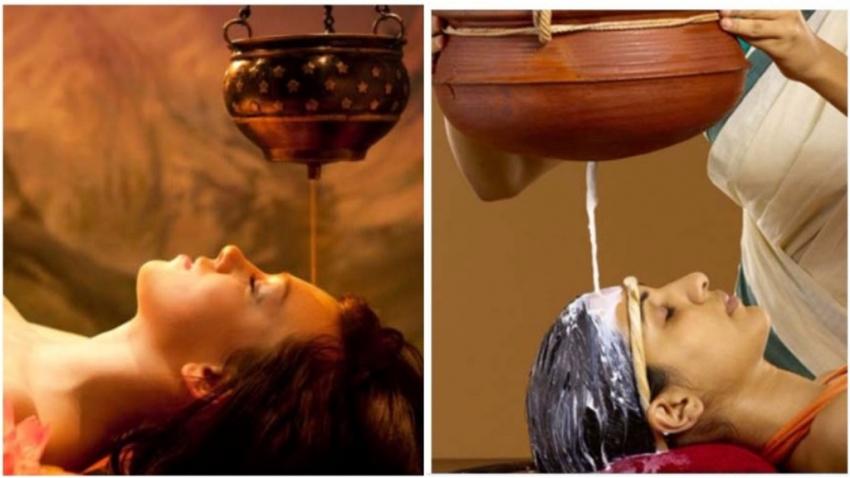 You come here for healing but this hospital, if you choose to call it so, does not scare you with the unnerving hospital smell, which is usually a combination of medicines, disinfectants, sickness and anxiety. Because here you come not just for immediate healing but to initiate a new lifestyle guided by the age-old Indian principles of healthy living.
As you step inside the Swami Parmanand Prakritik Chikitsalaya (SPPC) or (what they call Swami Parmanand Nature cure and Yoga centre) for a few days' stay, you are welcome with a reassuring smile of the healers- be it the reception staff or the doctors or the kitchen managers- who will make you feel comfortable with their warmth and cheerfulness.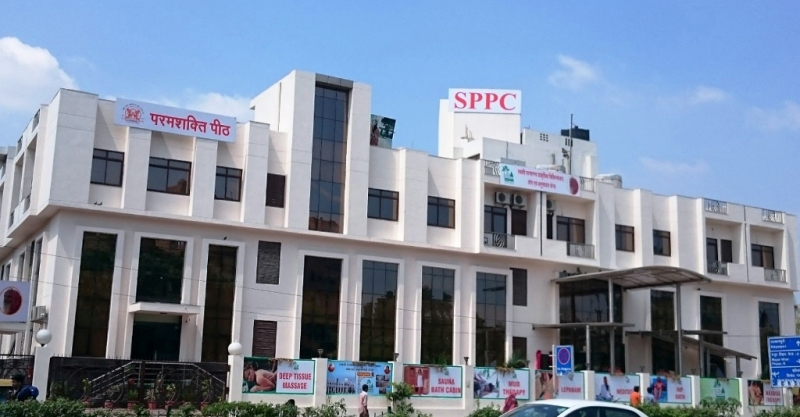 A stay in this Health and Wellness centre in New Delhi's West Vinod Nagar is an experience in itself and it kind of catapults you to a different positive kind of lifestyle after you undergo its lifestyle programs through Complementary and Alternative healing principles of Naturopathy, Yoga and Ayurveda among others.
A few days stay here for me was to great extent lifestyle changing. Or perhaps I would say I got a new direction in healthy living. The "Lifestyle intervention" at SPPC is your road to wellbeing. The care givers here are warm hearted, qualified and extremely skillful.
"In the spectrum of Health – Disease, we focus on Health Enhancement using specially designed Lifestyle interventions through natural measures," says Dr Divya Sharad, one of the senior physicians at SPPC.
"Designed for Urban lifestyle, here we are offering integrated approach to health and wellness; supervised and led by qualified practitioners. The integrated approach uses Naturopathy, Ayurveda, Yoga, Acupuncture, Physiotherapy, Diet and other lifestyle measures to bring about the desired result for the individual," she says.
Prevention of conditions / diseases, promotion of positive health, lifestyle intervention measures for various health conditions form core of the menu at SPPC.
"Our unique therapies include temperature controlled herbal water jet baths, Colon Hydrotherapy and special cooling packs using herb and clay, Spinal spray herbal baths, herbal steam baths, in addition to all Ayurvedic therapies," says Dr Divya Sharad.
"We have combined all that is good in India- from Manipur to Keralite to local treatments," she says.
"Here we do not only welcomes sick patients but also welcomes healthier one for the betterment of their health. As the hospital is located in the heart of the city, it is easily accessible to have the treatments and therapies within effective costs.
"SPPC provides a number of therapies and treatments in Naturopathy, through Ayurvedic methods and Yoga sessions for problems like Thyroid, Diabetes, Back pain problems, etc. Cost effectiveness and hygiene are the utmost priority of SPPC."
According to SPPC, the prime mission is to offer holistic and integrated solutions to the needy through natural therapies.
SPPC is spread over 40,000 square feet in five floors; including Residential suites, separate treatment facilities for men and women, Yoga space, hydrotherapy rooms and Healthy Naturopathic food dining facility, protected Sun, Mud & Herbal Bath Terrace; Physiotherapy, Fitness center, Library and Retail space for Home care products.
According to the trustee members and doctors, SPPC is contributing to health tourism in India and foreigners are also coming to stay there and detox.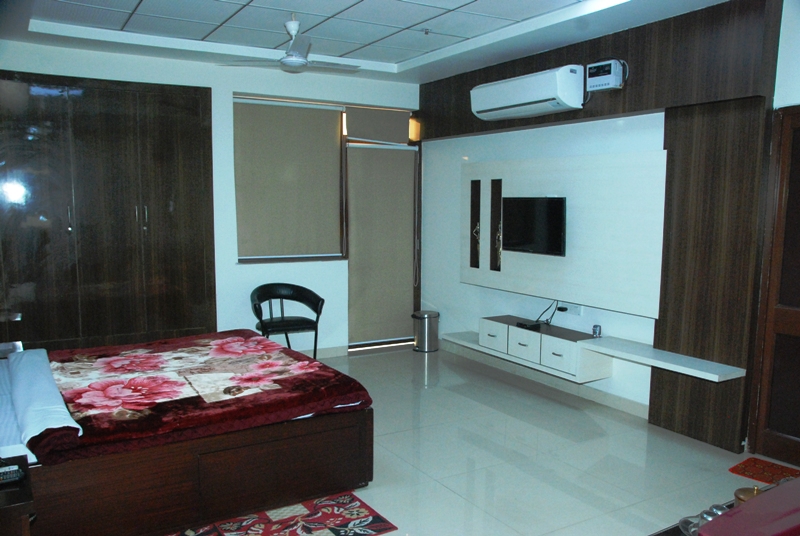 ACCOMMODATION
SPPC is a 30 bedded hospital for the stay during the program and therapies. All rooms being full air-conditioned they provide much comfort, more over the centre premise is very spacious to walk through. People can choose types of rooms as per their convenience and budge.
In addition, rooms do have amenities like Television, mini-refrigerators, hot water kettles, shower/bath amenities. There are three types of rooms available.
Deluxe Rooms – 2 deluxe rooms with double occupancy is far more spacious and comfortable for patients.
Standard Rooms – Standard rooms come with all comforts and supplies.
General Rooms – General rooms come separate for both male and female and all air- conditioned with great hospitality.
According to Dr Divya, there are huge discounts being offered and so a Rs 2000 bed after a 30 percent discount is Rs 1400/-.

TREATMENT FACILITIES:
NATUROPATHY
Naturopathy at SPPC is one of the best. It makes use of body's innate healing power and a Naturopathic program / regimen offers the corrective environment for this innate healing power to balance the body.
Naturopathy has three major aspects, preventive, curative and health promotive. Here the treatments are given in due respect with the laws of Nature. The methods are quite easy and simple, which do not create any side effects. The methods generally employed in treatments are Mud-bath therapy, Ionic Detox Foot Bath, Hip Bath therapy, Enema, Massages, Chromo therapy, Acupuncture, Acupressure, several types of packs, etc. One must follow healthy routine, eat well, breathe well, and think good. Only then, one can be free of diseases and lead a cheerful life!
Qualified Specialists from Natural Health care fields / systems like Naturopathy, Ayurveda, and Yoga are available for consultations and leading the prescribed programs.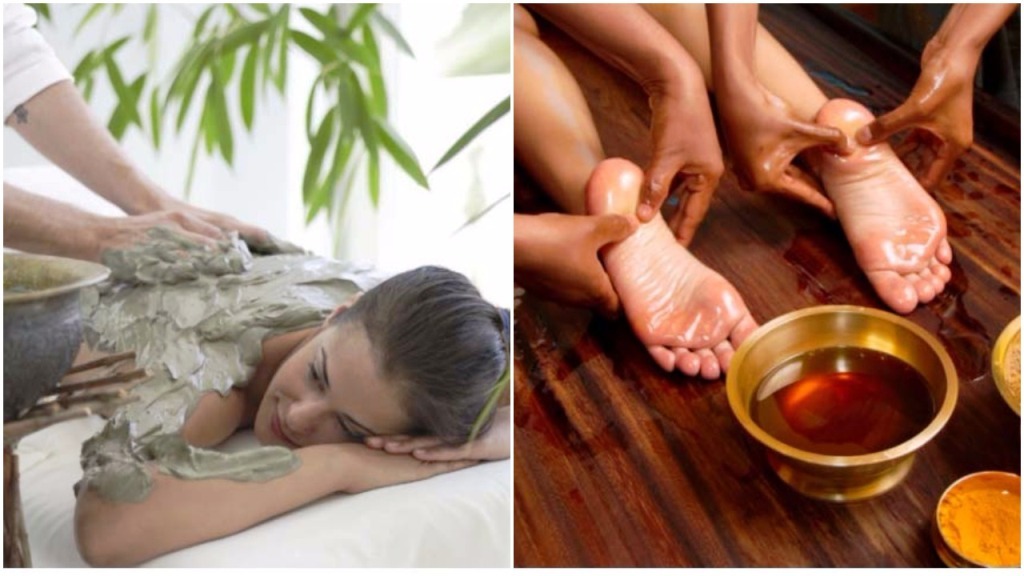 YOGA
Yoga programs are specially designed lifestyle programs to meet the contemporary need of Urban man. SPPC suggests combining these special sessions with other Treatments and prescription to have a comprehensive program benefiting and promoting health and well being. Yogic kriyas like Jal neti, Kunjal, Trataka etc are specific practices aimed at cleansing the body parts and here you undergo all that. Such practices also help in gaining mastery over the involuntary functions of the body mind complex as well. Yoga therapy – a group of specially designed practices focuses on the specific need of the person and the condition, for example like back ache. These are taught separately giving individual attention and care during the sessions.Cleansing Kriyas like jalneti, Vaman / Kunjal etc are taught to ensure complete therapeutic benefit.
AYURVEDA
Ayurveda, one of the oldest systems of medicine and health care dating back to 5000 years are guided by three major bio energies called Vata (air principle), Pitta (fire principle) & Kapha(Water & Earth principle). To maintain the balance of Vata, Pitta, Kapha, ayurvedic treatments are offered which includes many ancient techniques like Abhayanga, Shirodhara with herbal oil, Panchakarma procedures, Tarpana, Shiro Vasti, internal herbal medications, and many more. Hence, Ayurveda helps in finding the bridge to balance the well-being of an individual with nature's laws.
DIET & NUTRITION
Food is the primary component in this program! Food is Medicine! Understanding this concept in an easy way is to follow your routine keeping the "Sun" as the guide. Wake up just before the sunrise, after all natural cleansing, expose to sun light to imbibe the warmth and energy from Sun (your first food and primary source of energy!!!). Breakfast must be like the morning warmth of Sun – gentle, easily digestible Lunch again like the quality of Sun – items that increases the body warmth / temperature (maximum calorie of the day), good quality complete meal Supper like the setting sun – warm, but calming, light and easily digestible and EARLY Night if really needed like the Moon – extremely light (reflective of Sun light) semi solid to liquid type only, which are not physically taxing (that requires minimum digestion). As there is Eclipse periodically, develop the habit of abstaining from food as well periodically – Fasting!

PHYSIOTHERAPY
Physiotherapy is a medical treatment and speciality to address the illness or injuries that limit a person's ability to move and perform functional activities in their daily lives.
A modern gym at SPPC: Considering India's rapidly growing need of wellness and fitness among the people of all ages, Didi Maa Sadhvi Ritambhara Ji gifted a prime and fully equipped gym to East Delhi people. SPPC tied up with FITREAKS GROUP a premium chain of Fitness Centre in Delhi, to set up the gym.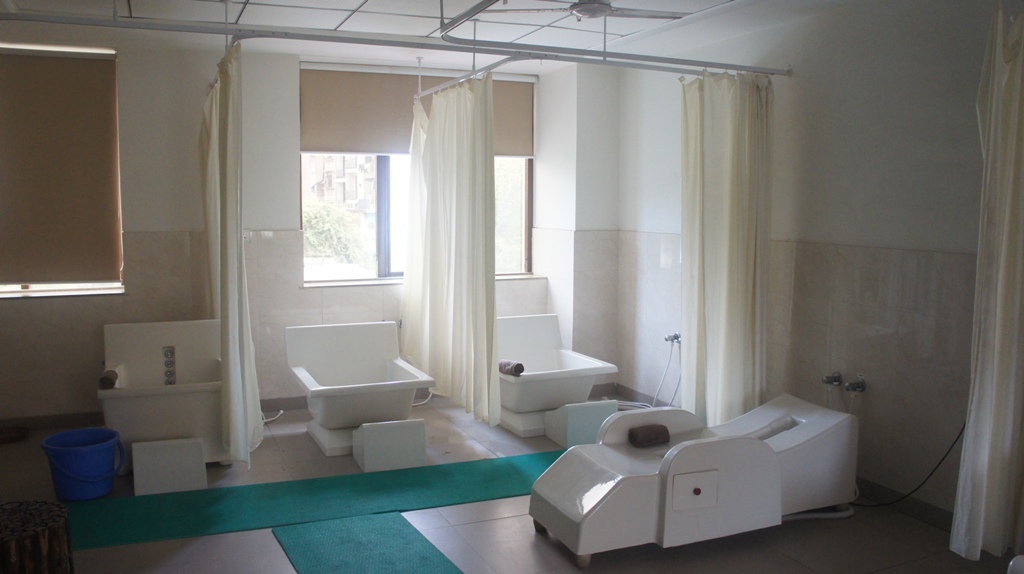 So if you are looking for a wellness centre right in India's national capital and want to detox without burning a hole in your pocket, SPPC is where you should head.
As one of the senior trustee members put it: "The polluted Environment, the sedentary lifestyles and stressful eco system that we are all part of Today, necessitates that we take up yoga and even other forms of exercise as norm rather than an exception. We as human being would not want to stay in a high life state comprising of good physical health and stress free life for a short or temporary period, it has to be for long term and sustained."
"Hence, we must introduce yoga, Ayurveda and naturopathy in our life, this would gradually also tern us around better Human Beings and which would intern create an more stable societal fabric."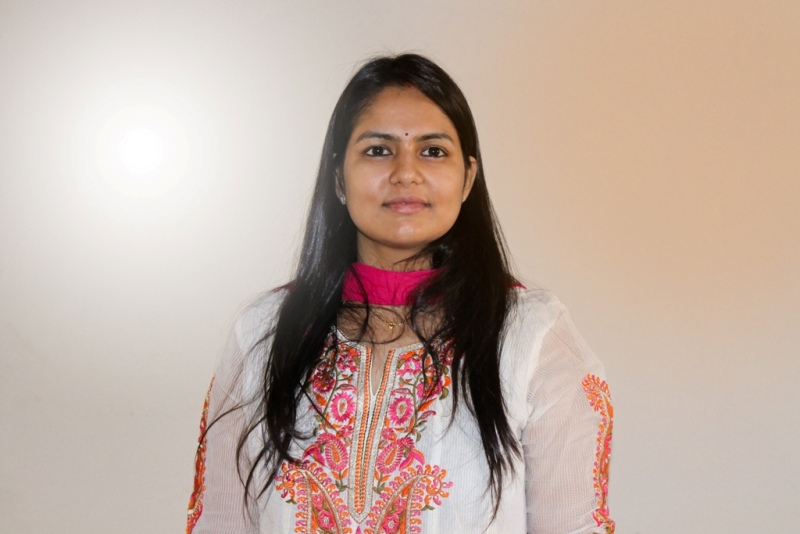 Dr Divya Sharad is the livewire of SPPC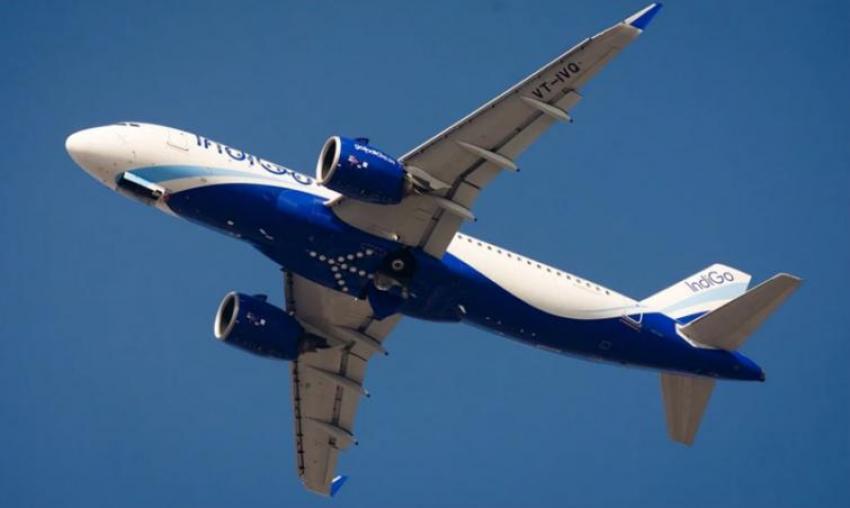 IndiGo supports IMD with cr ...
New Delhi/NITN: In its endeavour to provide support to the nation, leading carrier IndiGo is collaborating with the Indian Meteorological Department by providing crucial aircraft data on wind, humidity and temperature relayed by the aircraft sensors.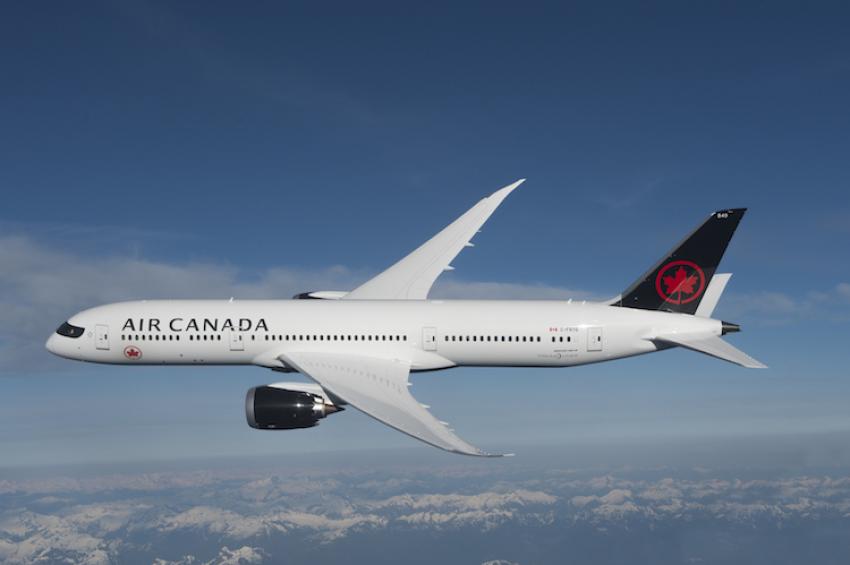 Air Canada to lay off more ...
Ottawa/NITN: Collapsing of the aviation industry, due to the coronavirus outbreak, forced Air Canada to slash its workforce by 50 to 60 per cent effective June 7, a memo by the company sent to all its employees said.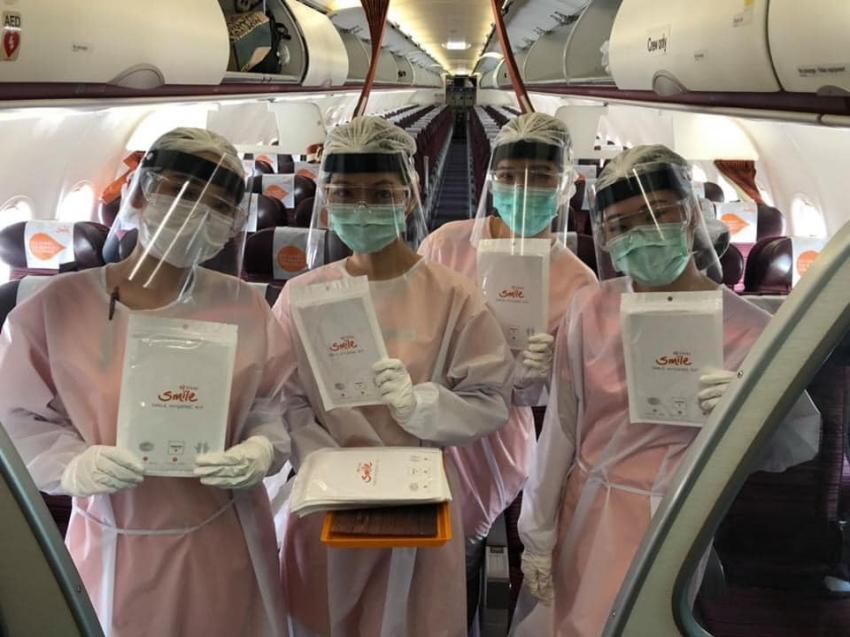 THAI Smile Airways flies 12 ...
Gaya: THAI Smile Airways, a Thai low-cost regional airline, on Saturday (May 13) flew 129 people, including 82 Buddhist monks, from the Buddhist holy site of Gaya in eastern India's Bihar to Bangkok in Thailand.