Konya: On the trail of Rumi in a city of love
NITN | @notintownlive | 28 Jan 2020, 01:09 am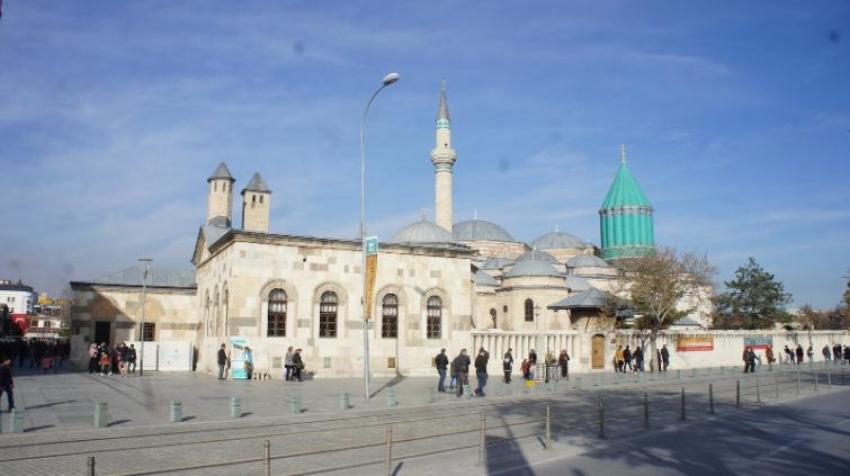 On December 17, 1273, the 13th-century Persian poet, Sufi mystic and Islamic theologian Rumi breathed his last in Konya, a city in central Turkey, he chose to live. Sujoy Dhar on Rumi's death anniversary month in December goes on his trail in Konya, the land of saints, whirling dervishes and much more..
"When we are gone, do not look for our tomb in earth, but find it in the hearts of people." – Mevlana Rumi
These words of Rumi on his gravestone in Konya in central Turkey sums up a life devoted to inspiring humanity to love, and love alone. And perhaps nowhere you find the meaning of his life greater than in Konya where he lived and died in 1273, leaving behind a world that for centuries are living off his powerful, heart-melting words loaded with a message of divine love.
Nowhere does his words find more resonance than in Konya, the city where lies the shrine of Mevlana Rumi in the south central region of the Anatolian steppe of Turkey.
While Konya is famous for it closeness to the nearby ruins of Catal Huyuk, it is the invisible presence of the great Sufi poet and philosopher that charm you once you are in this city.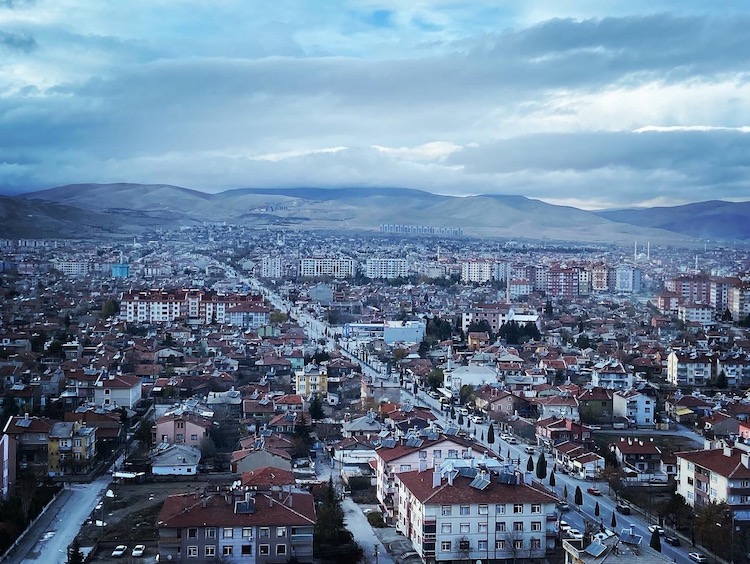 Konya is said to be Turkey's oldest continuously inhabited city and was known as Iconium in Roman times. Konya is situated on a large and level area in the middle of Central Antolian Region of Turkey.
Permanent settlement in Konya began in the Prehistoric Age. As the capital of the Seljuk Turks from the 12th to the 13th centuries, it was here the mystic Mevlana Celaleddin-i Rumi had founded a Sufi order known in the West as the Whirling Dervishes.
Konya is like an outdoor museum with its historical monuments, cultural heritage, natural beauties and legacy of Rumi.
The Mevlana Museum
Here as I stepped inside the Mevlana Museum compound or his mausoleum, I could feel the strong presence of the Sufi poet everywhere. At the entrance, the silver door is inscribed with words that go: 'Those who enter here incomplete will come out perfect'.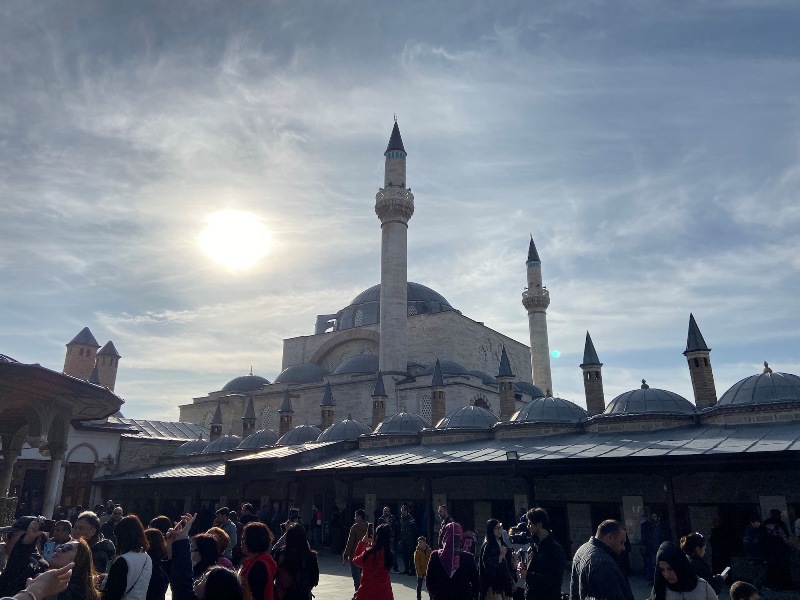 Here a tomb was made on the grave of Mevlana Rumi in 1274, who died on 17 Dec, 1273, in the garden of roses, which was given as a gift to his father Sultan of Scholars, Bahaeddin Veled. A cone covered by glazed tiles and a fluted turquoise dome were made in 1396.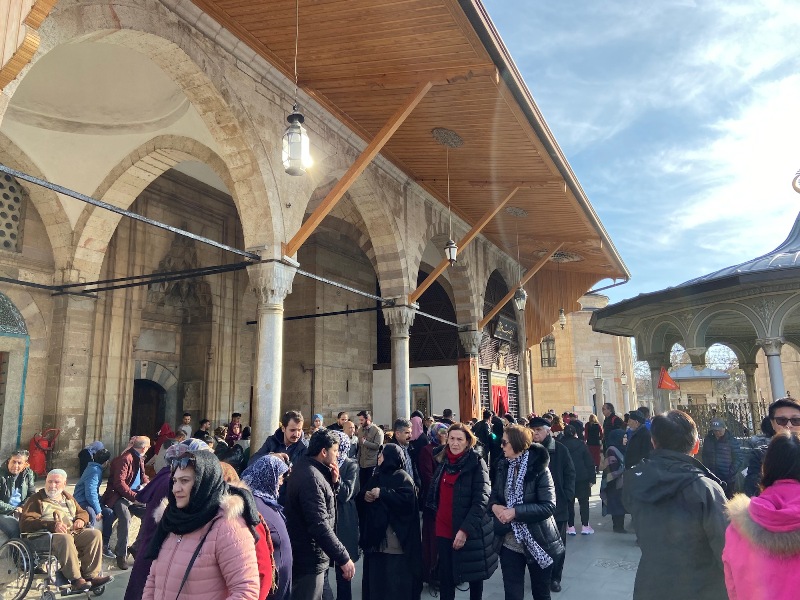 For both Muslims and non-Muslims, the biggest attraction of Konya is Rumi (Celaleddin Rumi or Mevlana as he was called) and it is here that you find the lodge of the whirling dervishes (trance dance or sema) close to his tomb.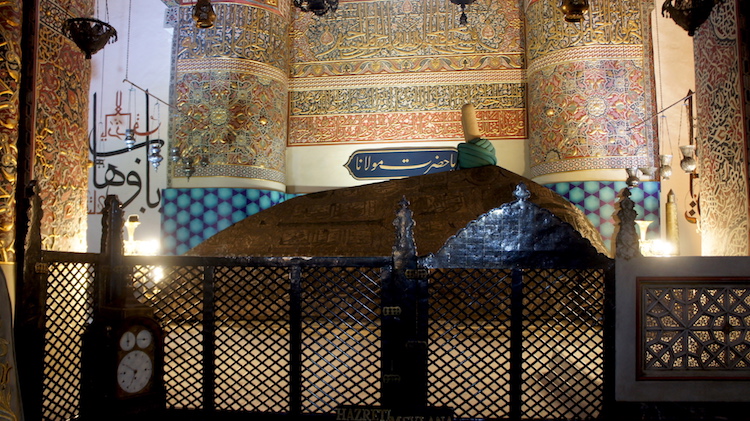 Image (Above): Tomb of Rumi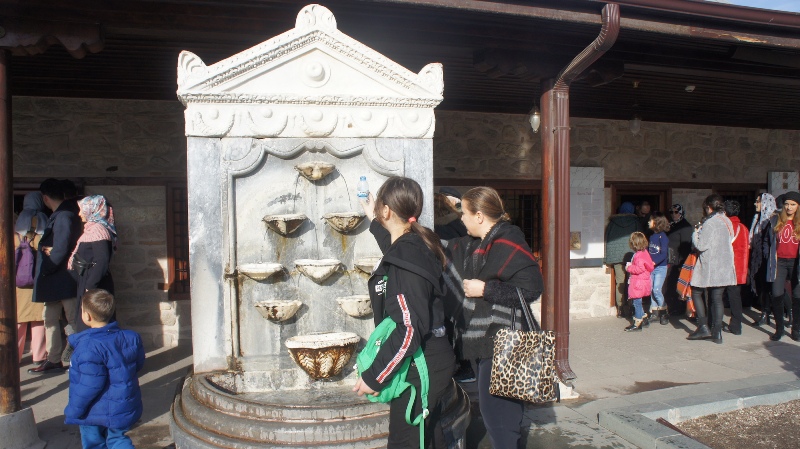 Attached to the mausoleum of Rumi, the former dervish seminary now serves as a museum housing manuscripts of Mevlana's works and various artefacts related to the mysticism of the sect.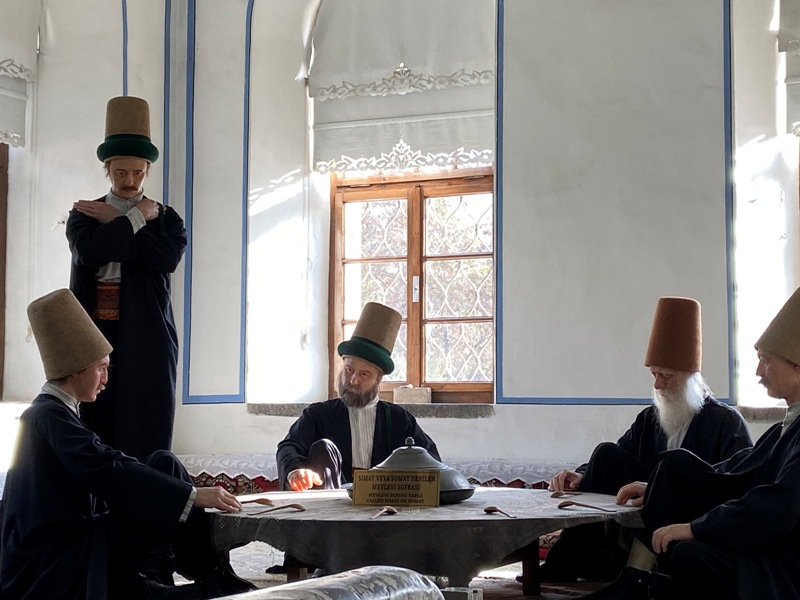 Every year during the first half of December, a ceremony is held in commemoration of Rumi, with the controlled, trance-like turning or sema of the white-robed men creating a fascinating performance for the viewer.
And if you happen to meet Rumi's descendant- the graceful Esin Chalabai Bayru who helms the foundation after Rumi- you are lucky.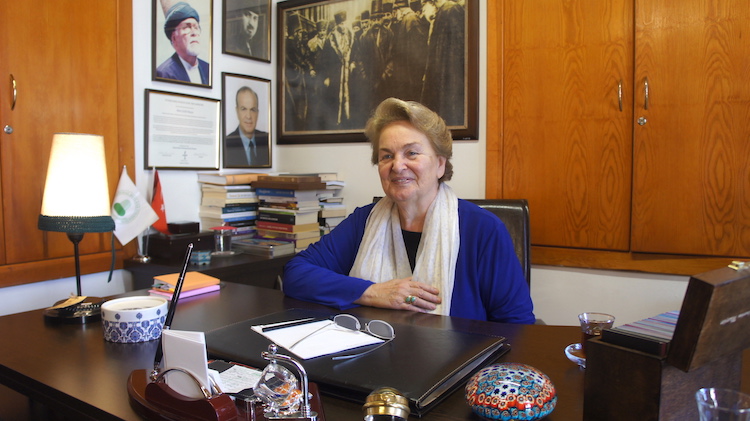 "He takes all this knowledge from Quran Kareem and Hadith. He takes all these from the love side, the divine love. Because of this it touched our hearts. All the humanity, they need spiritual feeding. Because they are hungry, their soul is hungry," Esin Chalabi Bayru, the graceful and ageing granddaughter of Mevlana Celaleddin-i Rumi from the 22nd generation, says softly about the works of Rumi.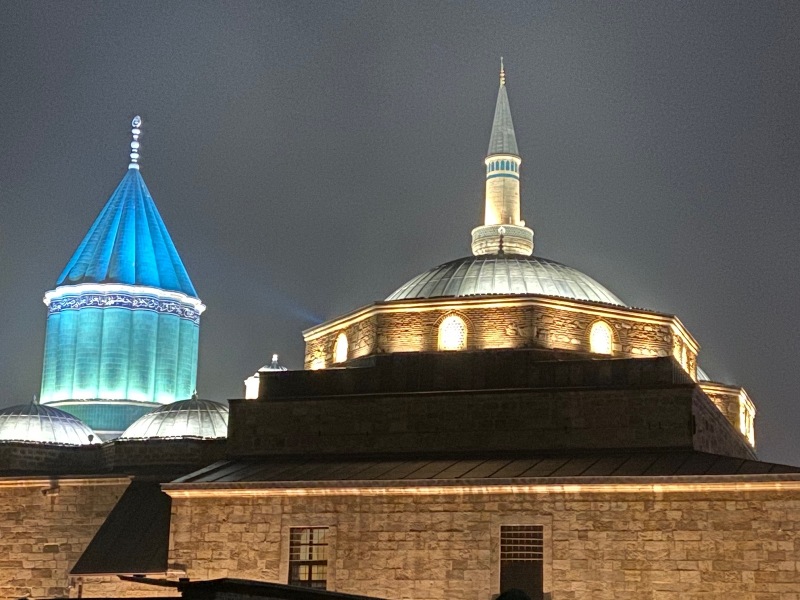 The Islamic theologian was born to native Persian-speaking parents in present-day Afghanistan, but he settled down in Konya where he met his spiritual instructor Shams-i-Tabrīzī or Shams al-Din Mohammad (1185–1248), the Persian poet.
Tradition holds that Shams taught Rumi in seclusion in Konya for a period of forty days, before fleeing for Damascus.
Esin Chalabi Bayru is the Vice President of the International Rumi Foundation (IRF) which sponsors and disseminates research on Rumi.
As we walked out of the IRF office after meeting her, we headed for the striking green-tiled mausoleum of Mevlana (Rumi), which is Konya's most famous building, to experience the essence of love that Rumi spread in the world.
The Mevlana Museum is also known as the Green Mausoleum (for the Green Dome) and it is the original lodge of the Mevlevi Whirling Dervishes. However several sections were added until 1854.
By a decree of Turkey's founding father and first President Kemal Ataturk on 6 April 1926, a year after he dissolved all Sufi brotherhoods, the mausoleum and the dervish lodge (Dergah) were turned into this museum.
Union of the Two Seas

So if you are in Konya in December, you walk over the beautiful city of Rumi strewn with the falling oak leaves and then perhaps all of a sudden stumble at an installation art like monument which marks the great event of Nov 30 in 1244 when Rumi met sufi master and wandering mystic Mohammad Shams al Din of Tabriz at that place.
The meeting is called "The Union of the Two Seas" and it had changed the course of life of Rumi.
According to history, soon after Rumi met the wandering mystic Shams al-Din of Tabriz, he changed and found in him the perfect and complete man he had been seeking all his life.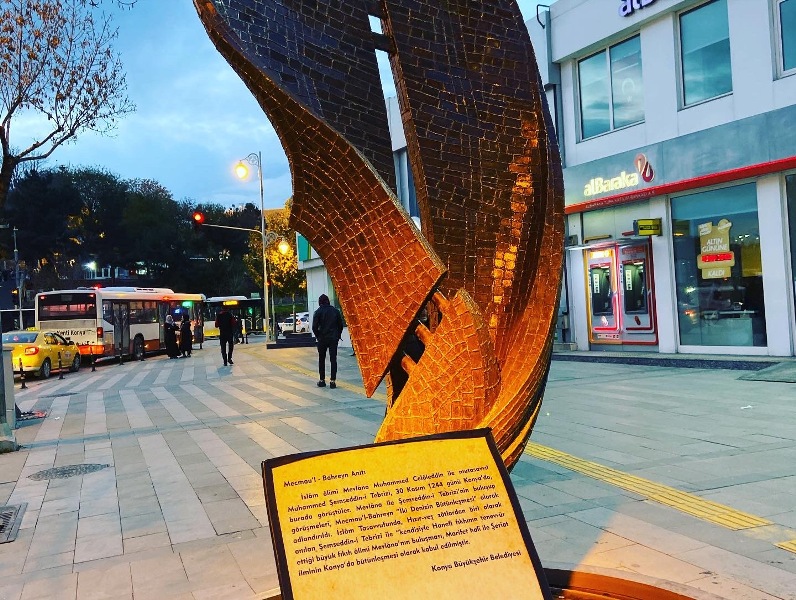 It is said that Rumi was so much overwhelmed by Shams that he started ignoring his own followers. A group of his followers than drove Shams away and finally killed him in 1247.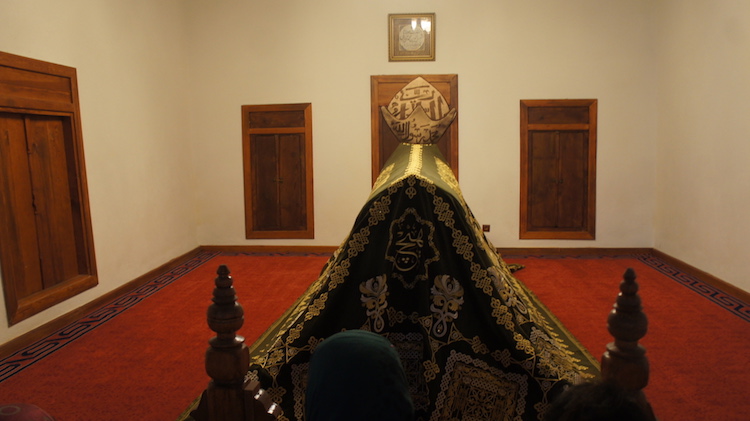 While in Konya do not miss a visit to Sams Tabrizi Tomb and Mosque, located in Sems Park. There is a tomb that is believed to belong to Sams Tabrizi. The building has been integrated with a small mosque by Emir Ishak Bey in 1510.
Sema: The Whirling Dervishes
A performance of the whirling dervishes (Sema dance) at the Mevlana cultural centre should not be missed if you are in Konya in winter. Sema came out of the inspiration of Rumi and it represents a spiritual journey to maturity and oneness with God.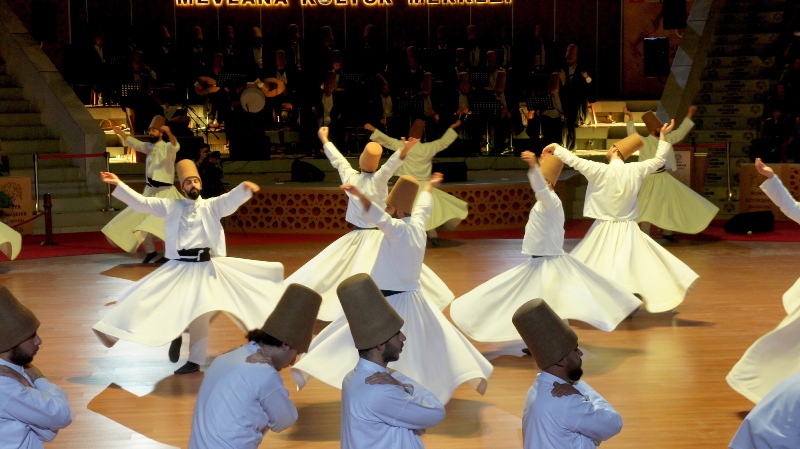 As the dervishes in white robes and conical cap (sikke) spin and spin, they elevate the audience too to a spiritual world where love and truth replace ego and mundaneness.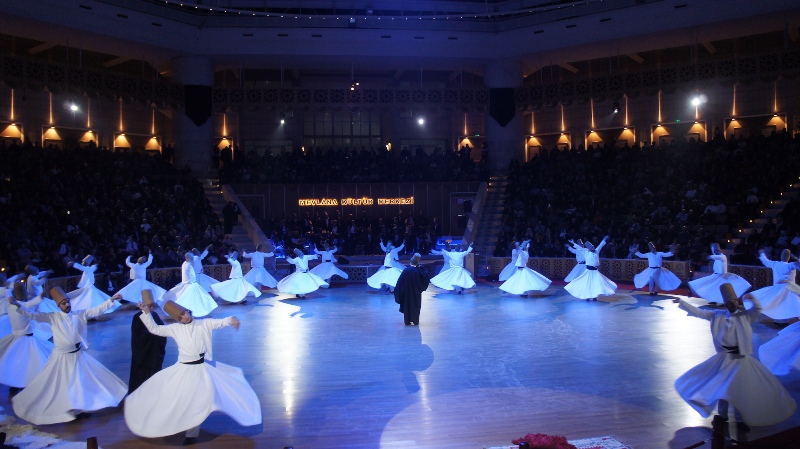 Mosques and more
During daytime in Konya spend some time in the Alâeddin Mosque which served as the "Mosque of the Throne" for the Seljuq Sultans of Rum and contains the dynastic mausoleum.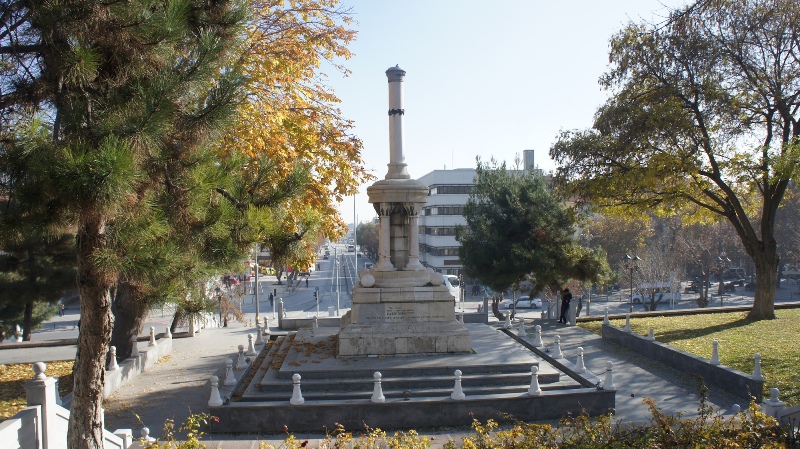 The Alaeddin Mosque was built on the site of Konya's old citadel dating from 1221 and today commands the Konya skyline. To one side of the mosque are the remains of the Seljuk Imperial Palace. The Karatay Madrasah, now a museum, displays bold and striking Seljuk ceramics. On the other side of the mosque, the İnce Minareli Madrasah of 1264 is remarkable for its marvellous baroque Seljuk portal.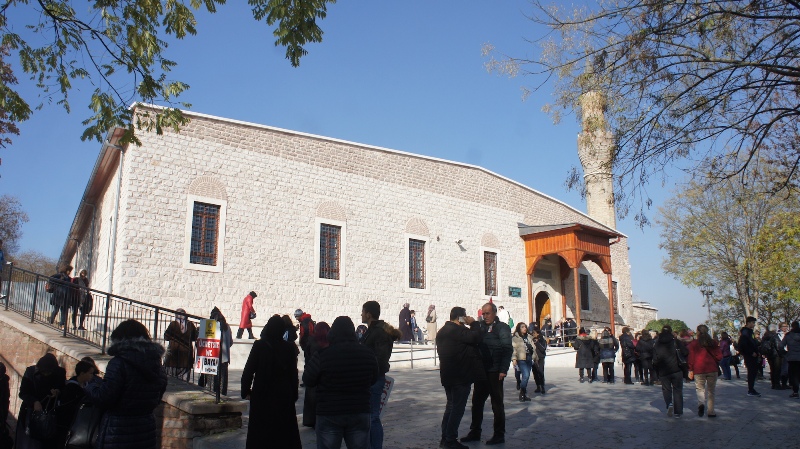 But what you would love this compound for is also its green slopes and trees overlooking the beautiful city and fountains. On a sunny day, can just bask here lying in the small stretch of green slope outside the mosque.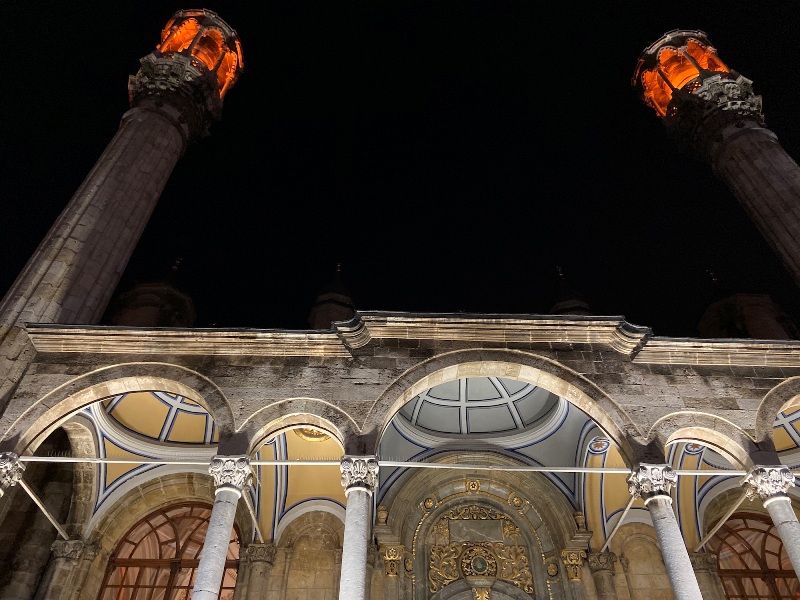 In Konya the Archaeological Museum is of great interest to many tourists. The collection of the Koyunoğlu Museum is a varied one, from natural history to old kilims. Within the museum complex, the restored İzzettin Koyunoğlu house illustrates the way of life of a prosperous Konya family of the last century.
Another lovely mosque made with cut Godene stone is the Aziziye Mosque that you encounter while wandering in Konya city. The Turkish baroque style mosque with twin minarets in Rococo style in the city's business centre was rebuilt in 1874 after it was destroyed in a fire in 1867. It has a lovely chandelier inside.

Sille: A 5000-year old settlement
A visit to Konya is incomplete if you have not visited Sille, a village with another Rumi connection, located only 8 km north of Konya. It boasts of the Byzantine era Aya Elena Church (Hagia Elena Church) and several rock chapels with frescoes.
Byzantine Emperor Constantine the Great's mother Helena saw the carved temples in Sille when she had stopped at Konya on her way to Jerusalem for pilgrimage in 327 AD and decided to have a church built. So she ordered to build Aya Elena Church here for the sake of Mihail Arkhankolos, who is the defender of the church according to the Bible.
Sille also has Turkish-Islam monuments such as mosques, baths, fountains and bridges.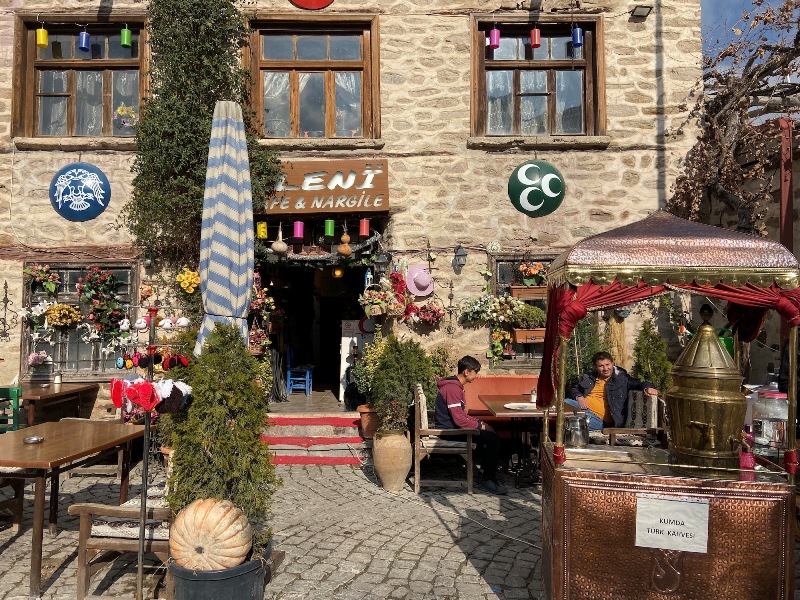 Till 1922 Cappadocian Greek language was spoken there and for some 800 years the Greeks lived there peacefully with Turks thanks to Rumi, who was a witness to a miracle at the nearby Orthodox Christian monastery of Saint Chariton.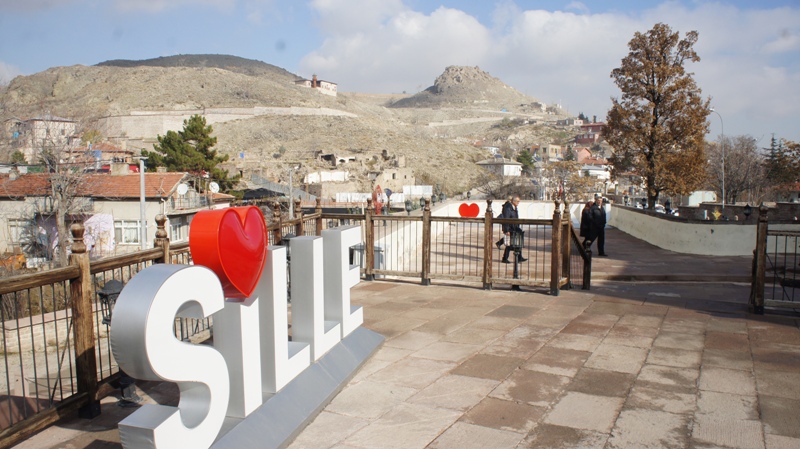 While Rumi's request to the sultans to protect the Greeks of the village was honoured though all times, the Greeks left in 1923 during the population exchange between Turkey and Greece.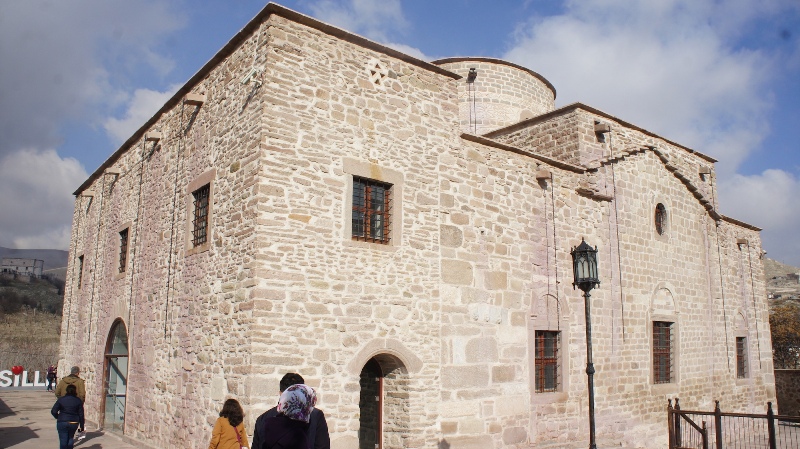 Walk through this quaint village with a nicely paved main street by a river and beautiful houses and shops lined on the other side, sip Turkish coffee sold by a village boy on the roadside hollering its goodness or choose a cafe here and crash for a while enjoying some great food and beverages.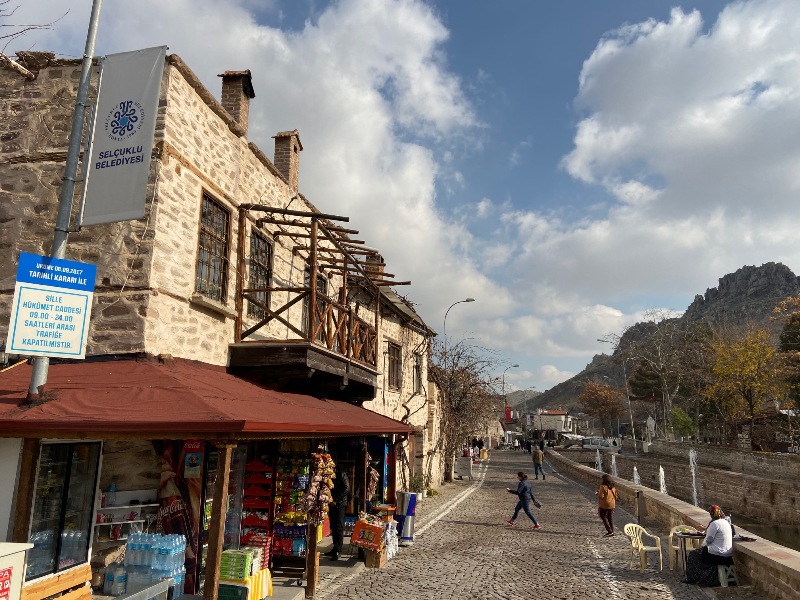 Valley of Butterfly: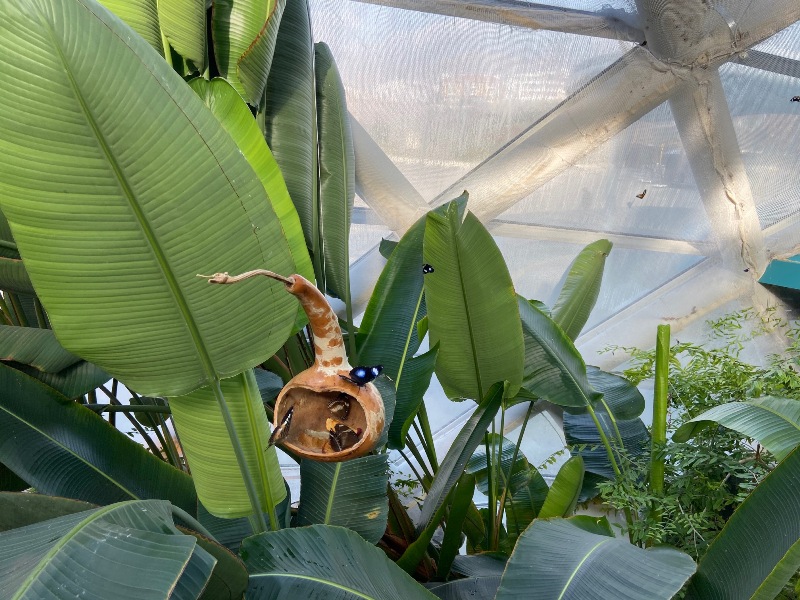 On the outskirts of Konya this is a must visit. Konya Tropical Butterfly Garden opened in 2015 in Selçuklu district of Konya as Europe's biggest tropical butterfly garden. This park tells the story of a caterpillar's turning into butterfly. It awaits you for an experience with full of adrenaline, with underground creatures' tunnel, reptile showcase, butterfly and insect museum, artificial sledge chute and other activities. As you enter the garden, thousands of plants and butterflies of countless colours greet you. They mesmerise you with the designs of their elegant wings and fearlessly perch on your hands, shoulder and everywhere. Walk the life cycle of butterflies. This is a great immersive experience.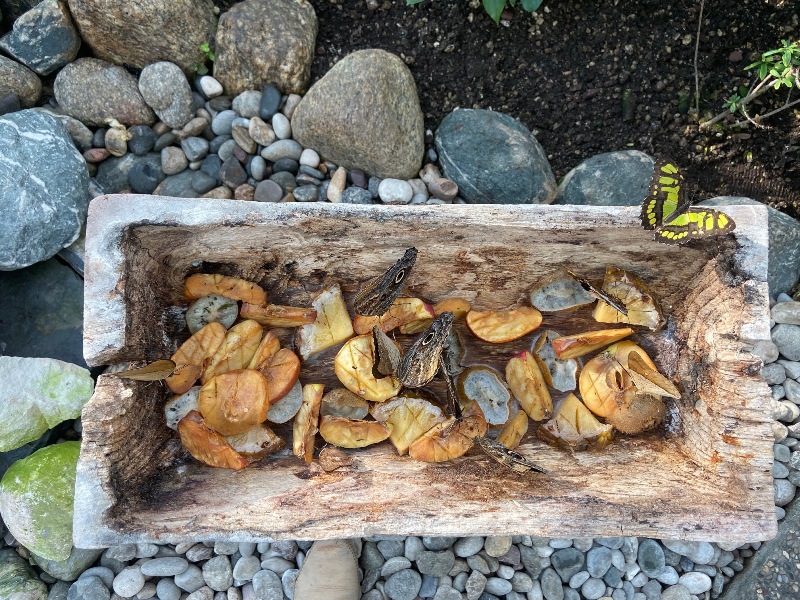 Konya Cuisine: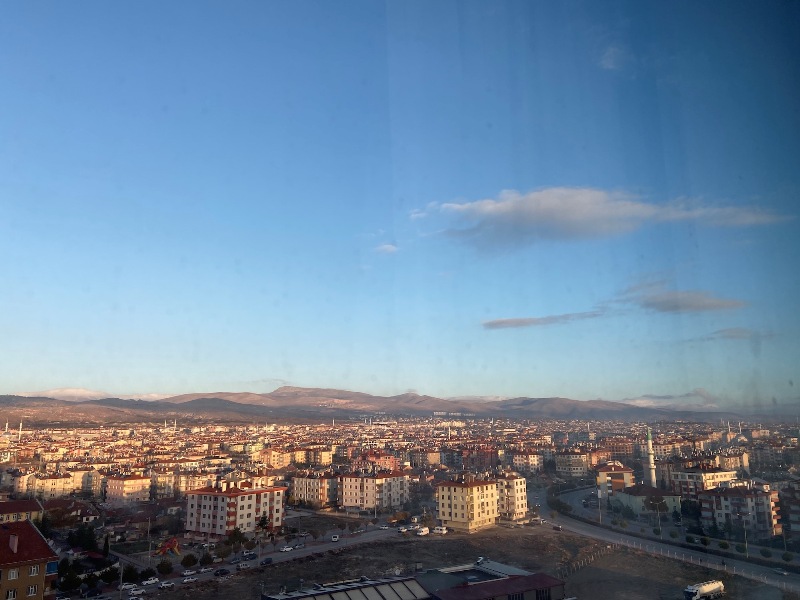 In Konya, do not also miss tasting some great food.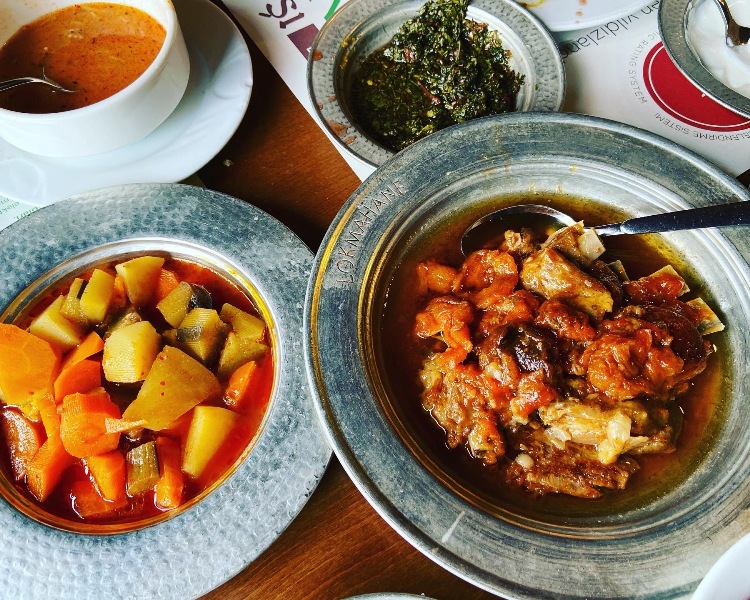 Soups: Okra Soup, Arabasi Soup, Noodle Soup, Terhun Soup, Tutmac Soup, Karamik Soup, Yoghurt Soup
Meat Dishes: Oven Kebab, Cebic, Quickbread with ground meat layer on top, Topalak Meat Balls, Cullama (thick pancake usually with chicken slices), Wedding Rice.
Vegetable Dishes (Not Non-Veg): Wrapping meat and rice with grape leaves, stuffing bell pepper with meat, Eggplant Musakka, Borani, Hellebore, Eggplant Sogurme with ground beef, Potato Oturtma, Zulbiye.
Pastry: Sac Borek, Water Heurek, Borek with ground beef and cheese, Katmer (flaky pastry).
Desserts: Sacarasi, Almond Helva, Semolina Helva, Hosmerim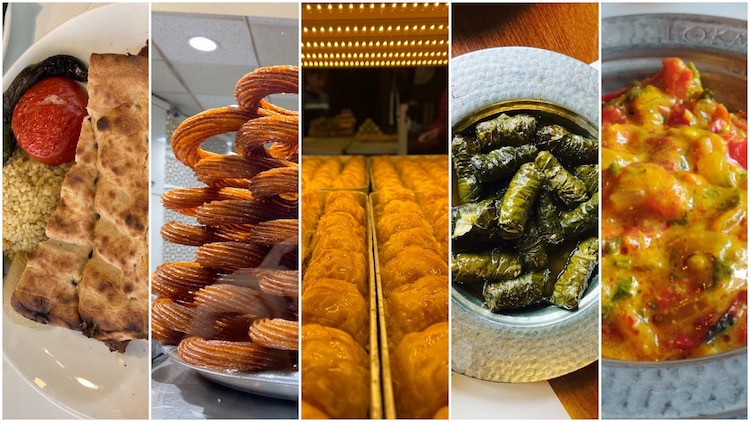 Images by Sujoy Dhar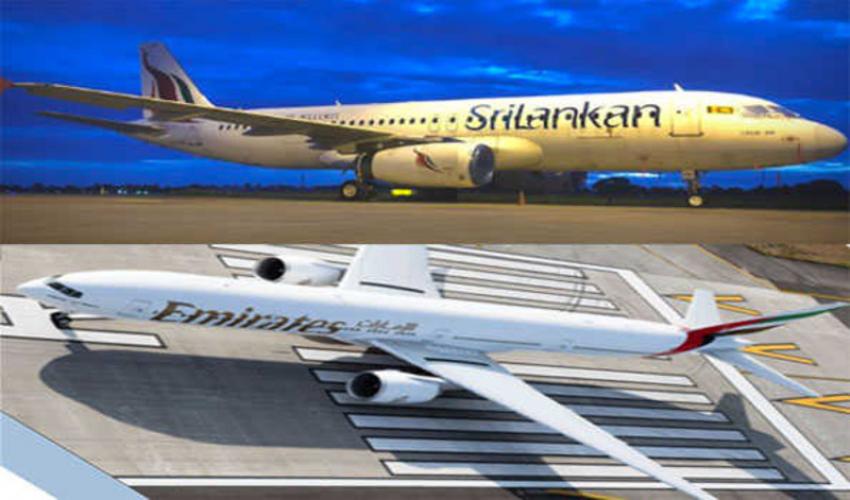 SriLankan Airlines, Emirate ...
Colombo/UNI: SriLankan Airlines and Emirates have entered into a reciprocal interline agreement aimed at bolstering connectivity for travelers.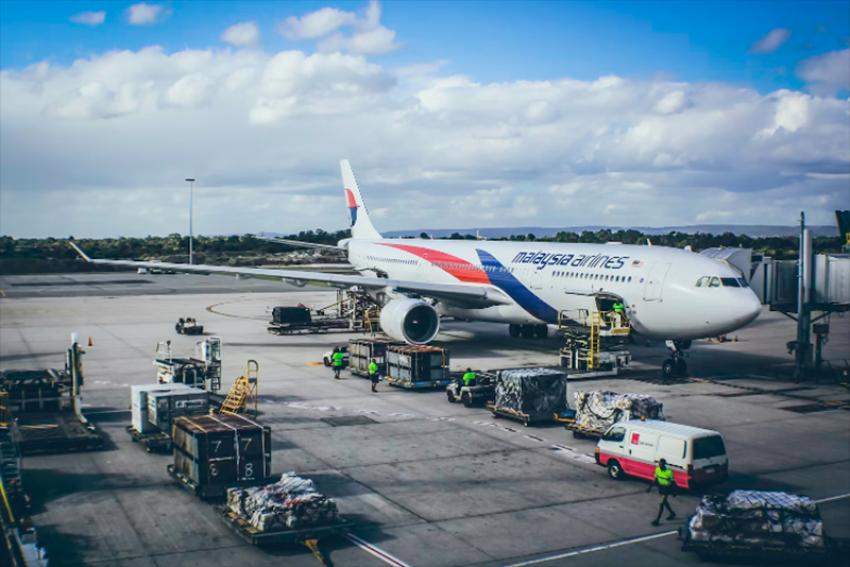 Malaysia Airlines introduce ...
Kuala Lumpur/NITN: Malaysia Airlines is offering introductory fares on their three new services between Kuala Lumpur and the Indian cities of Amritsar, Thiruvananthapuram and Ahmedabad.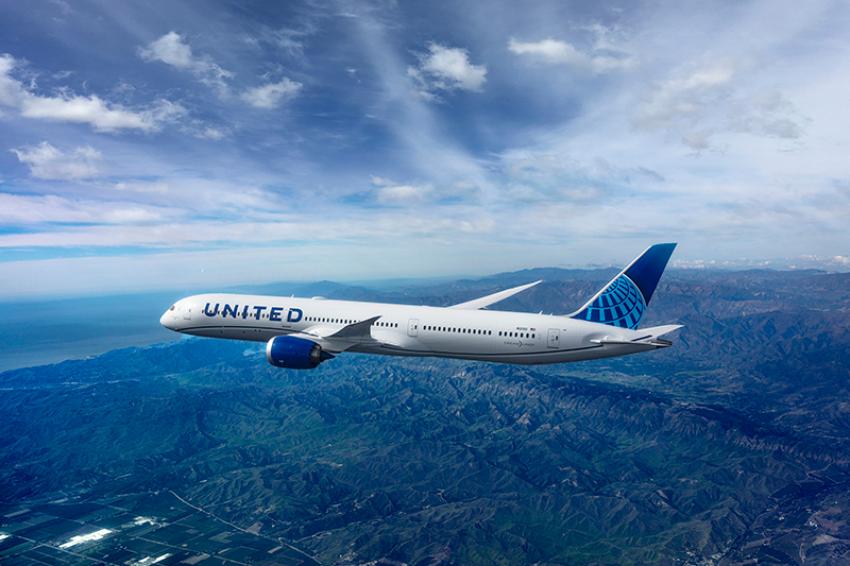 United Airlines increases n ...
New Delhi: United Airlines has announced an increase in service between New Delhi and New York/Newark, with a doubling of flights from once to twice daily during the winter season 2023/24.