Epar Bangla and Opar Bangla meets at Illish Utsav
Arundhati Gupta | @notintownlive | 15 Aug 2022, 03:55 am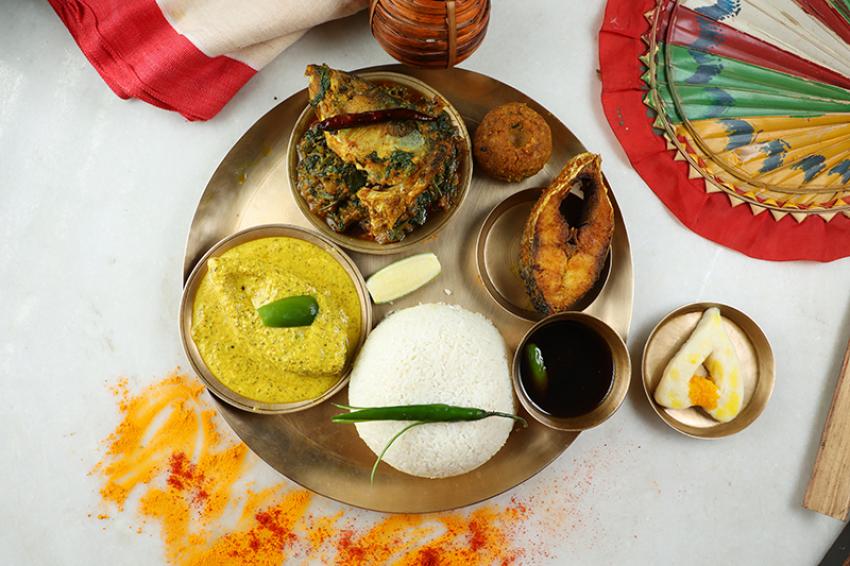 Illish Utsav
It was a royal repast! I was seated in an exclusive room, along with other guests, on an antique dining table, richly upholstered chair seats in burgundy velvet, matching perfectly with the equally gorgeous velvet wall linings. It had a royal feel! It was heightened further by the exclusive artefacts and the sepia-toned framed portraits of unknown people adorning one of the walls. It was here that I was served the much coveted silver fish on a kansa (bell metal) plate…and the place was Sonar Tori (golden boat).
It was an unforgettable experience, made all the more special, with the silver fish being served in its various avatars as featured in the Sonar Illish Utsav. Every morsel was a delight.
Meticulously curated by Chef Bhaskar Dasgupta, the menu for the Sonar Illish Utsav (ends on August 15) has highlighted the lost recipes of Bengal. "It is my dream to take Bengali cuisine beyond the shores of India'', states Chef Bhaskar proudly, "it has been my endeavour to bring back lost treasures from Bengali kitchens…from epar and opar. For the Sonar Illish Utsav, I have included a few classical recipes from opar Bangla, or Bangladesh."
Sonar Tori, at City Centre, 'B' Block, Salt Lake, Sector 1, is hosting a very interesting Hilsa festival…Sonar Illish Utsav which has on offer typical Bangladeshi specials such as Mawa Ghat Ilish Er Bhorta, Ilish Panikhola, Ilish Beguner Tawk, Aam Aacharer Ilish Bhapa and Kancha Lonka Ilish. The distinctiveness of these dishes was the use of garlic and onion which added uniquely different flavour and taste to each of the preparations.
Mawa Ghat Er Illish Bhorta caught my eye when I read the menu. I had never tried a fish bhorta ever, and that too of Illish. My exposure to bhortas was those that we made at home…potatoes, pumkin, bitter gourd, okra, pointed gourd and taro. Illish bhorta came arranged on a kansar thala (bell metal plate), four tightly packed balls neatly arranged with green chillies. I picked up one, broke off a bit, mixed it with rice and had the first taste of Illish bhorta.
There was a burst of flavours in my mouth…illish, green chillies, onions and garlic. But none of them overpowered the other. It was a brilliantly prepared item which showcased the dexterity and skill of the chef. I felt like polishing off the entire plate but the other dishes were waiting to be sampled. Each of them was a discovery for my epar Bangla palate.
"Mawa Ghat Er Illish Bhorta is typical preparation from Munshiganj, Bangladesh," informs Chef Bhaskar. But the Chef here has experimented a bit and has blended the Cox Bazar recipe which uses finely diced raw onions to be mixed at the end. For the bhorta, pieces of illish (the tail pieces) were shallow fried in mustard oil, then the flesh were taken out and de-boned thoroughly.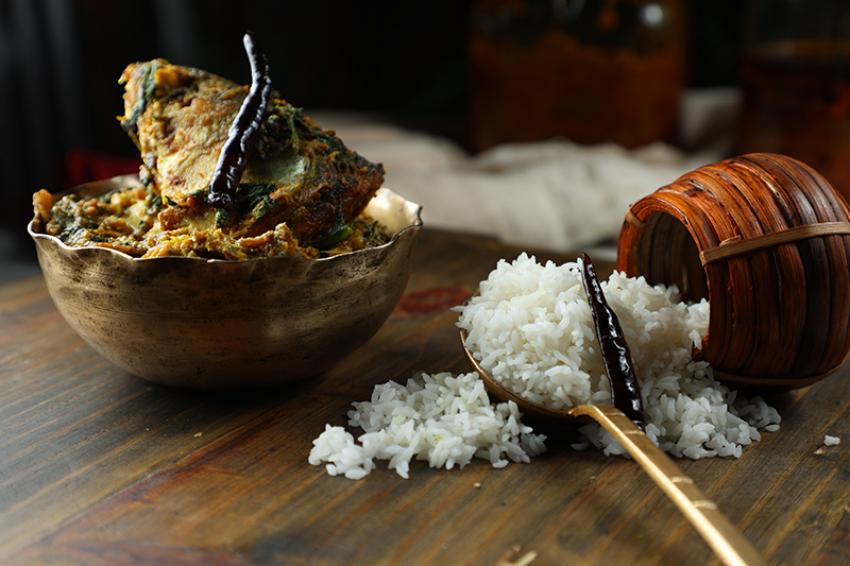 It was then fried on high heat with finely chopped onions, green chillies, ginger paste, salt, turmeric powder and coriander leaves paste. And to finish the procedure, finely chopped green chillies were added. This bhorta was served as tightly packed flavourful balls!
Next I tried the Bangladeshi stew…Illish Panikhola. Yes, a rustic illish stew from Barisal. It is a delectable dish with sada (white) gravy, slow cooked and very light. For Illish Panikhola, lots of finely chopped onions, ginger paste, green chillies and salt are needed.
The fish pieces are marinated with all the ingredients, then put into a pan with just enough water to cover the pieces and slowly cooked. Illish in this preparation cooks in its own oil. Illish Panikhola is a very delicious dish, which I tasted for the first time. In fact, all the Bangladeshi preparations took me by surprise as I could never imagine that Illish would taste so good with onions and garlic!
Sonar Illish Utsav is also serving Illish Maacher Dimer Bora (fried hilsa roe); Illish Maacher Mathya Diye Pui Shaak Chorchori (water spinach cooked with fish head); Ilish Beguner Tawk ( a Bangladeshi preparation with jaggery and tamarind); Aam Aacharer Ilish Bhapa ( steamed hilsa with homemade mango pickle and mustard paste); Aam Tel Illish Lao Pata Bhate ( hilsa wrapped in bottle gourd leaf and steamed to perfection with mango pickle); Sonar Tori Illish Platter which serves a variety and Kancha Lonka Ilish ( cooked with green chillies and coriander leaf paste and mustard oil). To end your Illish meal there's chutney, papad and Illish Sandesh! It truly is a royal feast which leaves one craving for more.
Sharing the recipe for Kancha Lanka Illish…try it at home…easy to cook deliciousness…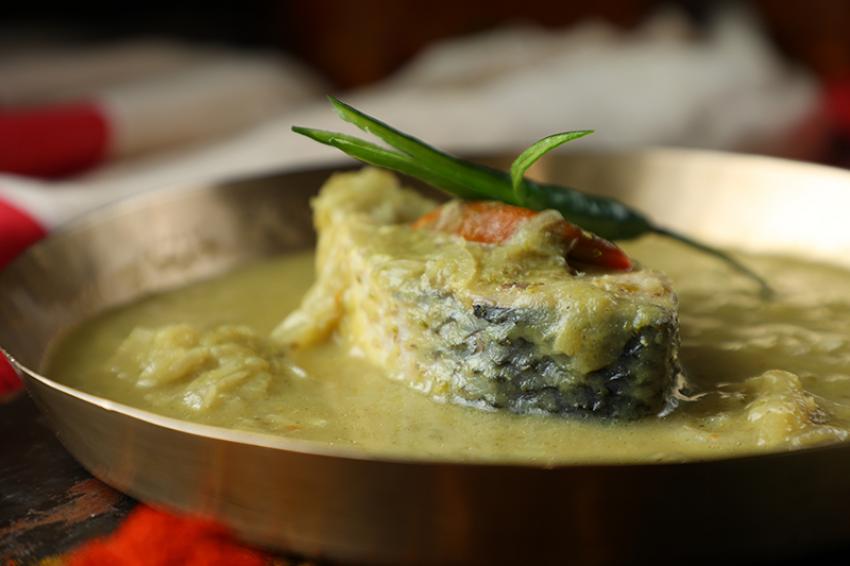 KANCHA LONKA ILLISH
Ingredients
Ilish - 0.5 kg
Chopped green chilli - 100 gms ( de-seeded)
Chopped coriander - a cup
Chopped mint - half cup
Mustard oil - 2 tbsps
Turmeric - a pinch
Salt - to taste
Lemon juice - 2tsps
Lemon zest - as needed
Water - as needed
Preparation method
1. Marinate fish with salt, turmeric and lemon juice and zest
2. Heat oil and shallow fry the fish
3. Make a paste with green chillies, coriander leaves, mint leaves and water
4. Take the same oil after frying the fish and crackle black cumin, then add a pinch of turmeric, add salt and water. Simmer for 5 minutes.
5. Add the fried fish and simmer for 3 minutes, then add the paste, simmer for a minute and then switch off the flame.
6. Keep the fish covered for 5 minutes off the fire
7. Then add some more lemon juice on top and raw mustard oil and serve.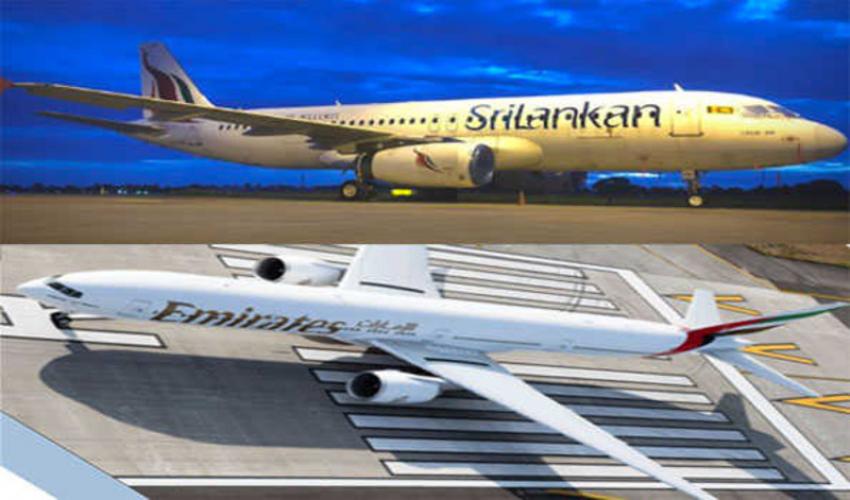 SriLankan Airlines, Emirate ...
Colombo/UNI: SriLankan Airlines and Emirates have entered into a reciprocal interline agreement aimed at bolstering connectivity for travelers.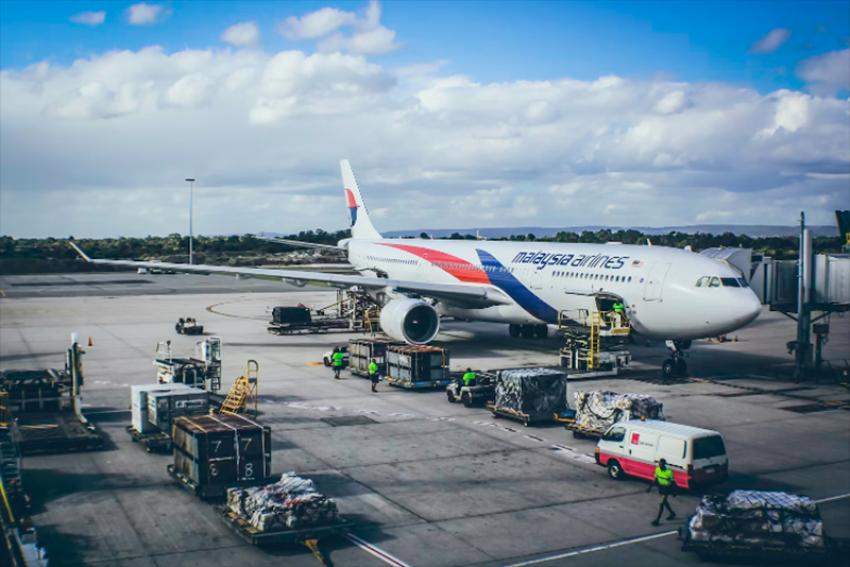 Malaysia Airlines introduce ...
Kuala Lumpur/NITN: Malaysia Airlines is offering introductory fares on their three new services between Kuala Lumpur and the Indian cities of Amritsar, Thiruvananthapuram and Ahmedabad.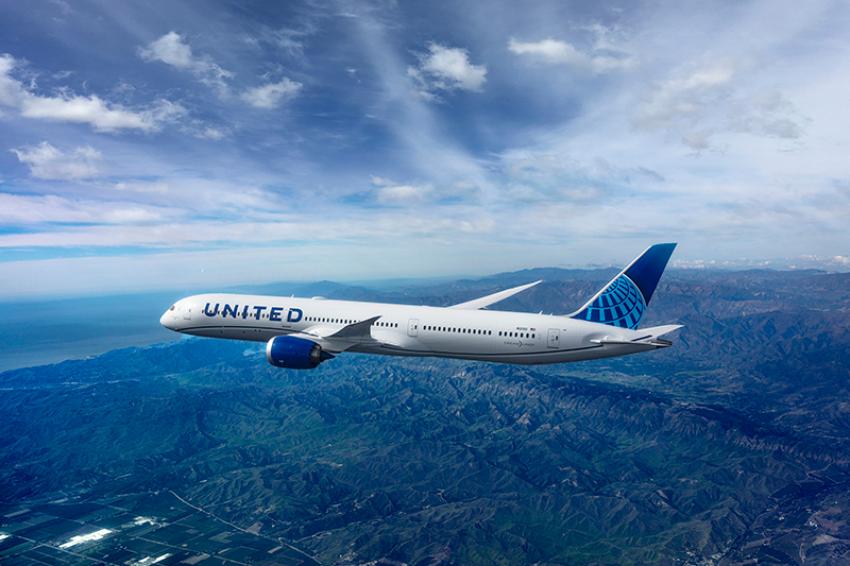 United Airlines increases n ...
New Delhi: United Airlines has announced an increase in service between New Delhi and New York/Newark, with a doubling of flights from once to twice daily during the winter season 2023/24.