Duck Duck Goat: A foodies' favourite in Chicago's expanding West Loop
NITN | @notintownlive | 11 May 2019
West Loop, once known for factories, wholesale markets and warehouses on the edges of Chicago downtown, is now one of the fastest growing happening neighbourhoods of Chicago. According to Chicago's official tourism body, a slew of new sleek restaurant openings has centered around Randolph Street and nearby Fulton Market.
It is here that many awards-winning chef Stephanie Izard has started Duck Duck Goat, serving her version of reasonably authentic Chinese food to Chicago's West Loop. Duck Duck Goat is Chef Izard's first Chinese-American restaurant and third venture with Boka Restaurant Group and features hand-pulled noodles, house-made dumplings, wontons, spring rolls and more.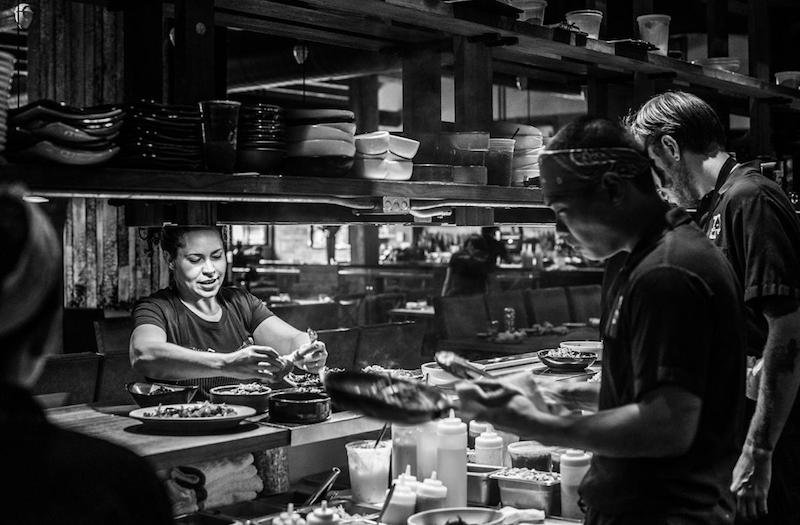 Stephanie Izard (in the above photo), a James Beard "Best Chef" and Food & Wine "Best New Chef," is the Executive Chef/Partner of three Chicago restaurants, Girl & the Goat, Little Goat and Duck Duck Goat. Stephanie is a graduate of University of Michigan and the Scottsdale Culinary Institute, and has
There is always a queue to find a spot or a table here. Located at 857 W. Fulton Market, Stephanie Izard, in collaboration with Boka Restaurant Group, brings her signature "make your whole mouth happy" style to reasonably authentic Chinese cuisine at Duck Duck Goat.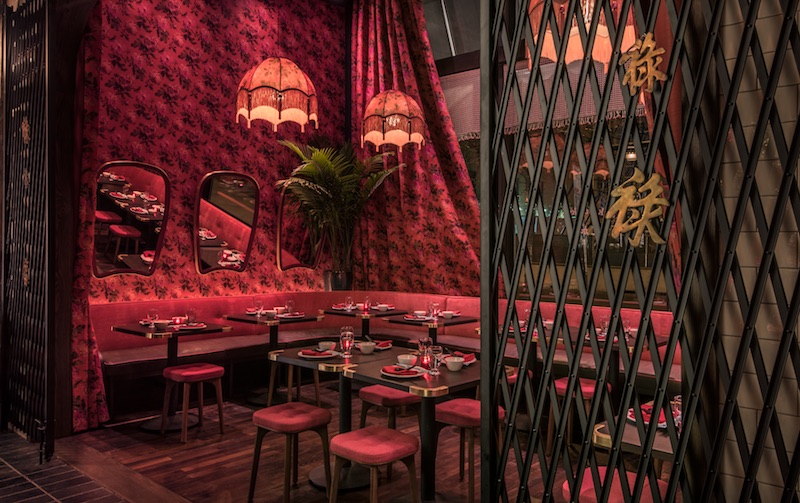 The menu draws inspiration from Stephanie's travels throughout China in Beijing, Chengdu, Shanghai, Hangzhou, and Taiwan - soaking up the flavors and culture from her time abroad - as well as her experiences from Chinatowns across the United States.
Simultaneously, dishes like Crab Rangoon and Scallion Pancakes reflect Izard's childhood in Connecticut, where her favorite evenings were spent making fresh mu shu pancakes alongside her mom in the kitchen.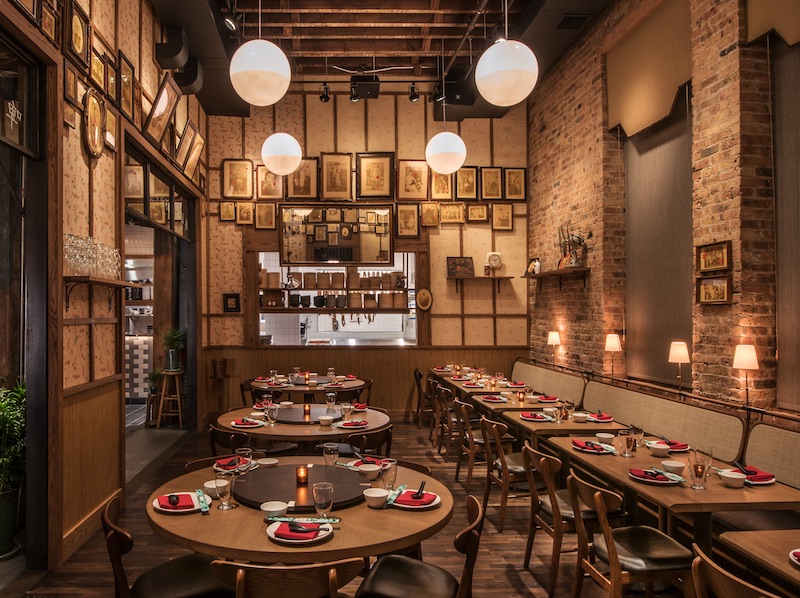 Izard says: "My most memorable food experiences growing up were going to the local Chinese restaurants and then recreating those dishes at home in the kitchen with my mom. In studying Chinese food and through my travels across China, I've seen there are so many regions and styles to be explored."
"Duck Duck Goat is combination of my childhood favorites and my interpretation of what I've learned abroad," she reveals.
"I hope that my guests experience a culinary adventure when they visit us. You can order fried rice and eggrolls but also try something new."
Though open only for dinner to start, days begin early in Duck Duck Goat's bustling kitchen where more than a dozen doughs are made fresh daily for the menu's noodles, buns, wrappers, and pancakes.
Noodles are hand pulled, soup dumplings are made to order, and sauces are made from scratch - XO, Hoisin, and Oyster. The partial open kitchen design gives guests a clear view of the action - from dough rolling to dumpling steaming.
The menu is divided into seven sections including: dim sum, hot soups, cold dishes, noodles, fried rice, main and large dishes.
Small-plate style starters include Crab Rangoon, a freshly made dough filled with crab and cream cheese then flash-fried; Xiao Long Bao, made-to-order pork and crab soup dumplings; and Sui Gok, rice dumplings with a ground goat filling.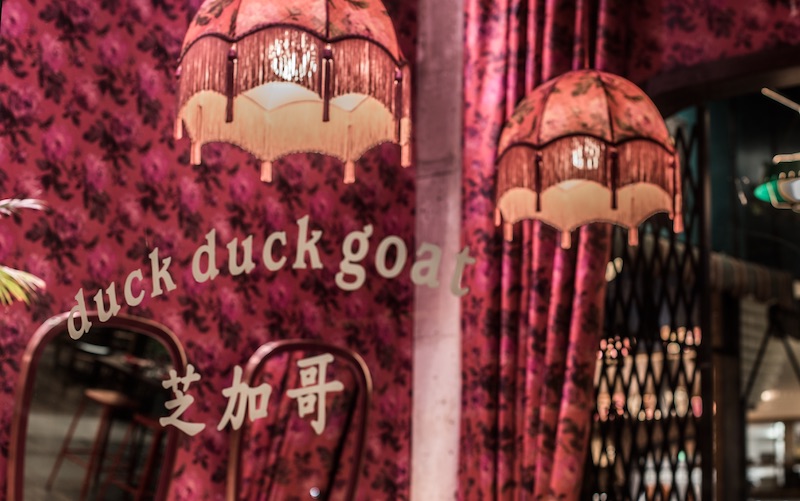 Noodle dishes include Slap Noodles, hand-pulled noodles with shrimp, goat sausage, eggplant, and mushrooms; Goat Belly Lo Mein; and Chicken Chow Fun, served with mushroom-stuffed rice noodles. Larger sharable dishes include Crispy Frog Legs & Potato with house-made oyster sauce crafted with Dark Matter coffee;
Chongqing Chicken, a Sichuan-style chicken and chilis; and of course, Peking Duck. The restaurant's playfully written "fortunes" come delivered in freshly baked cookies to end the meal on a fun and memorable note.
Nate Meads oversees the restaurant's pastry program with a primarily Taiwanese-focused dessert menu. Similar to the savory items, classic dishes like Taiwanese Pineapple Cake and Almond Tofu Panna Cotta are featured alongside some more playful sweets including an egg waffle wrapped in sweet potato gelato with spiced strawberries and peanut brittle.
Meads interpretation of Baobing, a Chinese shaved ice, is served with blueberry sorbet and rhubarb shaved ice with tapioca pearls and a condensed milk caramel drizzle.
"We knew Stephanie's third restaurant was going to be remarkable after learning about her travels and passion for Chinese cuisine, and we wanted the entire dining experience to further enhance the food," said Kevin Boehm, co-founder Boka Restaurant Group.
"From the moment guests enter the doors at Duck Duck Goat and start their evening with us, we feel that they'll instantly feel transported someplace unique and special."
Each dining room in Duck Duck Goat is designed to be somewhat like a theater set, fully encompassing the guest as a participant in the atmosphere, ambiance and the entire design and dining experience.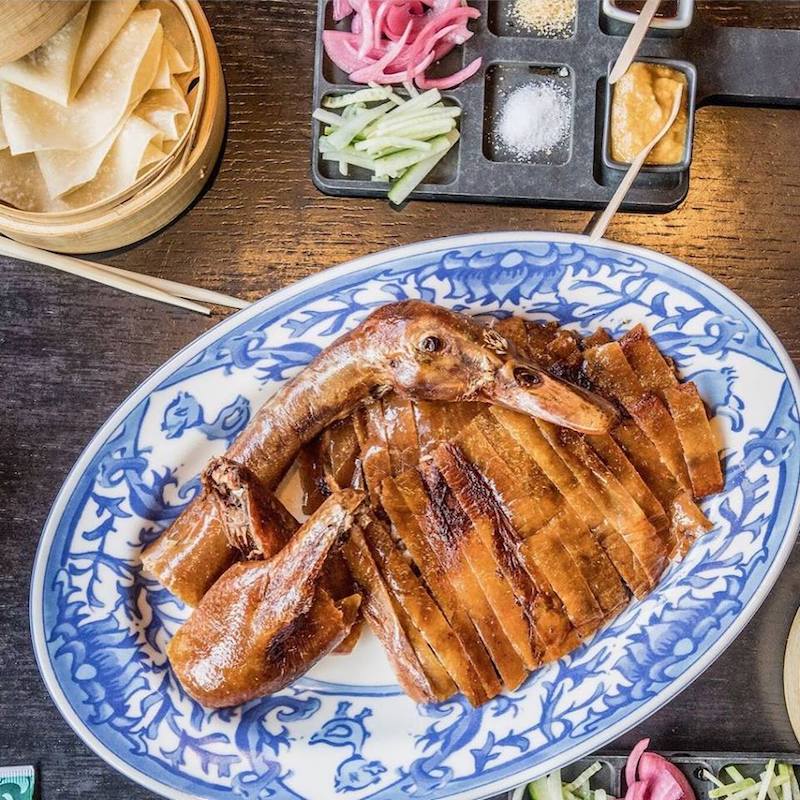 The outdoor / indoor style of Chinatowns is brought to life via each dining room entryway that's designed as a storefront, as well as the bar that's designed as an outdoor pavilion with "faux" hanging plants. The goat theme is not lost either as goat figurines are found throughout the restaurant in gleaming gold, cool jade and more.
Oh, yes, do not forget to try the cocktails here. The writer enjoyed one called Kissed by a Rose made of vodka, soda, raspberry and mountain herbs.
Duck Duck Goat is open seven days a week. Monday – Thursday & Sunday: 4:30pm-11:00pm, and Friday & Saturday: 4:30pm-12:00am. For more information on Duck Duck Goat visit www.duckduckgoatchicago.com, or follow on Twitter and Instagram @duckduckgoatchi.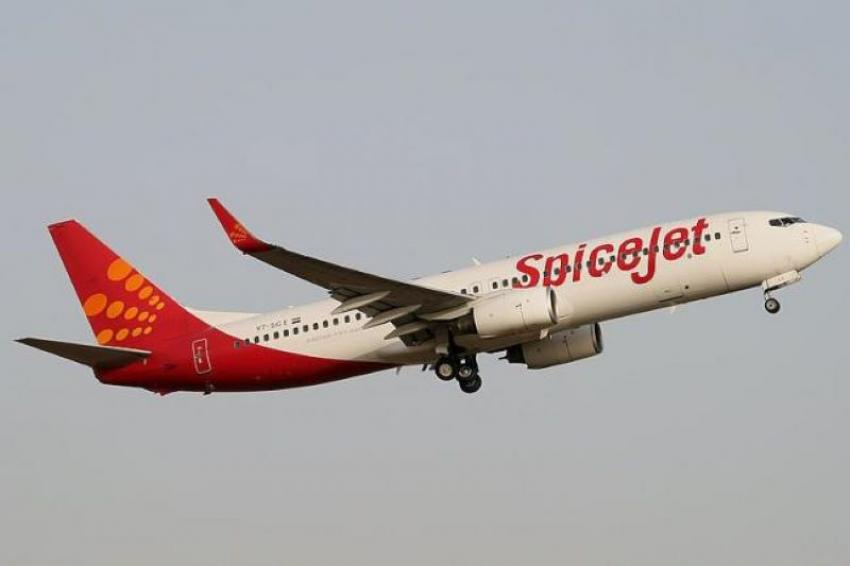 SpiceJet to connect Darbhan ...
Gurugram/NITN: India's private airline SpiceJet on Monday announced the launch of daily flight services connecting Darbhanga with key metros of Delhi, Mumbai and Bengaluru.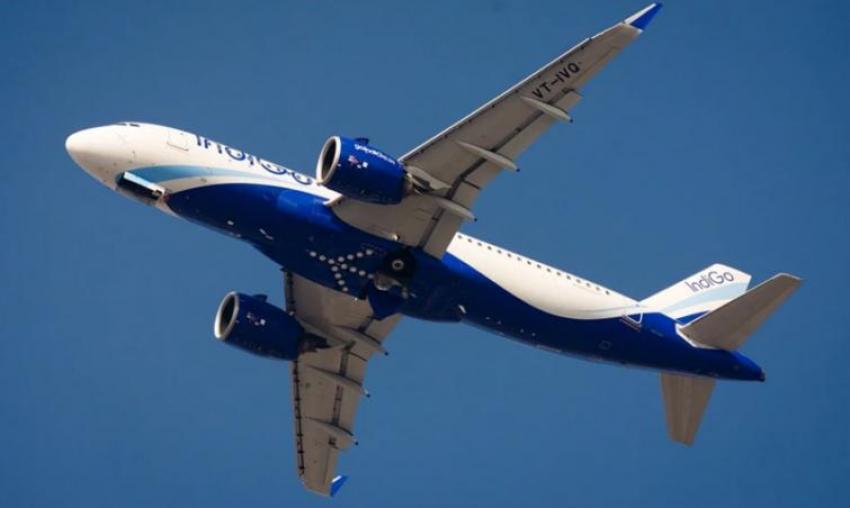 IndiGo commences flights be ...
Kochi/NITN: India's private airline IndiGo commenced two weekly flights between India and Maldives under air bubble from Friday.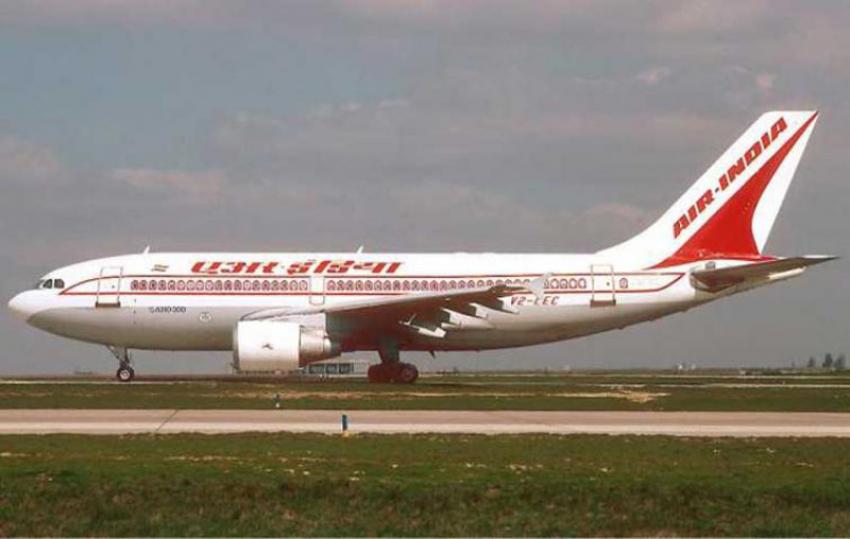 Air India actively consider ...
Kolkata/UNI/NITN: Air India, the Asian country's national airline, is actively considering reintroduction of its Kolkata-London-Kolkata direct flight soon after getting nod from the Aviation Ministry and Airport Authority of India (AAI) and clearance of other technicalities.