Canteen Pub & Grub: The contemporary adda den
Arundhati Gupta | @notintownlive | 23 Dec 2020, 10:41 am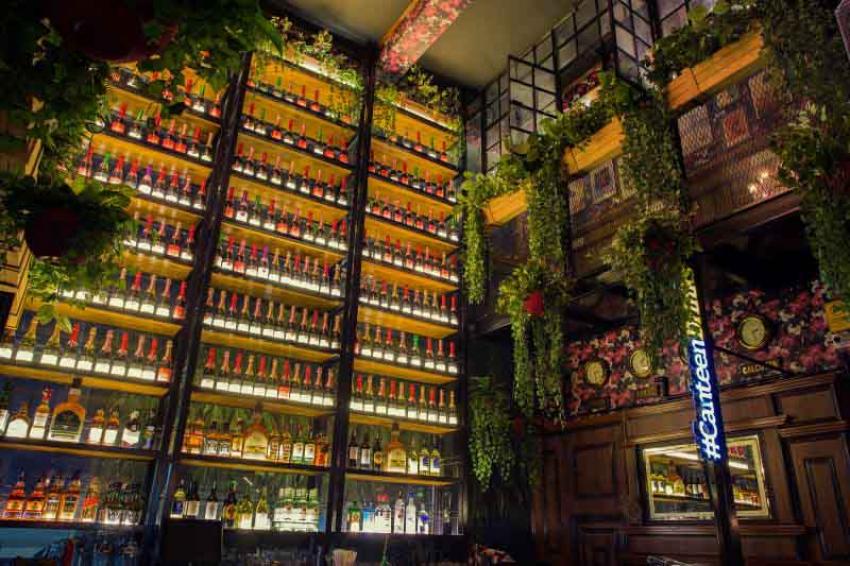 Canteen Pub & Grub
Come and relive your college canteen days at the Canteen Pub & Grub! But of course, this one is much more flamboyant with stylised wall graffiti, wooden furniture recycled from railway sleepers, neon signs, potted plants greening up the interiors, floral wallpaper, an assortment of framed photos and an 80's inspired floor adding uniqueness to the contemporary setting. As I entered, my eyes fell on rows of bottles silhouetted against a huge glass wall and as daylight trickled through them, the visual impact was stunning!
Canteen Pub & Grub has been conceptualised by Swastik Nag, the owner, with the intention of recreating his college canteen but in a stylised contemporary way. Swastik handled and designed the entire place including its menu. He has painstakingly put together a place which is chic and serves a delightful array of fusion food. The ambience is vibrant and during lunch time the place truly resembles a college canteen as young voices enlivens the environment further.
Since his college days in Bangalore, Swastik Nag had been planning to open a restaurant of his own. It materialised after he shifted back to Kolkata.
About Canteen Pub & Grill, Swastik says, "I always wanted to focus equally on food and drinks and create an old canteen feel."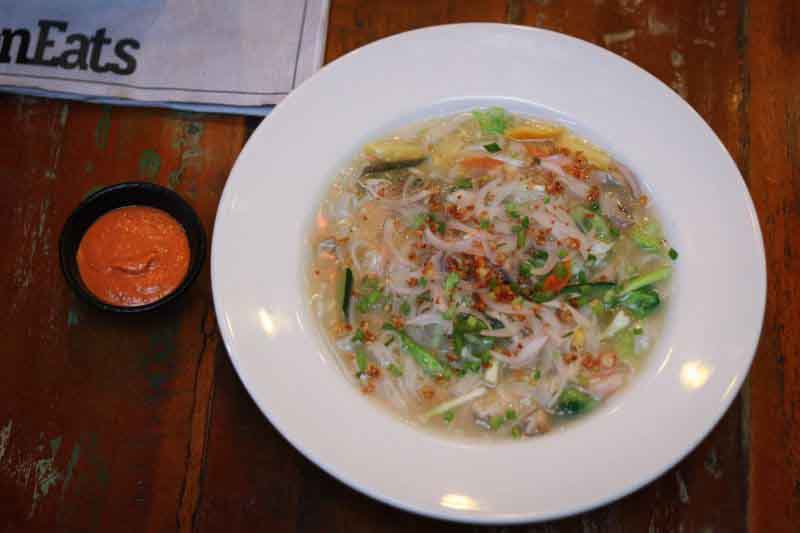 Just like a college canteen there is an open kitchen counter, where one can place orders. "I want Canteen Pub & Grub to be known as a pocket-friendly, self-serviced and a fast-moving gastropup,"says Swastik.
He has taken great care in selection of crockery and cutlery. The enamelled soup dishes and plates add to the 'canteen' like feel.
Spread across a 4,200 sq.ft. area at a third floor venue at Block 'C', City Centre 1, Salt Lake, this place has a seating capacity for 100 persons. The menu, curated by Swastik himself, boasts of an array of innovative dishes catering to the contemporary pallete.
The Murg Chupa Rustom is one of its kind. Marinated chicken pieces wrapped around slices of aamsatta ( or aam papad in Hindi) spiced up with salt, pepper and chaat masala and cooked in the tandoor.
One bite and I was startled by the burst of flavours. Even the Andhra Pepper Mutton, Mamuli Maachi, Thengthuk were served fresh and appealed to my taste buds with their perfectly balanced preparations. The Andhra Pepper Mutton… an authentic dish from Andhra Pradesh… is slowly cooked using typical regional spices, curry leaves and Guntur chilli. This dish leaves you craving for more, as does Murg Chupa Rustom! This F&B outlet has, in short span of time, already created for itself a strong and loyal client base.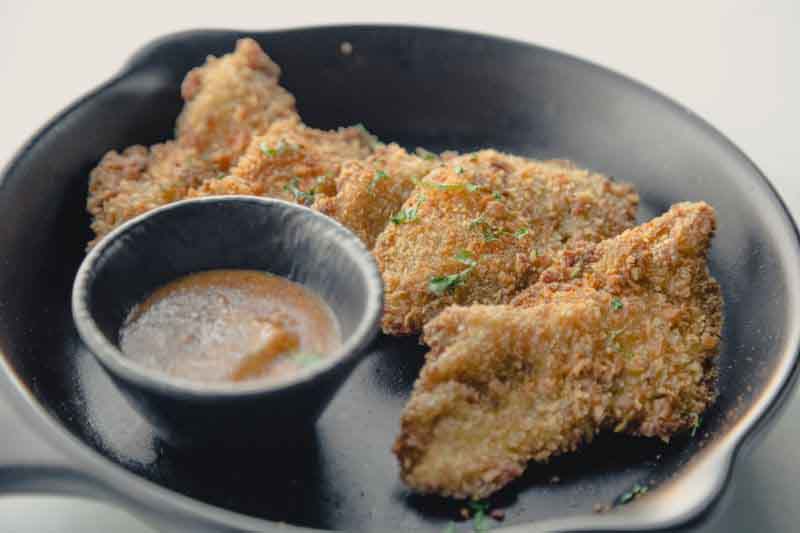 How can a canteen do without Pakoras?
Well Swastik has not forgotten about it and has included a special one…the Bread Pakora (Chicken). This dish carries all the nostalgic flavours of a college life in which chunks of chicken are cooked with Indian spices.
Cheese too is added and then it is fried in Canteen's special batter. It is served with tamarind and mint chutney.
For veg delights do try out their Paneer Aamasutra Tikka and the Three Cheese Dumplings. Paneer Aamasutra Tikka is one unique dish in which homemade sweet mango pickle is stuffed inside the paneer tikka adding a special zing. Three Cheese Dumplings is made with Philadelphia cream cheese, cheddar, and processed cheese. Activated Charcoal is used for the colour of the dumplings.
To round of your meal, treat your sweet tooth with Apple Malpua or Mishti Doi Cheese Cake. Go for the Apple Malpua…I loved it!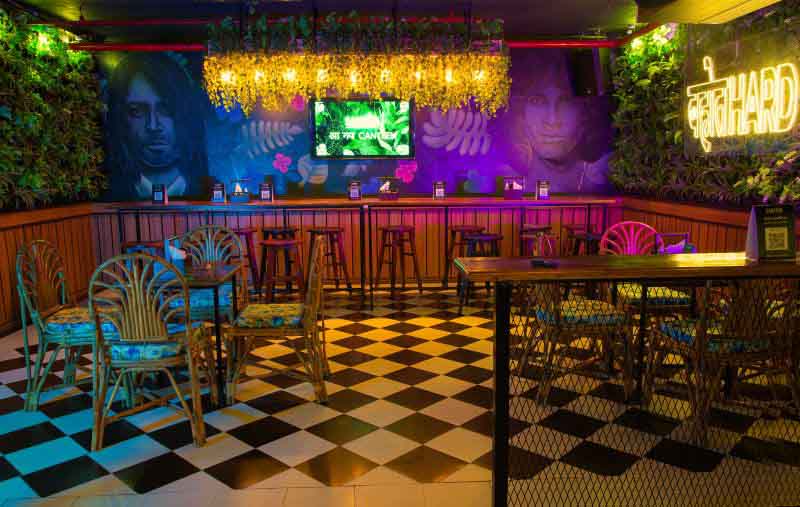 Along with your eats you cannot miss your sips! Canteen Pub & Grub serves heady ones. Their signature shots—Canteen, Kalkatta ka kalakhatta and Apun Ka Mango Bite have twist to their tale providing a heady taste. Cocktails being served here have interesting names—Gham ka Saathi Rum, Chaurasia Mojito, Bel ka khel, Imli Chatka, Pyar bhari Pulse, Honey Singh. You have to sample to know what goes into mixing them!
Visit Canteen Pub & Grub to soak in its youthful vibrancy and its excellent eats and sips! It is open from 11.30am to 10.30 pm.
Sharing two recipes to try at home…but first go and sample the fare!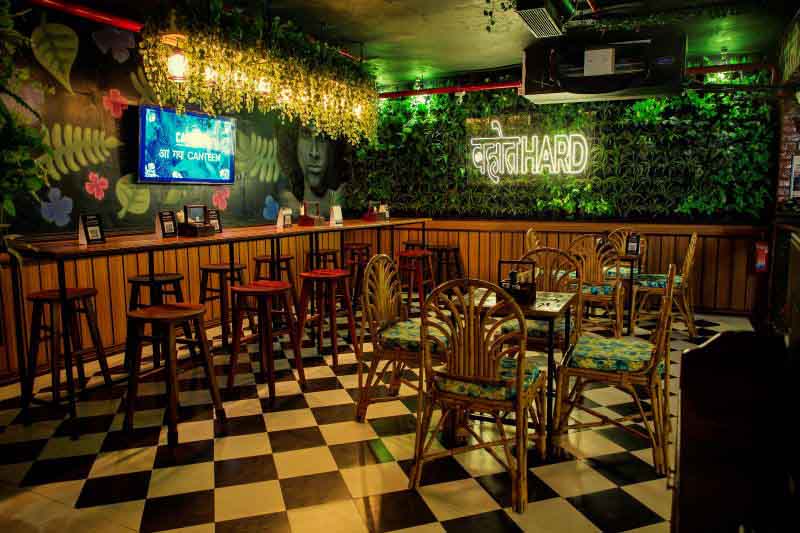 Andhra Pepper Mutton
Ingredients
Boneless mutton- 120gm
Curry leaves- 10gm
Garlic paste- 20gm
Ginger paste- 15gm
Red, yellow and green capsicums ( finely diced) - 50gm (all together)
Sliced onions- 100gm
Mustard oil- 100ml
Salt- as per taste
Whole garam masala- 10-15gm
Black pepper crush – as required
Coconut milk powder- 30gm
Red chilli powder (Deghi mirch powder) – 1 tsp
Cumin powder- 1 tsp
Turmeric powder- 1 tbs
Dry red chilli (Guntur chilli) - 3-4 pieces
Butter- as required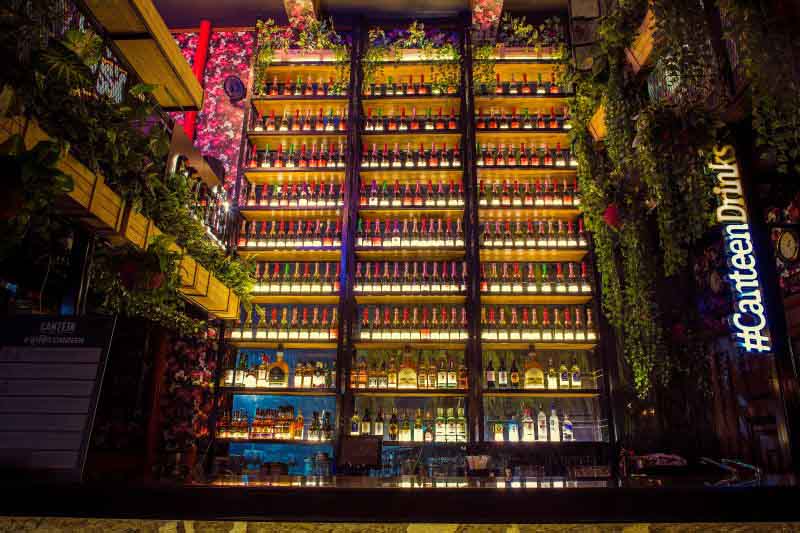 Method
Take a kadai , Heat mustard oil add whole garam masala and guntur chill .Now add slice onion and stair it till brown then add small chunks of mutton and keep staring , after a while add garlic & ginger paste keep staring. When garlic & ginger get cooked add deggi mirch, cumin powder, turmeric powder and salt mix well keep staring till masala get cooked, add some water and cover it till mutton get soft after that make it dry.
Take an another pan pore some butter, now add curry leaf star it till crisp, then add dice bell pepper sauté it. Add cooked mutton, crushed black pepper & coconut milk powder (before add mix with little water) mix well ,garnish with sauté dice bell pepper ,fried curry leaf & crushed black pepper.
Thengthuk
Ingredients
Chicken breast (small cubes) - 50gm
Shrimps- 50gm
Chopped garlic- 30gm
Zucchini- 30gm
Broccoli- 40gm
Onions- 40gm
Spring onions- 25gm
Salt- as per taste
Seasoning powder – as per taste
White pepper powder- 5gm
Pad thai noodles- 100gm
Corn starch- as required
Butter- as required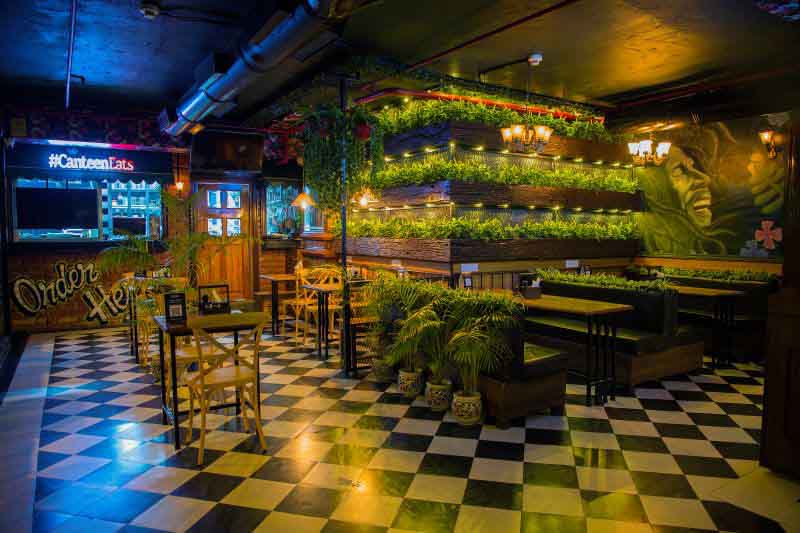 Method
In a pan or wok take a spoon of butter, add some chop garlic and sauté it, then add chicken and shrimp and stir it. Now add diced zucchini, broccoli florets, diced onions and stir it for a few minutes.
Then add chicken or vegetable stock as required for cooking. Season it with salt, broth powder and white pepper powder.
Once the vegetable, chicken and shrimps get cooked add pad thai noodles (must be pre-soaked in chilled water for 30 minutes) and cook it for a while, add corn starch for
thickening. Garnish with brown garlic and chopped spring onion. Serve hot.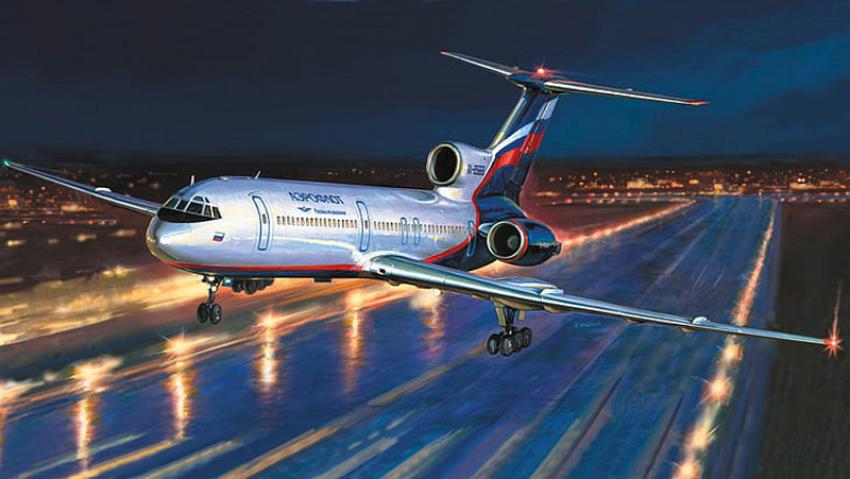 Russia's Aeroflot resumes r ...
New Delhi: Russia's flagship airline Aeroflot on Friday resumed flights enrouted Moscow-New Delhi and New Delhi-Moscow under the air bubble agreement, officials said.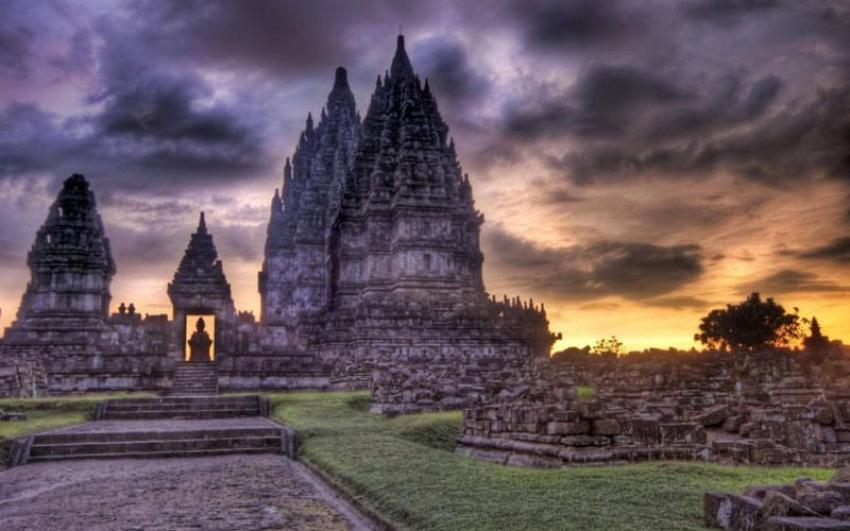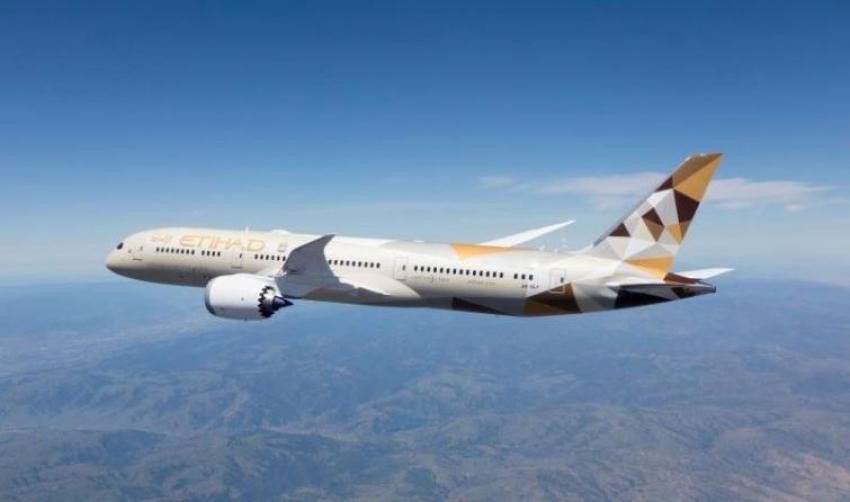 Global student offer launch ...
Abu Dhabi, UAE: Etihad Airways, the national carrier for the UAE, is making it easier for students to travel between university and home or to discover new horizons and cultures, with the launch of its Global Student offer.