Symi…a little bit of Greece on a Kolkata street
Arundhati Gupta | @notintownlive | 06 Jan 2021, 02:29 am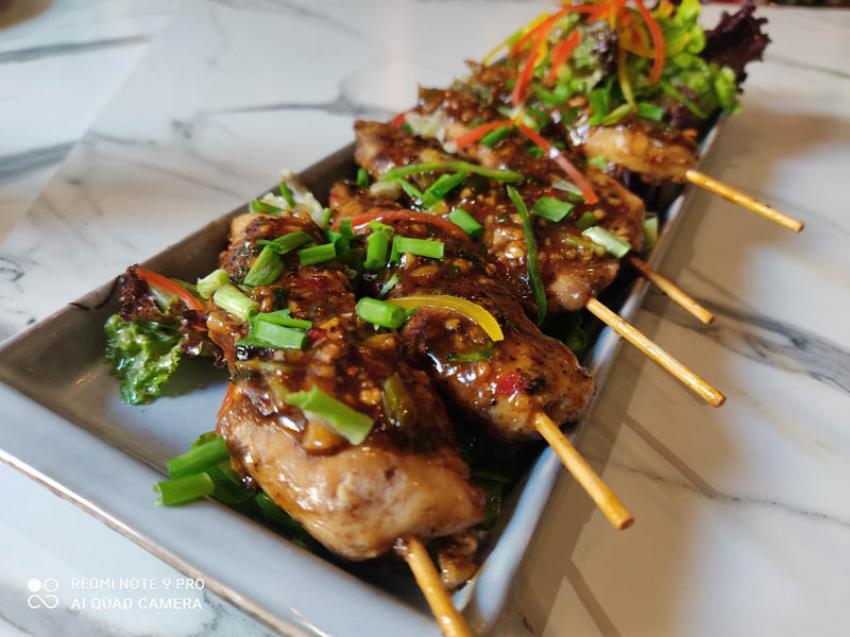 Symi
A trip to Symi—a Greek island—inspired Trishna Mukherjee to open a quaint eatery, by the same name, on a South Kolkata bylane…Dover Lane to be precise. Seasoned restaurateur Debalina Chakrabarty joined her in this enterprise.
Symi stands out amidst a staid neighbourhood with its vermilion coloured tiled-roof, red and white awning and bright coloured windows opening out onto the street. The colourful exterior resembles one of Symi's crayon-coloured houses. Its elegant interiors painted in pastels, sports a photographic representation of panoramic view of Symi spread across an entire wall, while colourful furniture pieces add vibrancy.
The décor is an odd mix of different styles catering to the contemporary taste.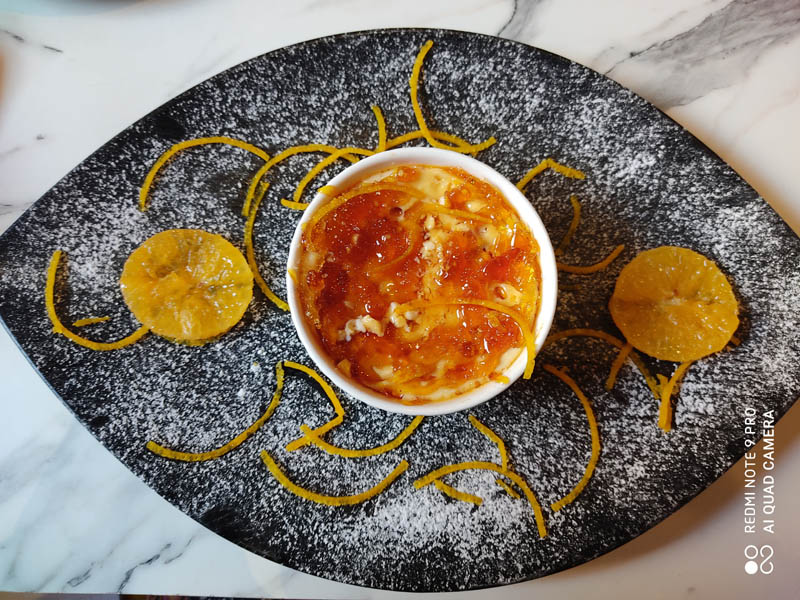 In fact, the menu too, is a mix of many cuisines. Thus, at the Symi café's one can relish scrumptious shrimp pizzas, soups and salads with the very Greek speciality the Rustic Greek Salad being a 'must have'. Here, as I mentioned it before, it is not 'all Greek', you can also sample the very Indian Mutton Keema Sinhara with Tzatziki, or the Pesto Chicken & Sundried Tomato Pizza, Zesty Shrimp Pasta, Cheesy Chicken Sandwich and many other delicious preparations.
The Rustic Greek Salad is so refreshing! Mixed salad leaves, red onions, olives, cherry tomatoes and cucumber are tossed in a lemon vinaigrette dressing topped with feta cheese.
Don't forget to order the Loaded Nachos, I loved its cheesy flavour. It was topped with Tzatziki, the Greek cucumber yogurt sauce. Wanted to have more but decided to savour Greek Style Chicken Skewers; Charcoal Smoked Chilli Chicken—Yes! They serve a little bit of Chinese dishes as well—and Moroccan Chicken Balls.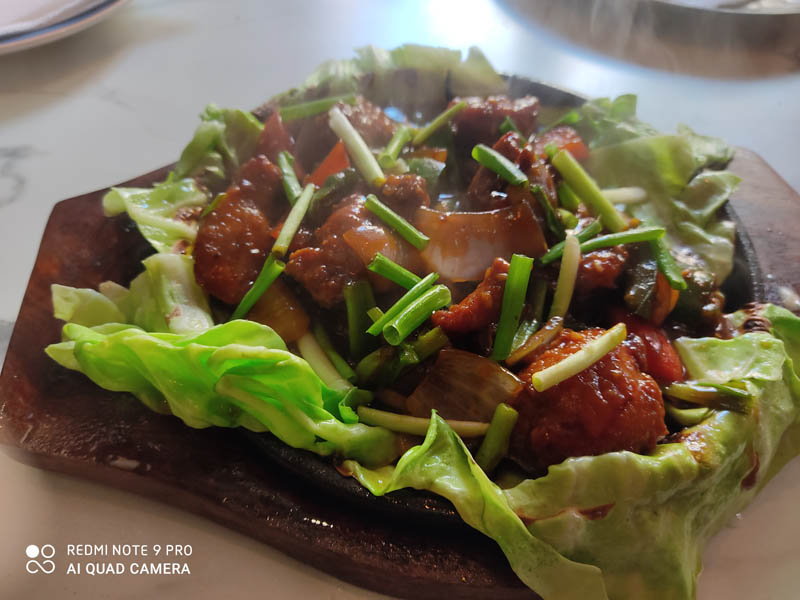 The Greek Style Chicken Skewers surprised my palate with its taste. Chicken supreme pieces were marinated for two-three hours in Za'atar, a typical Mediterranean spice mix, and then grilled and served with a lavish smear of a special sauce. Mutton Keema Sinhara with Tzatziki is another succulent offering where the minced meat is stuffed into samosas and served with Tzatziki dip.
Pesto Chicken & Sundried Tomato Pizza is a thin crust 12-inch pizza with pesto chicken and sun-dried tomatoes. Zesty Shrimp Pasta comprises parsley, garlic and lemon sauce tossed with shrimps and pasta of choice. Do also try their Moroccan Chicken Balls.
Symi offers a selection of desserts which deserve to be relished after a meal, choose from Nutella & Raspberry Crepes, Orange Cream Caramel or Chocolate Mousse Martini or any of the others listed in their menu.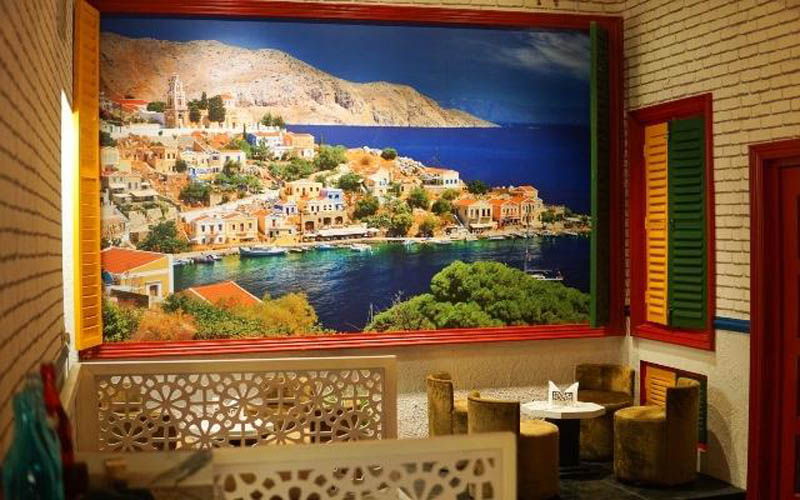 Greek influence is quite prominent in some of the dishes being served including the starters, main course, or the dessert section. Wish Symi had included Moussaka and Dolmas!
When it comes to a cafe, the tea and coffee selection has to be wide. With this in mind Symi has brewed quite a variety. The tea section has Turkish Tea, Chamomile, Darjeeling First Flush, and a few others. The coffee section has Cappuccino, Ethiopian Hazelnut Latte, Salted Caramel Latte, Triple Sec and a few other tasty brews to give the customers the ultimate café experience!
The café is divided into interesting sections each thematically blending with the décor— they are Mneme (meaning remembrance/memory), Elpida (meaning hope) and Agapi (love), all Greek names. As a matter of fact, the café has quite a few windows which believably heralds hope and buoyancy. It has an area of 1100 sq. ft. and can accommodate well over 50 people.
Sharing with the readers two recipes of my choice—
Moroccan Chicken Balls
Ingredients:
1. Chicken Keema- 200gm
2. Egg- 1
3. Ginger- 3gm
4. Chopped onions -10gm
5. Chopped coriander leaves- 4gm
6. Chopped mint leaves- 3gm
7. Feta cheese- 20gm
8. Green chilli- 2gm
9. Walnuts- 10gm
10. Maida/flour- 5gm
11. Refined oil- 5ml
12. Lemon- 1pc
13. Cinnamon powder- 4gm
14. Salt and white pepper powder to taste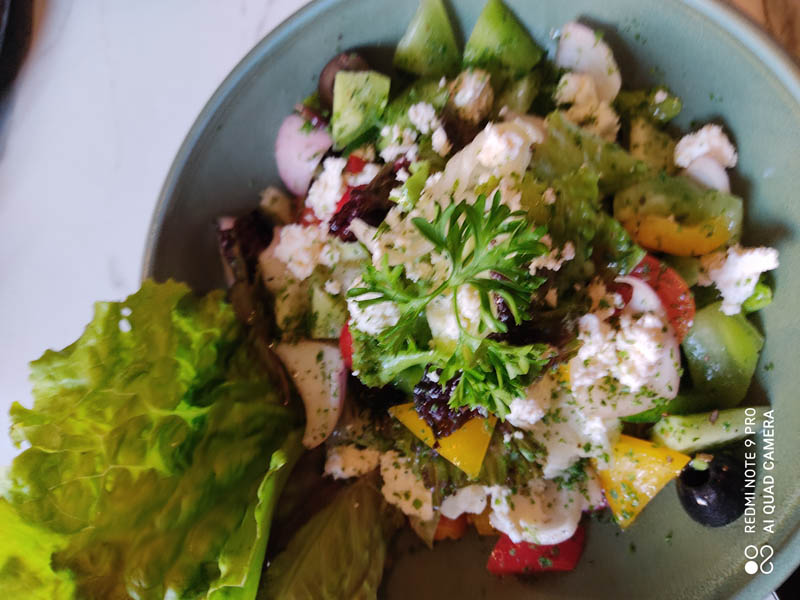 Method:
Take minced chicken in a bowl. Add finely chopped ginger, garlic, onions, coriander leaves, mint leaves and green chilli. Add egg, feta cheese, maida, lemon juice, cinnamon powder and oil.
Mix all the ingredients smoothly in a bowl then keep it in the refrigerator for half an hour. Then take it out and make round balls. Then put these in an oven to cook. When it is
cooked take it out and place it on a serving plate. In the meantime, make a sauce using heavy cream, butter, salt, pepper powder, chat masala, cinnamon powder and lemon juice.
Then pour the sauce on the cooked ball. Garnish with mint leaves, roasted walnuts and feta cheese.
Greek Style Chicken Skewers
Ingredients:
1. Chicken supreme- 180 gm
2. Chopped garlic - 20 gm
3. Za'atar powder- 7 gm
4. Lemon - 1 pc
5. Salt- as per taste
6. Crushed black pepper- 3 gm
7. Oil- 10ml
8. Satay sticks- 5 pcs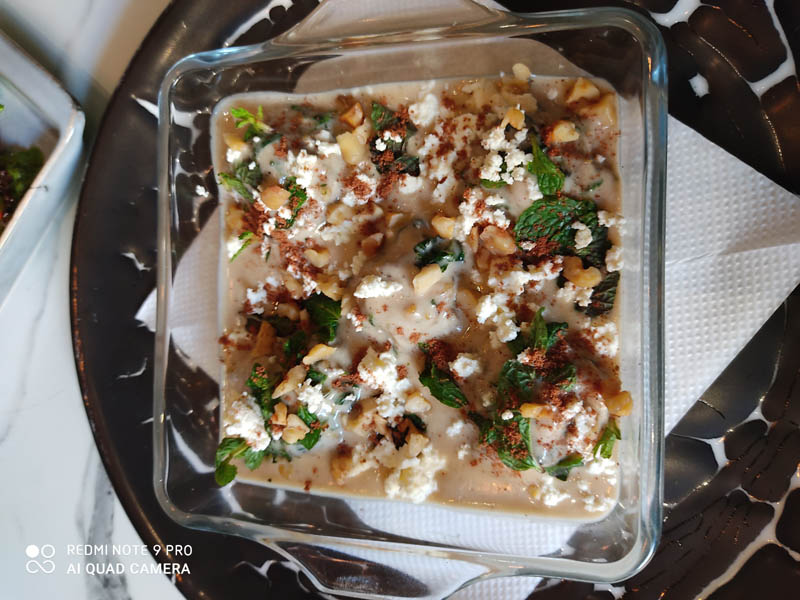 Sauce:
1. Chopped garlic- 5gm
2. Chopped ginger-3 gm
3. Soya sauce- (dark)- 10 ml
4. Soya sauce (Light) 5ml
5. Chilli flakes- 1 gm
6. Salt & pepper to taste
7. Honey- 8gm
8. Spring onions- 5 gm (for garnishing)
Method:
Properly shape the chicken supreme and wash it in water. Then strain and place the chicken pieces in a bowl. Now marinate the chicken with chopped garlic, za'atar powder, salt, pepper, lemon juice and oil for 2-3 hours. Then arrange the chicken supreme pieces on satay sticks.
Cook the chicken skewers in the grill pan. Once the chicken skewers are half-done then take them out. In the meantime make the sauce for the chicken. Take a frying pan, add
oil then add chopped garlic and ginger. Fry it for some time and then add chicken stock, soya sauce, chilli, salt and pepper as per taste. Now add half done chicken skewers and cook it for some time.
When chicken is cooked and sauce is reduced add honey and toss smoothly. Sprinkle spring onion and serve.
Address:7/2B,Dover Lane, Gariahat, Kolkata - 700019
Timings: 11.30am to 10.30pm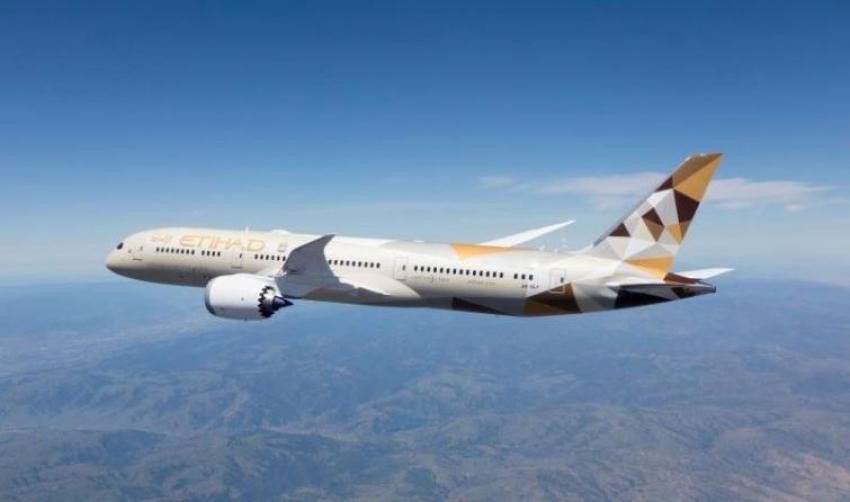 Global student offer launch ...
Abu Dhabi, UAE: Etihad Airways, the national carrier for the UAE, is making it easier for students to travel between university and home or to discover new horizons and cultures, with the launch of its Global Student offer.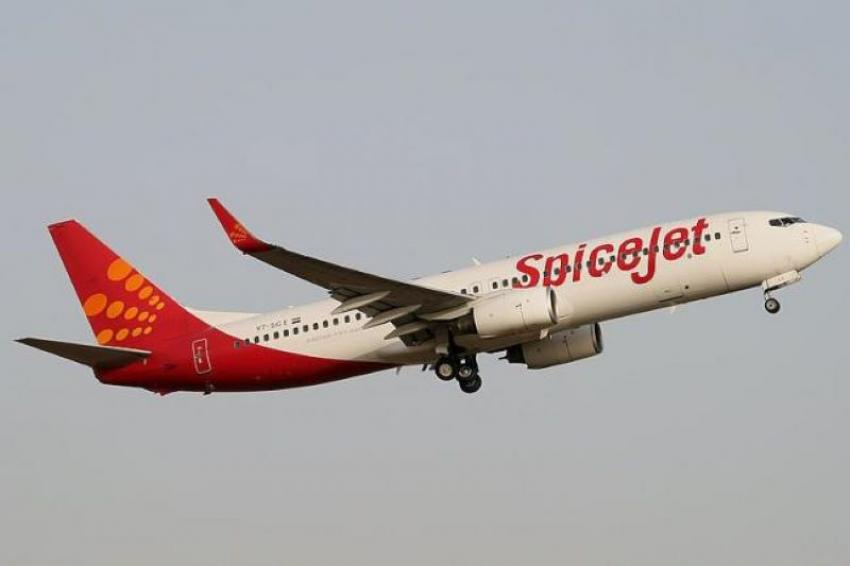 SpiceJet to connect Darbhan ...
Gurugram/NITN: India's private airline SpiceJet on Monday announced the launch of daily flight services connecting Darbhanga with key metros of Delhi, Mumbai and Bengaluru.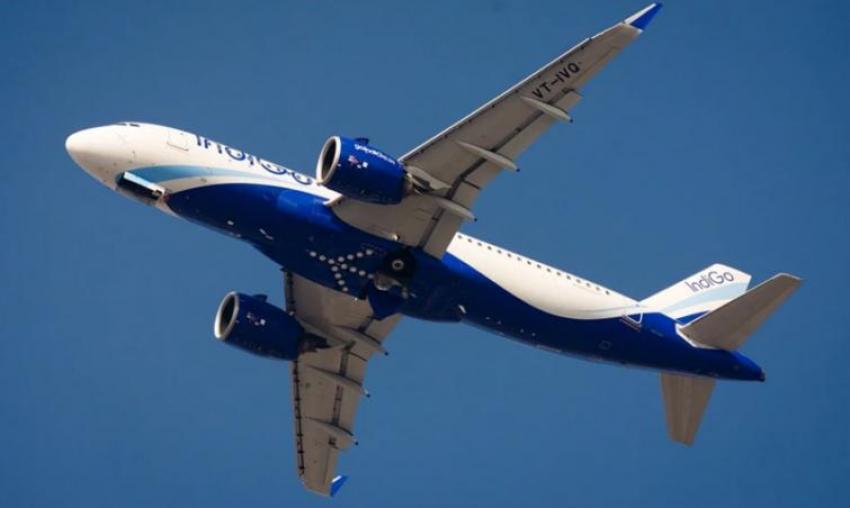 IndiGo commences flights be ...
Kochi/NITN: India's private airline IndiGo commenced two weekly flights between India and Maldives under air bubble from Friday.