Thar Unplugged: India's first desert botanical resort near Jodhpur beckons tourists
NITN | @notintownlive | 24 Nov 2021, 03:26 am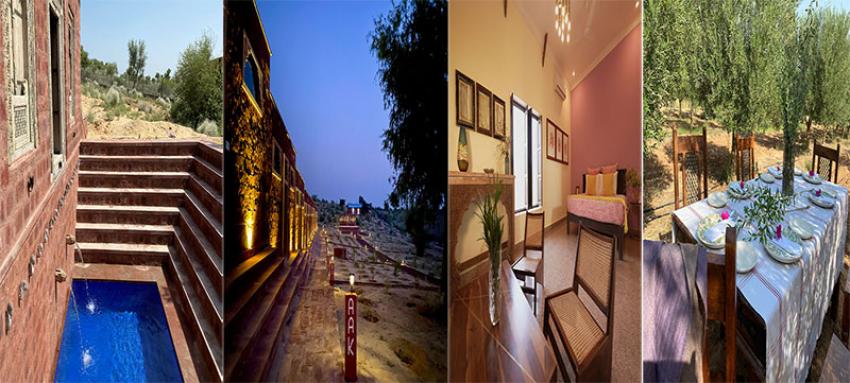 Kaner Retreat
The golden beauty of Thar desert in Rajasthan is well known. So are the tourist magnets like India's blue city Jodhpur and golden city Jaisalmer.
Not too far from Jodhpur on Jodhpur-Jaisalmer Highway, the sleepy hamlet of Dera is falling off the map. But perhaps not anymore.
Now this Thar desert village's languid charm makes an alluring entry into the tourist map of Rajasthan- thanks to India's first desert botanical resort- Kaner Retreat.

Kaner Retreat (Kaner is the Hindi name for Oleander flower, also known as desert Rose) offers you the comfort of a resort while taking you on a tour of the scrub vegetation speckled reddish-brown earth of Rajasthan's Thar.
Welcome to my land (Padharo, mhare desh), says Sapna Bhatia, founder of Kaner Retreat, as she unveils India's first desert botanical resort, located some 80 km from Jodhpur airport (75 km from the Jodhpur railway station).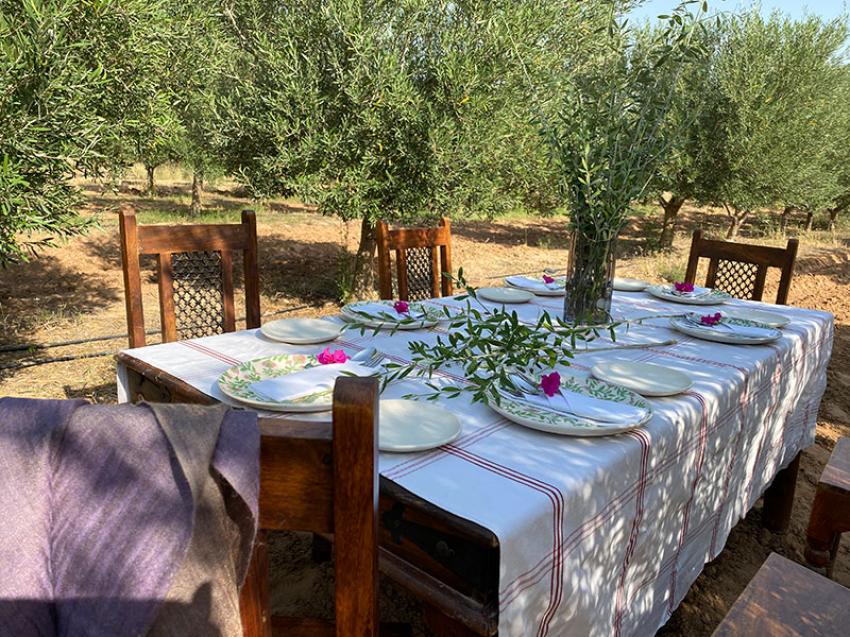 Aiming to promote sustainable tourism, Sapna and her husband Samir Bhatia, an investor and an alumnus of IIM Ahmedabad, now offer an offtrack Thar Unplugged vacation package introducing tourists to the flora and fauna of the magnificent desert.
Botanical walks, Jeep Safari, trip to Khichan bird sanctuary, horse riding and an open air lunch at an Olive grove are included in the package at Kaner Retreat that Sapna set up in a tribute to her childhood days in the desert.
"We have 10 villas, each on the theme of a local flower. Commissioned botanical art and antique accents are used to create the floral themes," she says.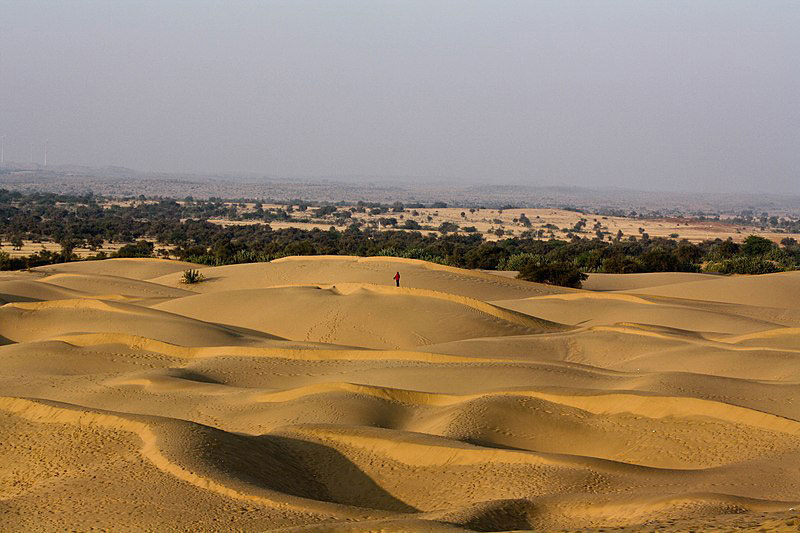 "We believe in sustainable tourism. So we used reclaimed wood and local materials for the construction of the resort," she adds.
The building of the resort is also loaded with the childhood memories and nostalgia of Bhatia.
"I spent my childhood on a small farm in the Thar desert. It is not easy for things to grow and blossom in the desert. You have to wait for everything in the desert.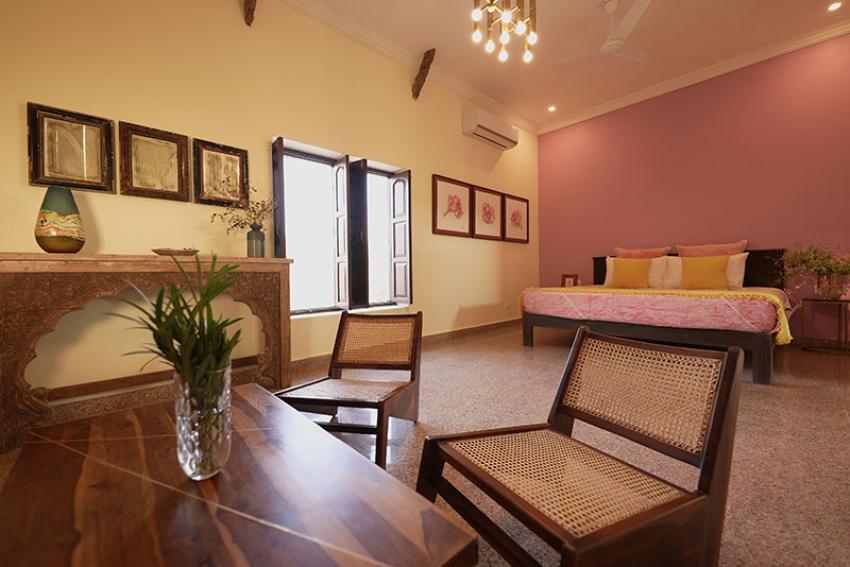 "Tiny seeds stay dormant for most of the year, waiting for the perfect day to break into roots and shoot. A small shrub may take 20 years to become a tree. Flowers blossom once a year," she says.
And, the longest wait is for "Meh' or the monsoon.
"It is the reason when peacocks dance, women sing songs on the swings, and saffron and cardamom infused delicacies are created to celebrate the arrival of the monsoon or 'Sawan'. The air gets heavy with the smell of Petrichor and everyone seems to be dancing on the short-lived verdant carpet of grass," says Sapna.
"My life back then was connected with the plants, animals and the culture. The folk music and the language weaved it all into words to be etched in my mind forever," she says.
Sapna later moved away, first to Delhi and then to London covering stories as an international journalist.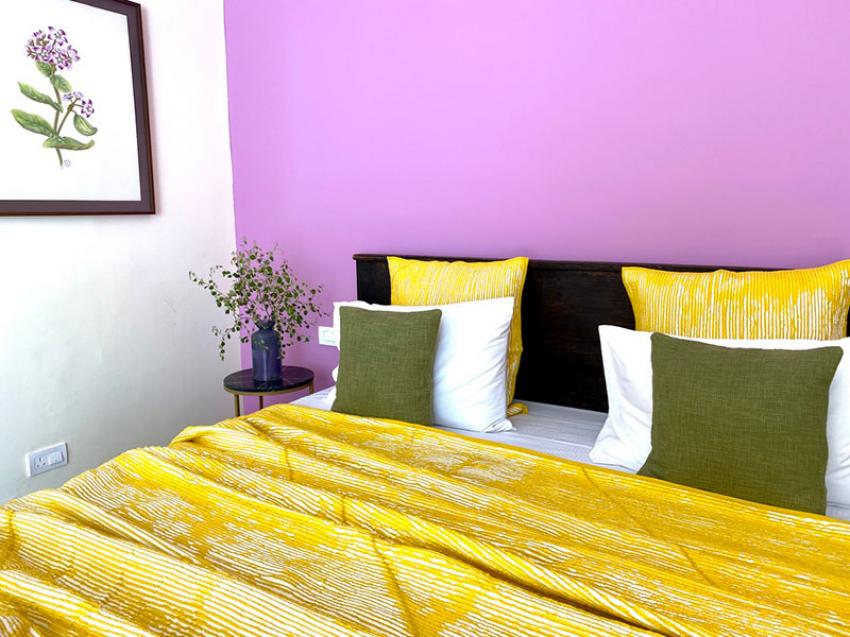 "It was like a plant of the desert was planted into different habitats, and on some days I yearned for the days of my childhood. Those carefree, delicious days when one was drunk on joy and laughter," she says.
"With Kaner, I want to retrace my childhood days and make the guests experience the beautiful life and heart-warming hospitality of the Thar desert. There are desert plants to welcome you. Your big villa has a courtyard garden filled with scented flowers. Each villa showcases the best of commissioned botanical art. The plant-based cuisine digs deep into the local and contemporary cuisine," says Sapna.
There are activities and experiences to introduce tourists to the culture of the place that Bhatia calls home.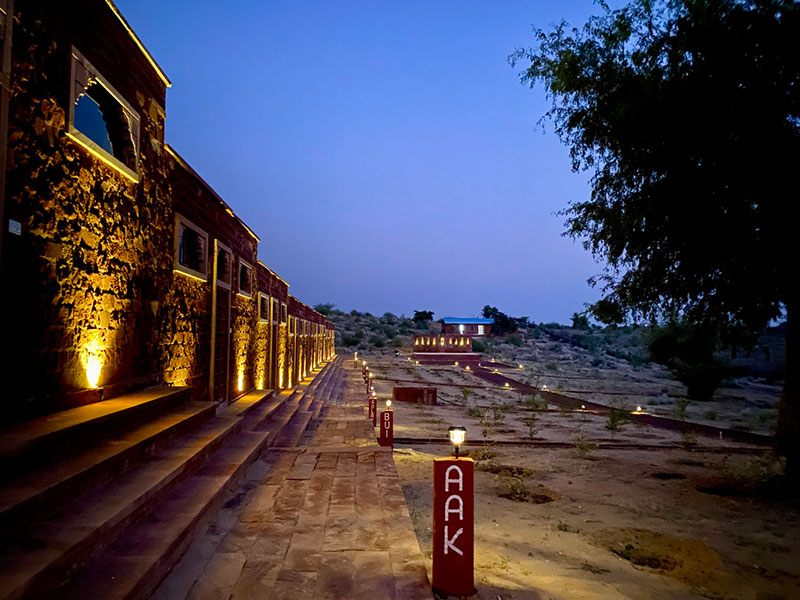 FACT-SHEET:
Location:
Jodhpur-Jaisalmer Highway. Village Dera, Jodhpur - 342025
How to Book:
Besides the booking websites, write to rsvp@kanerretreat.com or call +91 98102 03057 / www.kanerretreat.com
Packages: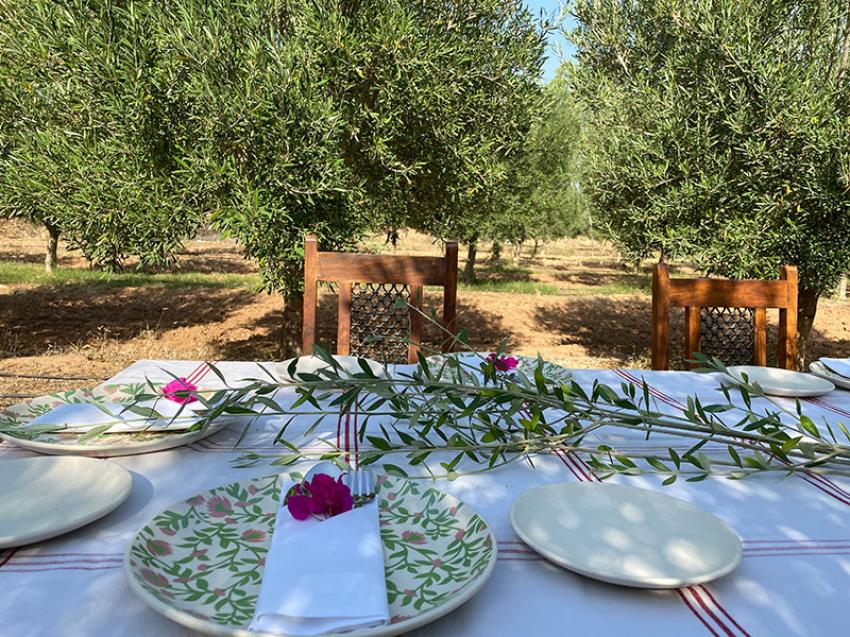 Thar Unplugged Package (3 Nights recommended)
Day 1
Arrival at Kaner Retreat with lunch.
Post lunch – Orientation to Thar – A storytelling botanical walk that explores the local plants, famine foods and modern inclusions in the Thar desert.
The walk will be led by a Botanist and International journalist. (included in the package)
Evening Tea –Enjoy the tea and welcoming breeze in the glasshouse inspired lounge.
Followed by Camel safari in the sacred grove.(included in the package)
Dinner - Traditional thali dinner on the center-stage. Enjoy the magic of the evening with candles and stars.
Day 2
Breakfast in the glasshouse lounge.
Post Breakfast - Plug into adventure – Paragliding
or
An eye opening Botanical workshop on health and healing.
Lunch – Private dining in the pool-room.
Post lunch - Horse workshop at the stud-farm – a unique experience led by Sanvi Bhatia, our 13 year old horse rider who has been training in India and Europe. The stud farm is a great place for the kids to explore farm life. (included in the package)
Tea - Alfresco tea on a hillock next to the stud farm.
Dinner - Cozy buffet dinner in the glasshouse lounge.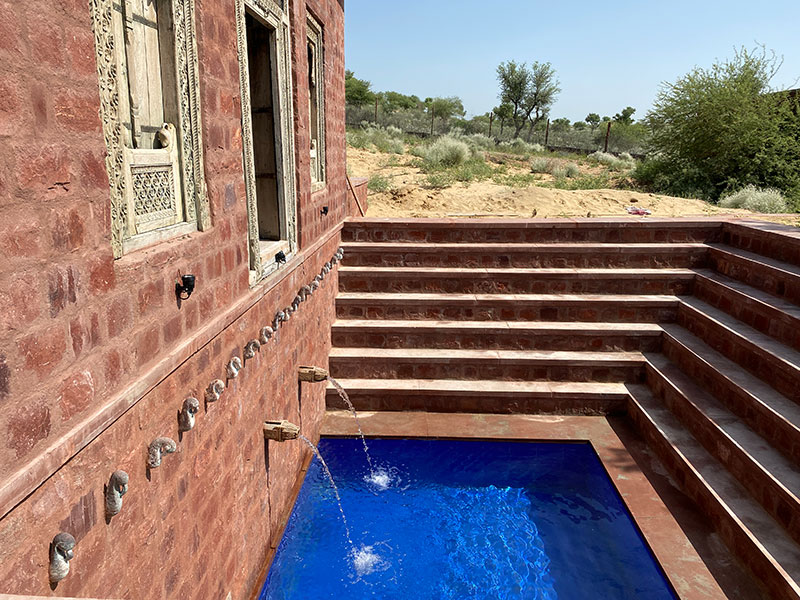 Day 3
Breakfast in the glasshouse lounge.
Post Breakfast - Visit to Kheechan bird sanctuary where thousands of Cranes fly-in from Siberia.
Mediterranean inspired Lunch at an organic Olive farm followed by walk and activities. (Kids can enjoy tractor rides and play games) (included in the package)
Evening tea - At rooftop.
Followed by Jeep Safari in the uncharted wilderness. (included in package)
Bonhomie dinner.
Day 4
Breakfast with adieu to Thar.
Replug into life with memories of Thar alive.
Costs:
Inaugural Package charges @14,000/= plus GST @18% per night per room.(Max. 2 adults per room. Kids under 6 years complimentary. Kids between 6-12 years @1000/= per child. Kids above 12 years @2000/=)
Extra charges for Paragliding on actuals to be paid directly to the paragliding company.
Road travel to different venues will be extra (if required).
Package will only be confirmed on receiving full payment.
(Customized packages are available too)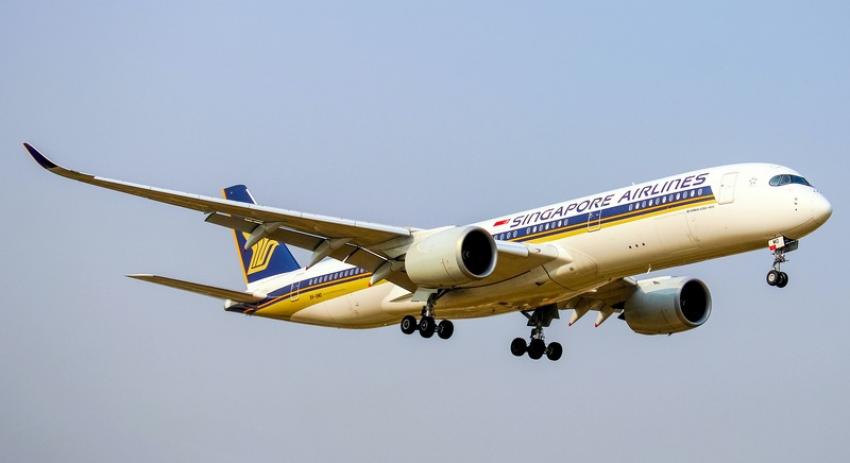 Garuda Indonesia and Singap ...
Garuda Indonesia (GA) and Singapore Airlines (SIA) have announced their plans to establish a joint venture arrangement, aimed at strengthening their cooperation, expanding passenger capacity between Singapore and Indonesia, and offering customers more travel options between the two countries.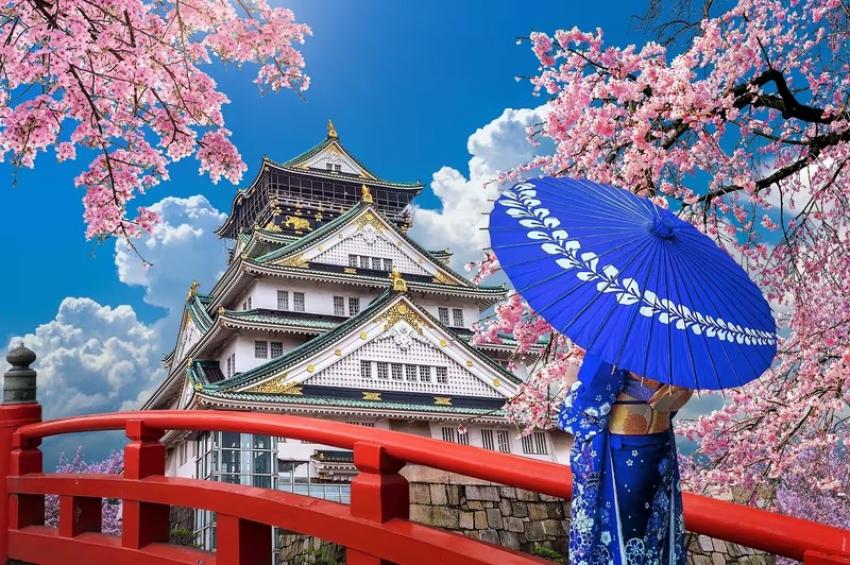 Etihad Airways to launch Os ...
Abu Dhabi/UAE: Etihad Airways announced its plans to launch five weekly flights to Osaka, Japan, starting from October 1, 2023. This move will establish a vital link between one of the world's most culturally vibrant cities and Etihad's extensive global network.