We aim to preserve the legacy of India's lost dishes for coming generations: Chef Sunil Datt Rai, The Crossing - Dubai
NITN | @notintownlive | 15 Oct 2022, 09:25 am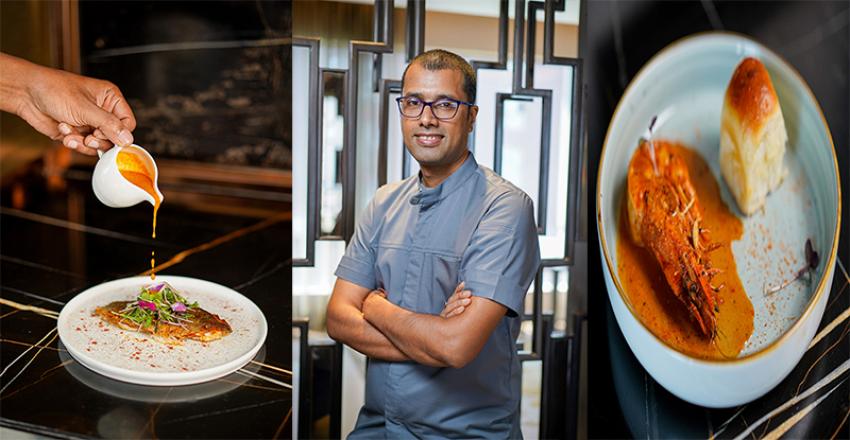 Masters of Marriott Bonvoy comes back to Kolkata with the second edition of the hotel (JW Marriott)'s initiative to exhibit and commemorate the recipes across the globe. 'The Crossing', a Dubai based restaurant thriving on the hidden flavours, influences and recipes of India, joins the collaboration.
Launched in 2020, The Crossing has emerged as the most sought-after restaurant for its elevated Indian cuisine. It offers modern Indian cuisine that combines Indian flavors and traditions with distinctive global cooking methods and ingredients. The Crossing's three founders come from different parts of India. It ranked at #22 in among the Restaurants in Asia by Asia's 50 Best Restaurants for 2022.

In Kolkata Chef Sunil Datt Rai (Head of Gastronomy–Lemon Butter, the parent company of The Crossing) is recreating his signature specialties like Gunpowder Prawn and Bottle Masala Fish with the master chefs of the JW Marriott Kolkata for three exclusive dining experiences over the 14th (Dinner), 15th (Dinner) and 16th of October (Lunch). IBNS correspondent Ayush Gupta catches up with the celebrity chef.

Where are the ventures of finding and reviving those lost recipes of India taking you?
We serve traditional Indian food but alongside we try to explore the flavors of the hidden India. Our journey of hunting these lost recipes took us across India- from the dense unexplored Northeast to the royal kitchens of Rajasthan. It is sometimes about the fascinating stories and the rich history behind each ingredient which goes completely unnoticed by the customer. Authenticity of the dishes is lost because of commercialisation. We aim to preserve the legacy of the lost dishes for generations to come.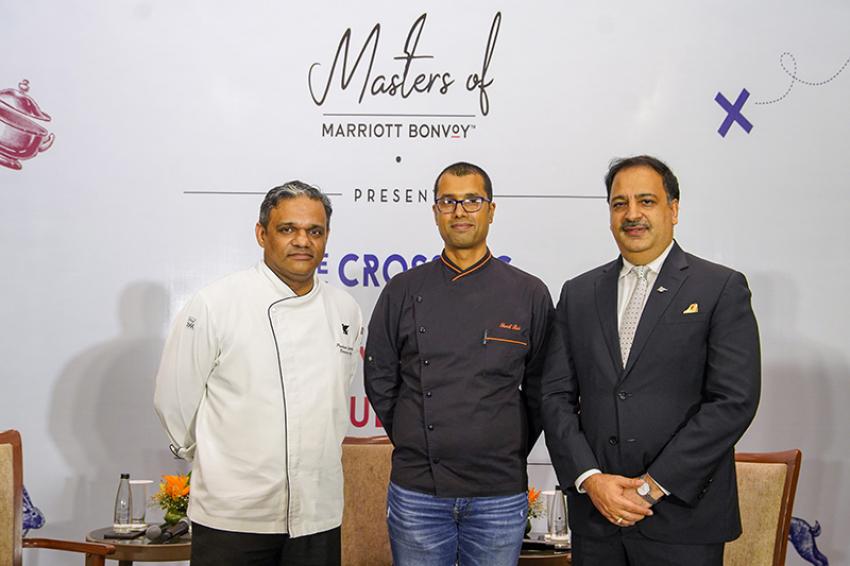 L-R - Chef Prakash Chettiyar, Executive Chef of JW Marriott Hotel, Kolkata; Chef Sunil Datt Rai, Head of Gastronomy, Lemon Butter and Mr.Sumeet Suri, General Manager of JW Marriott Hotel, Kolkata.
Does managing people under you in the kitchen as a chef affect your craft?

A lot happens behind those closed doors of the kitchen. It is a whole different world of chaos. We hire people who are passionate about their craft. It may happen that an experienced cook over a period is not going through a pleasurable experience and feels agitated. We nurture them, holding hands. Many experienced chefs are working with us, bringing alongside the experience of 15-20 years and we combine those and pour into the dishes. So yeah, managing is tough, but if you are passionate about it, then your creativity never takes a toll.

Do you see any shift in the ordered dishes?

People are more adventurous now. They want to try more dishes. People (usually) order the classic dishes like chicken butter masala, daal makhnai and pulao as it is a part of our heritage and we cannot part with it. Also, India has offered a lot of different options in different segments.

What difference do you feel between the cuisines of India and the outside world?

India is a land of flavors. The sheer intensity of integration of culture since ages has made it impossible for us to track and document the exact origin of these recipes. We, as Indians, accept different cultures warmly and present it in our own way. India is a diverse country, and it adapted us to dine at a fine restaurant and also eat at a street shop.

What led to the name 'The Crossing'?

It is inspired by our journey of crossing cultures, heritage, stories and experiences with multiple cuisines across India and even the foreign influences that have found their way into Indian cuisine from places as far as the Caribbean, Portugal, France and Great Britain. This led to 'The Crossing'.
Signature recipes of The Crossing
Signature Recipes of The Crossing Recreated at JW Marriott Kolkata

1) GUNPOWDER PRAWN

Chana dal 1050 gm
Urad dal washed 1050 gm
Sesame white 350 gm
Bedghi chilli dry whole 100 gm
Cumin seed whole 70 gm
Curry leaves 30 gm
Hing powder 20 gm
Salt 50 gm
Corn oil 50 gm
Garlic fresh 75 gm
Black pepper 70 gm
Icing sugar 10 gm
Seasoning powder 20 gm
Garlic oil. 50 gm
Lime seasoning powder 20 gm

• DRY TOAST THE PODI MASALA SPICE MIX OVER A MEDIUM HEAT UNTIL THE SPICES ARE FRAGRANT.

• HEAT REFINED OIL AND TEMPER WITH HING, GARLIC FRESH AND CURRY LEAVES.

• COOL THEM AND GRIND TO A FINE POWDER

CONFIT GARLIC

Garlic fresh peeled 250 gm
Butter 60 gm

• GARLIC FRESH PEELED AND SOFT BUTTER SEAL INTO A VACUUM BAG AND LEAVE IT IN SOUS VIDE MACHINE OR USE HOT WATER FOR 4HOURS AND COOL IT DOWN

Prawn 3 PES 60GM EACH
Podi masala 25 gm
Butter 30 gm
Salt Pinch
Confit garlic 2 gm

• HEAT REFINED OIL IN PAN, ADD FRESH PRAWN, CONFIT SLICED GARLIC, PODI MASALA, SALT AND FINISH WITH UNSALTED BUTTER

2) BOTTLE MASALA FISH
Seabass fish Fillet : 180 gm
Bottle masala powder : 5 gm
Sliced garlic : 2 gm
Lemon juice : 4 gm
Sliced shallot : 4 gm
Butter : 40 gm

METHOD : Sprinkle salt on both the sides of the fish fillet and cook a hot pan, place on the plate, place salad on the top of the fillet and serve bottle masala sauce on the side.
Heat butter in a pan, add sliced garlic and shallot let them cook on medium heat till soft.
Add bottle masala mix well, add lemon, salt and mix well, serve immediately with fish.

For Salad :
Mix all the fresh microgreens, mint, coriander and segmented pomelo.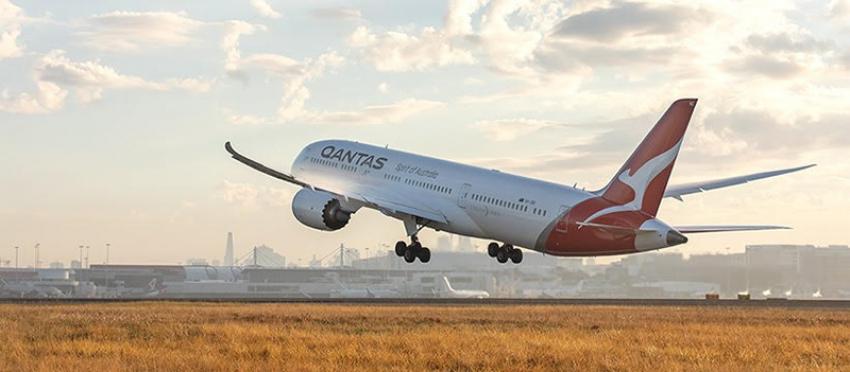 Qantas connects Australia w ...
Qantas, the national airline of Australia, created history on Sep 14 when QF 67 took off from Sydney's Kingsford International Airport to touch Bengaluru, the southern Indian city famously known as 'The Silicon Valley of The East', completing the non-stop flight in less than twelve hours.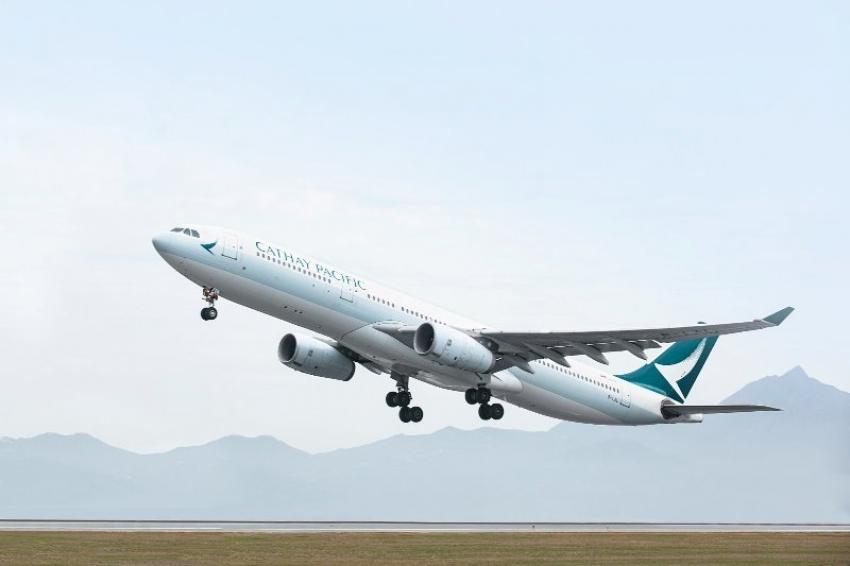 Cathay Pacific to commence ...
Bengaluru: Hong Kong's home airline will start twice-a-week direct flights from Bengaluru to Hong Kong and beyond from Oct. 11.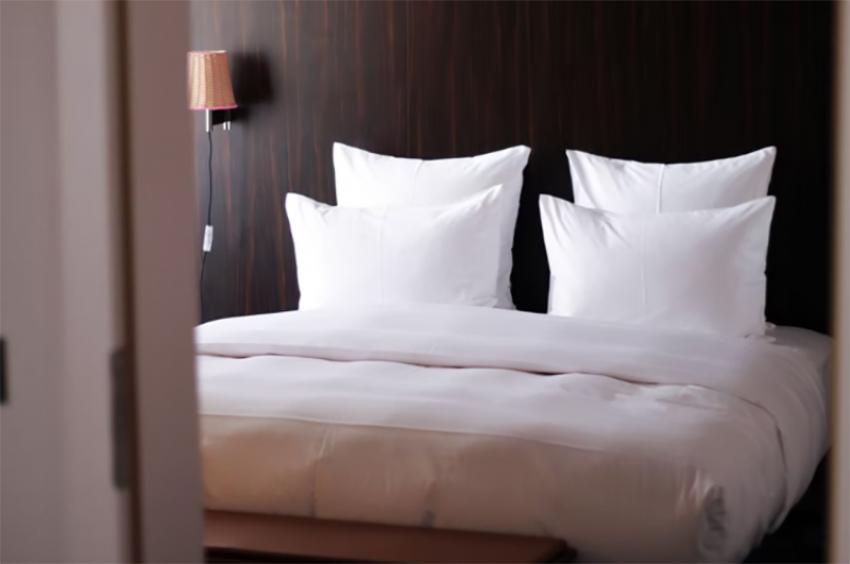 Independence Day: OYO annou ...
New Delhi: Indian Hospitality enterprise OYO on Monday announced reduced prices on stays with tariffs which now begin at Rs 399 for the period between Aug. 8 and Aug. 21.