Kolkata sky lounge LMNO-Q presents Bengali New Year spread with an interesting tweak
Uttara Gangopadhyay | @notintownlive | 12 Apr 2023, 04:41 am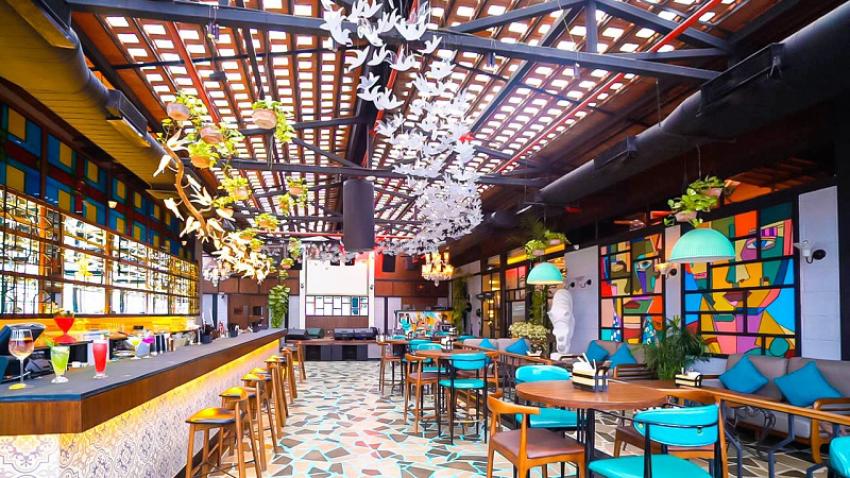 LMNO_Q
Kolkata/NITN: The fusion menu has been designed in such a way that the core is Bengali but the presentation is global, explained Chef Ananya Banerjee (who wears many hats, including that of an author) pointing to a dish of Soru Chakli Roll, her take on one of Bengal's popular winter breakfast.
The occasion – a Nobo Borsho Pop Up at LMNO_Q, a rooftop bar and lounge on Kolkata's iconic Park Street.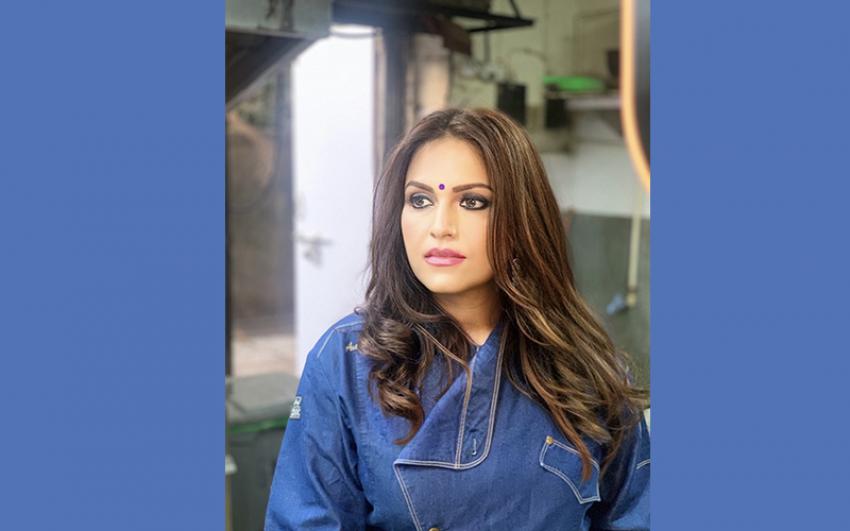 The menu was curated by Mumbai based Chef Banerjee and the city's own Shatbhi Basu (mixologist and India's first woman bartender) for the upcoming Bengali New Year.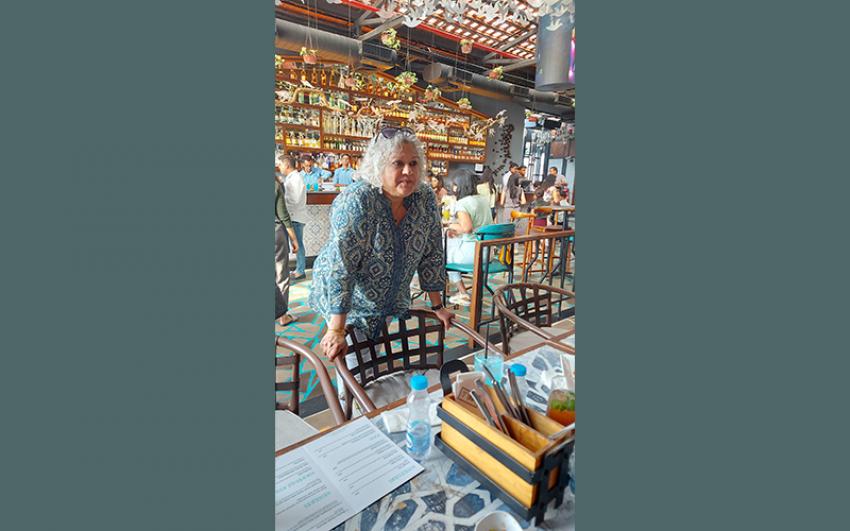 As we settled down, glad to be inside rather than outside – it was one of the days when Kolkata was experiencing a record hot day – a round of drinks were served.
Prepared under the watchful eyes of Basu, these were very refreshing indeed; summer quenchers for the soul.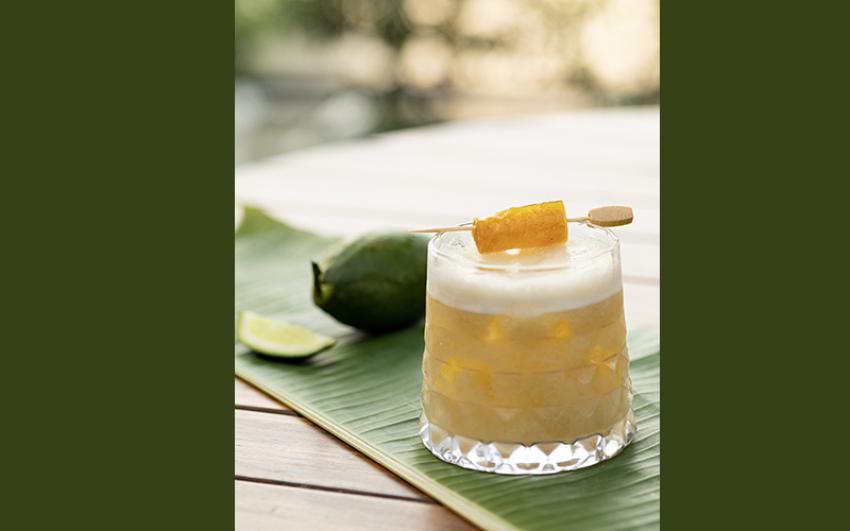 While those who did not have to report for duty after the event, pounced on the Amsotto Whiskey Sour (mango and bourbon sour with a hint of spice) or the Phuchka G&T (a gin and tonic that reminded one of the tangy flavours of the city's street style puchka), the rest settled for Tetul Fizz (tamarind, mint and spice in a lemony fizz).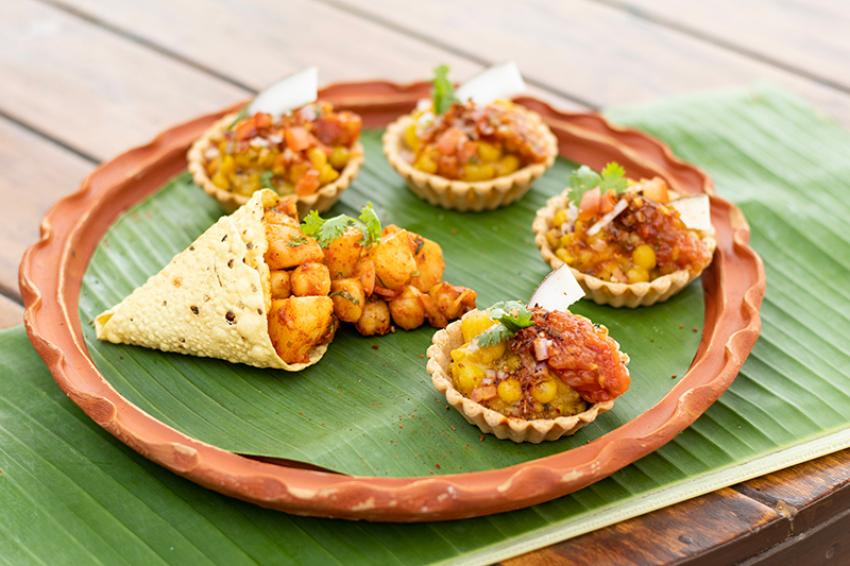 Many of us were meeting after a long time and merrily exchanged gossip while nibbling on Ghugni Tart, where the Kolkata-style ghugni (a curry of chickpeas) was served in a crumbly tart along with charred tomato chutney and a portion of aloo kabli (a typical tangy street food made from boiled potatoes).
"Looking at the place, we decided we cannot serve very traditional food here," said Chef Banerjee, "it is after all a lounge and a bar."
So Banerjee put her expertise in global cuisine to work here.
"If you see all the dishes, their roots are in Bengal but designed in a modern way so that it can go well with a pub menu," she said.
Said Raajiv Nathany, Co-owner, LMNO_Q, "The idea behind the pop up was to introduce a modernised version of the Bengali cuisine while keeping its original essence during this festive season."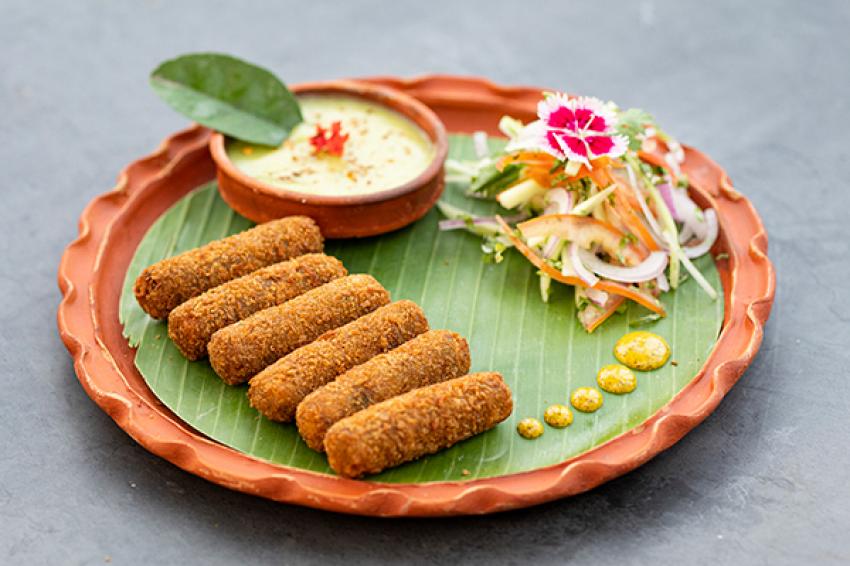 Next to arrive was Mochar Finger (crispy fried banana flower finger) served with am lanka bata (mango and chilli paste) and kasundi (mustard) chutney; the piquancy of the paste helped get over the slightly sweet taste of the Ghugni Tart.
Digging into Bengal's culinary heritage, Banerjee drew inspiration from the Soru Chakli Pithe (essentially made from a batter of rice and lentils), a crepe style preparation served with nolen gur and eaten as a breakfast on winter mornings.
At the LMNO_Q Nobo Borsho Pop Up, instead of serving it as a plain crepe, she gave it the net-like look of Roti Jala, a popular Malayan snack.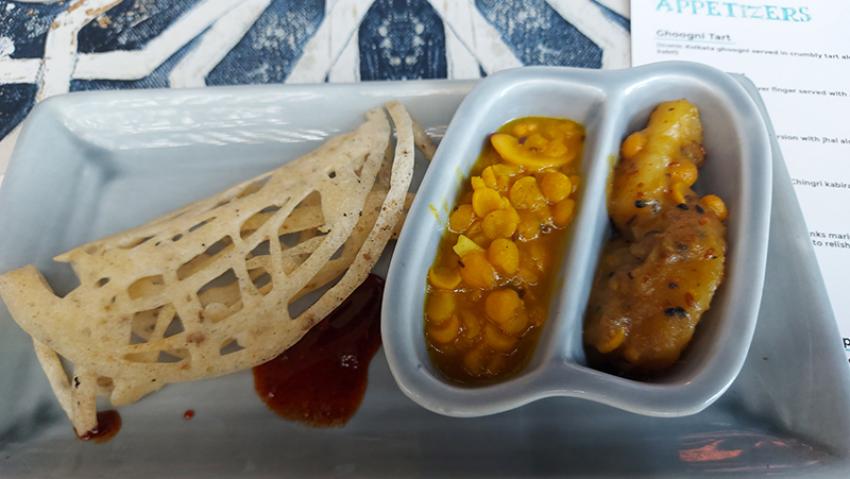 She rued the fading away of some of Bengal's heritage dishes, and said she is keen to bring them back into the mainstream.
Meanwhile, we discovered the Soru Chakli in a versatile role.
As a starter dish, it (Soru Chakli Roll) was served with spicy potatoes and a drizzle of nolen gur-Naga chilli chutney; for the mains, it was a substitute for the staple rice dish alongside a serving of Kosha Mangsho (a spicy mutton curry).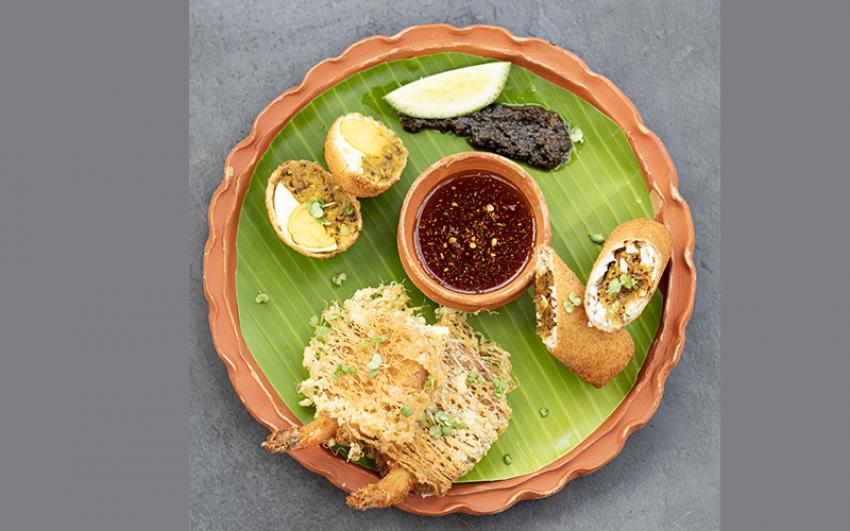 In between, we tried the Posto Pora Bhetki, where pieces of Bhetki fish were marinated in burnt poppy seed chutney and grilled, served with posto pora chutney and a charred tomato relish; a platter which contained a mix of traditional Bengali snacks – Dim-er Devil stuffed with mutton keema, fish roll, Chingri Kabiraji, accompanied by a pleasant shakalu kasundi salad.
"All the ingredients are hyper local," said Chef Banerjee, "There is nothing I have used which is not available in Bengal."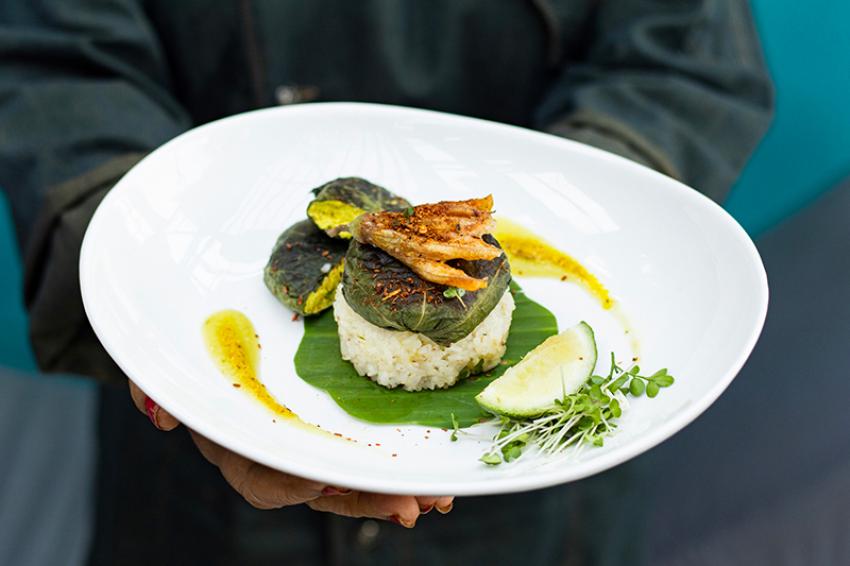 For the mains, vegetarians had the option of ordering Chhana Narkeler Pata Pora – mustard flavoured cottage cheese, coconut wrapped in pumpkin leaves, pan grilled and served with a sticky rice (made from Bengal's own Binni paddy) pulao and Kumro Phul Bhaja; however, we gave the Gramin Niramish Thali a miss which was a regular platter of koraishutir kochuri, kosha aloor dum, narkel diye cholar dal, dhoka bhaja and aamsotto chutney.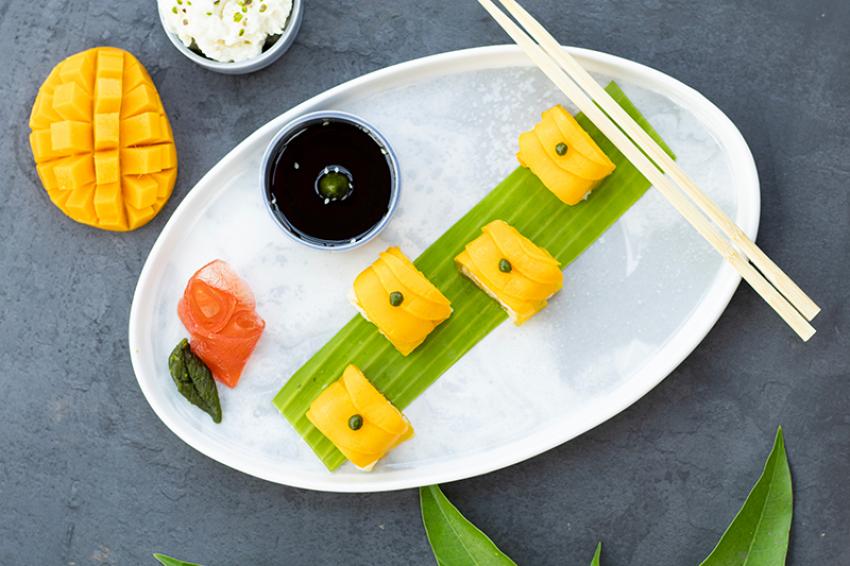 For desserts, the Amrapali Kheer Sushi with nolen gur sauce sounded interesting; a thick preparation of Gobindo Bhog rice payesh (a milk delicacy) was wrapped with amsotto and topped with mango slices and served with nolen gur dip.
While an interesting take on the global Japanese favourite, personally I found it a tad too sweet to round up an interesting meal.
What: Noboborsho Pop Up at LMNO_Q x Chef Ananya Banerjee is running till April 16, 2023; from 12.30pm to midnight. Meal for two: Rs. 1,200 + tax (without alcohol); Rs. 2,000 + tax (with alcohol).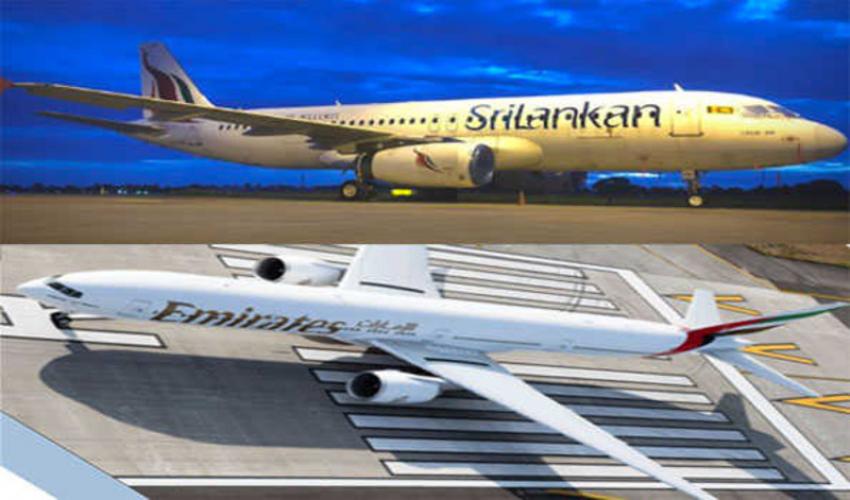 SriLankan Airlines, Emirate ...
Colombo/UNI: SriLankan Airlines and Emirates have entered into a reciprocal interline agreement aimed at bolstering connectivity for travelers.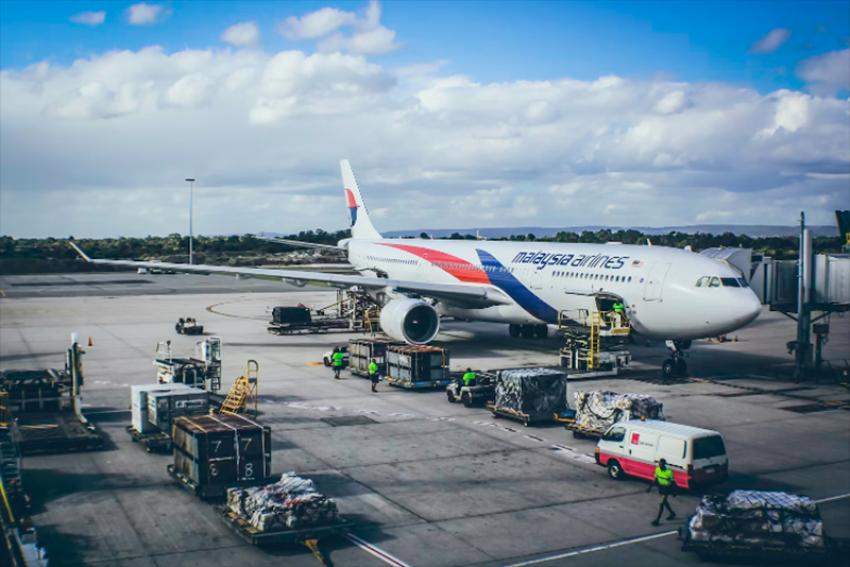 Malaysia Airlines introduce ...
Kuala Lumpur/NITN: Malaysia Airlines is offering introductory fares on their three new services between Kuala Lumpur and the Indian cities of Amritsar, Thiruvananthapuram and Ahmedabad.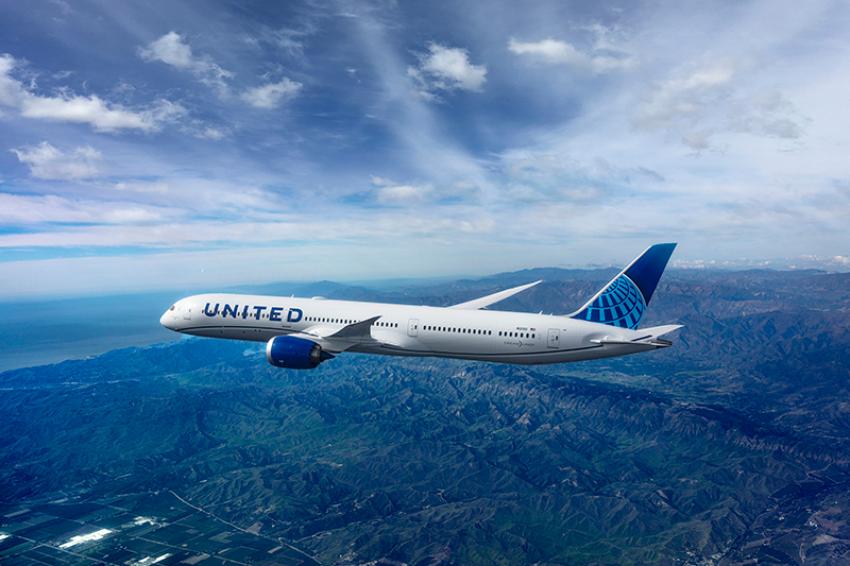 United Airlines increases n ...
New Delhi: United Airlines has announced an increase in service between New Delhi and New York/Newark, with a doubling of flights from once to twice daily during the winter season 2023/24.