Tawang Marathon: A perfect excuse to visit Arunachal Pradesh in October this year
NITN | @notintownlive | 12 Sep 2023, 06:14 am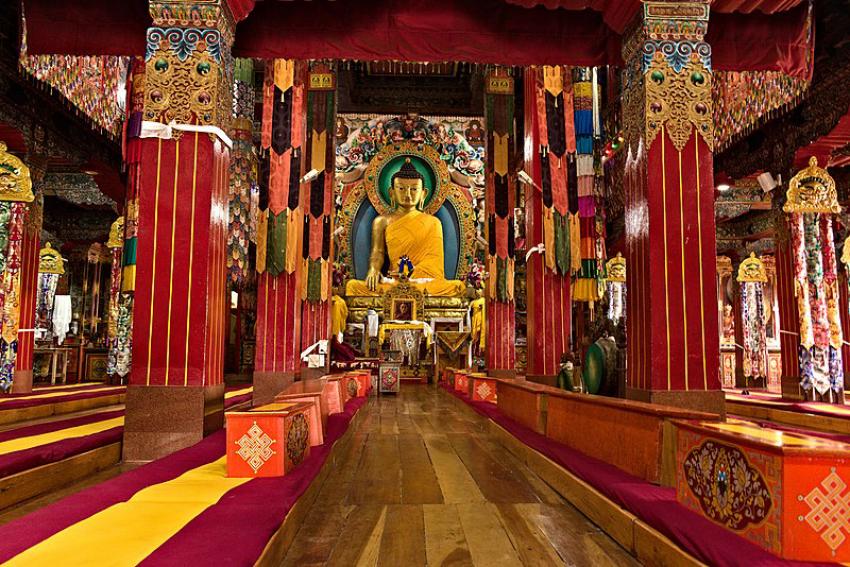 Tawang Marathon
Photo by Rohit Sharma/Wikimedia Commons
If you have been looking for an excuse to visit the 'dawn-lit mountains' of Arunachal Pradesh, here is a perfect reason to do so.
On October 1 this year, the Government of Arunachal Pradesh in collaboration with the Indian Army, will be holding the first Tawang Marathon.
While those in fine fettle will find the challenge of a high altitude run exciting, others can cheer the marathon runners while enjoying the picturesque landscape.
The eponymous town, one of the most popular tourist destinations of Arunachal Pradesh, is known for its scenic beauty, including lakes, and a 17th century monastery. A couple of days spent in this picturesque town is worth the long journey.
Entry formalities
Before setting off on a journey to Arunachal Pradesh, Indians have to obtain an Inner Line Permit (ILP) while foreigners have to obtain Protected Area Permit (PAP) by filling up the required forms and paying the necessary fees.
ILP can be obtained from the Arunachal Pradesh government offices in New Delhi, Kolkata, Guwahati, etc. or online through the Arunachal Pradesh tourism website. Tourist eILP is applicable for stay up to 14 days only.
PAP can be obtained by foreign tourists in a group of two or more persons by applying online for a period of 30 days. They can also be availed physically from the Ministry of Home Affairs, Government of India, New Delhi or from the Resident Commissioner, Government of Arunachal Pradesh, New Delhi.
Getting there
Visitors may fly down (or take a train) to Guwahati or Tezpur in Assam and then embark on the road journey. Although, the road journey from Guwahati to Tawang is said to be of 10 to 12 hours duration, it may take longer owing to the weather and road conditions. It is best to hire a private vehicle from a government authorised travel agent. A night halt in between may be required for a relatively comfortable journey.
The journey starts from Bhalukpong, about 260km from Guwahati (Assam). Located on the bank of the Kameng River, the place is associated with the legendary King Bhaluka who built a fort here. The town also serves as a gateway to the Pakhui Wildlife Sanctuary.
The Tippi Orchidarium, about five km by road from Bhalukpong, could be your next stop. The region is said to be home to over 450 varieties of orchids.
Sessa, which is part of the Kameng Protected Area Complex (KPAC), is known for its orchid sanctuary among other things.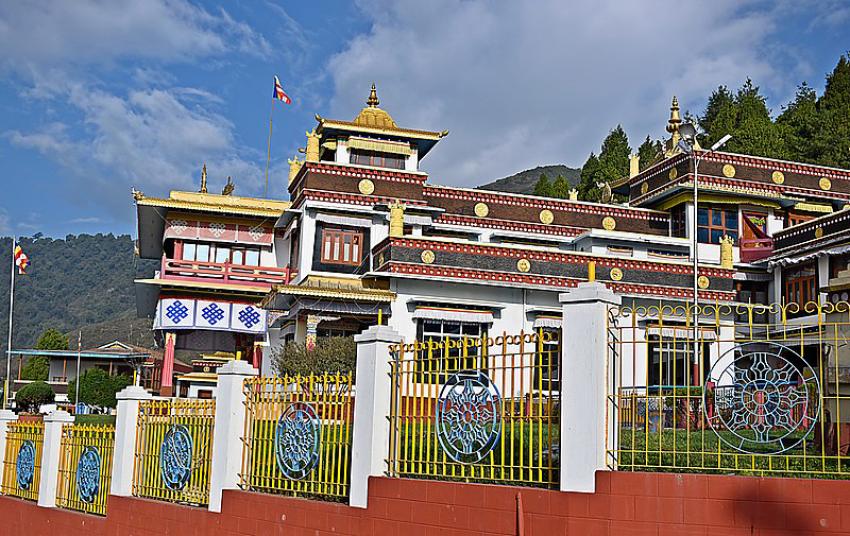 Photo by Rohit Sharma/Wikimedia Commons
Next comes Bomdilla (7273 feet), about 109km by road from Bhalukpong and 390km from Guwahati. Inhabited by several indigenous tribes, it is a colourful amalgamation of cultures and crafts. The major attractions include spectacular views of Himalayan snow peaks, Buddhist monasteries, an ethnographic museum, and crafts centres and emporiums. It is worthwhile to spend at least a whole day here.
After travelling for nearly 42km from Bomdilla, you will arrive at Dirang, known for its hot water springs, Kalachakra Temple, Yak Research Centre, Sheep Breeding Farm, etc.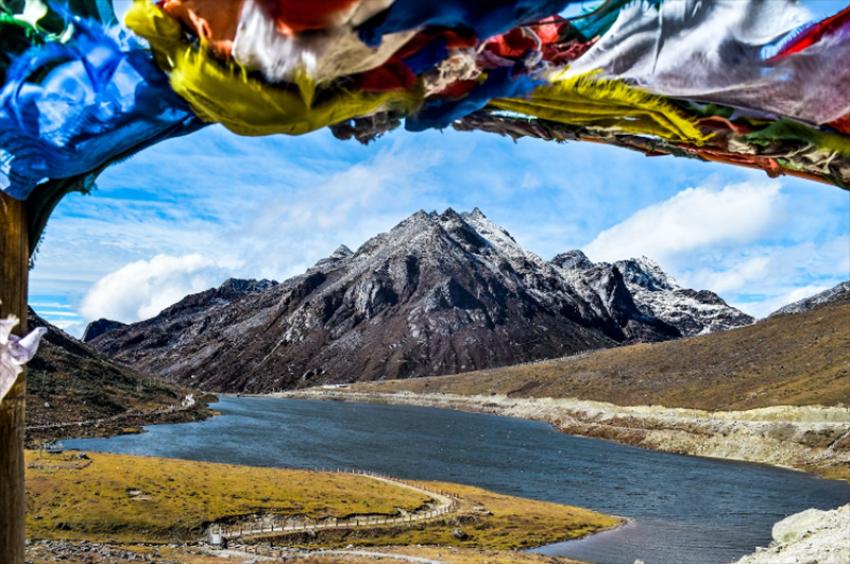 Photo by Mayur More/Unsplash
The way to Tawang from Dirang will take you through the famous mountain pass, Sela. Perched at 13,700 feet, and about 78km away from Tawang, it is part of National Highway 13 (previously NH 229). It is best to cross this snow-bound pass in the first half of the day, according to veteran travellers. To the north of the pass is Sela Lake.
About 183km away by road from Bomdilla is Tawang, its elevation ranging from 6,000 feet to 22,000 feet. Tawang is largely home to the Monpa tribe.
Things to see and do
The town is surrounded by high mountains and is the gateway to several beautiful lakes (locally known as Tso).
Lying to the west and about two km away from the heart of the town is the Tawang monastery perched on a ridge. According to local belief, Merag Lodroe Gyamtso was led to the spot by his horse when he sought divine guidance to build the monastery in the 17th century. A large statue of Buddha occupies the sanctum. Inside, you will find prayer wheels, thangkas, votive objects, etc.
About 10km away from the Tawang Monastery is the Jangchub Choeling (Gyang-gong Ani Gonpa), a nunnery.
Popularly known as the PT Tso (Pankang Teng Tso), this lake is about 17km from the town. Surrounded by snow-capped mountains, the landscape around the waterbody changes with the seasons, sometimes snow bound, sometimes adorned with alpine flowers.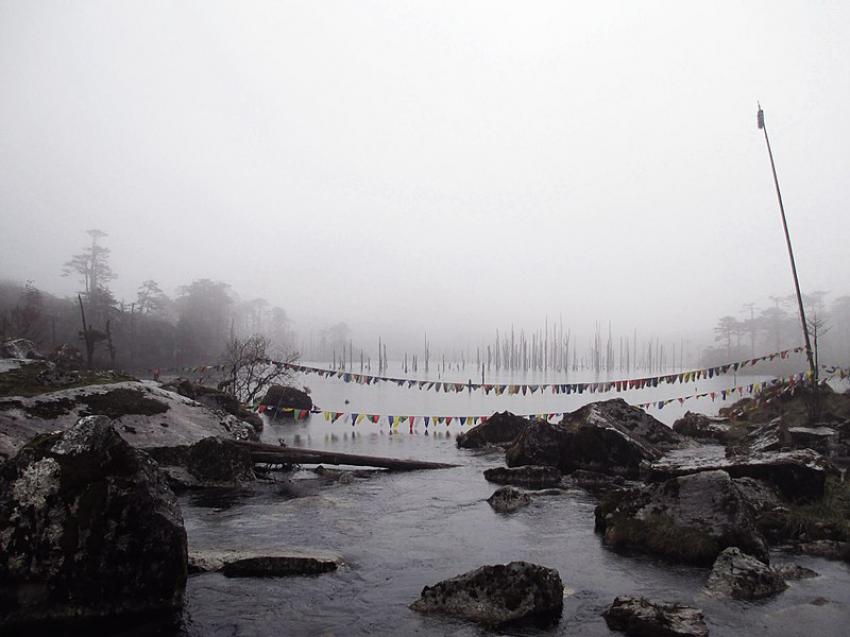 Photo by Sushanthunt/Wikimedia Commons
Lying about 35km away from Tawang is Sangestar Tso, a lake formed after a severe earthquake in the region in 1950. The best way to enjoy the lake is by taking a walk along its banks. Following the shooting of a sequence from the Hindi movie Koyla featuring actress Madhuri Dixit, the lake is also referred to as the Madhuri Lake.
About 45 km from Tawang, on the way to Gorzam Chorten, is the Lumla Dolma Lhakhang with a large statue of Jetsun Dolma (Tara Devi). Gorzam Chorten (about 92km from Tawang) is said to be built in the 13th century and draws inspiration from the Boudhnath Stupa of Nepal.
Depending on your convenience and travel time, you may stop at Jaswant Garh and visit the Nuranang Waterfall, either on your way to or from Tawang or as an excursion from town. Located on the NH 13, Jaswant Garh is a memorial to Jaswant Singh who, according to reports, at first with his fellow soldiers and then single-handedly, fought off the attackers from China during the 1962 Indo Sino War. The memorial is around 53km from Tawang. The road to the Nuranang Waterfall (also called the Jang Waterfall) is off the national highway (and about 40km from Tawang).
The Marathon
Participants have to be in sound physical condition and able to run at high altitude. They will be required to arrive in Tawang as per the guidelines issued by the organisers for acclimatisation.
The Marathon will be held from 4.30am to 5pm.
The race has been divided into four categories – Full Marathon (42.195km), Half Marathon (21.097km), 10km run and 5km run. There are different entry fees for different groups of participants. The race is open to both Indian and foreign participants.
Tawang is all set to host the 1st-ever marathon at an incredible altitude of 10,000 feet above sea level on 1st October 2023, being organized by the Indian Army and GoAP.

Register now at https://t.co/OJ96Tpsibv for participation or call +91-6351580588 for more information. pic.twitter.com/2QuUqkGiG0

— MyGov Arunachal Pradesh (@MyGovArunachal) September 7, 2023
There is a minimum age limit applicable for each category. Besides, participants for the full and half marathons and the 10km run have to possess previous experience (official finisher certificates) of having completed similar races in a specified time.
The last date for registration is September 15, 2023.
For more details and registration, see here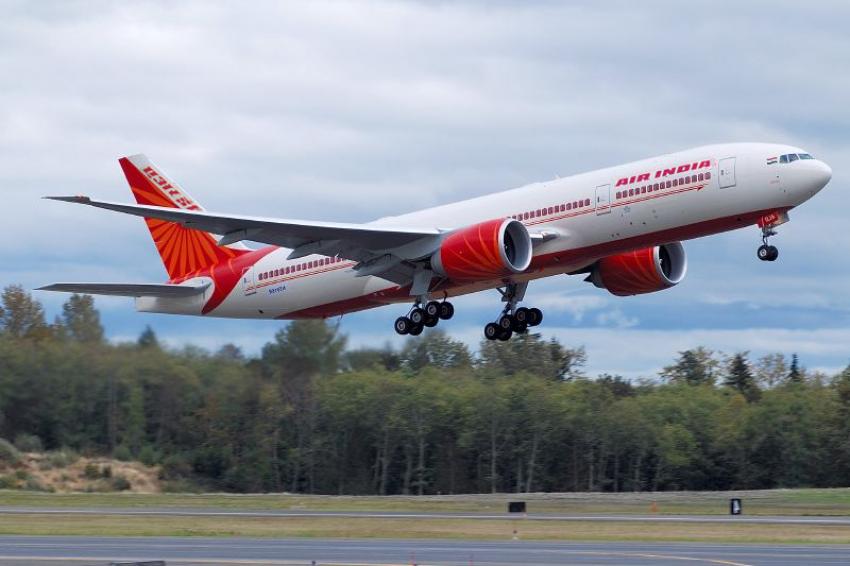 Air India deploys newly ind ...
Gurugram: Air India, a global airline in India, has initiated the deployment of its recently acquired Boeing 777 aircraft to serve all three non-stop routes from Mumbai to the United States.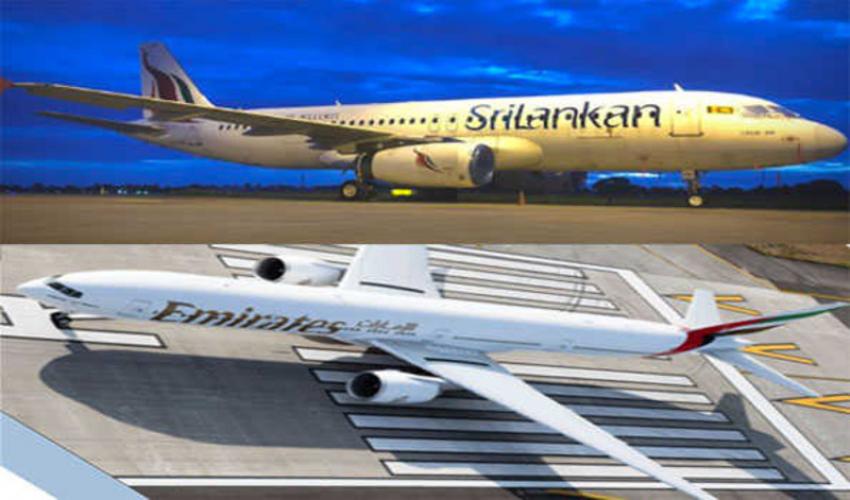 SriLankan Airlines, Emirate ...
Colombo/UNI: SriLankan Airlines and Emirates have entered into a reciprocal interline agreement aimed at bolstering connectivity for travelers.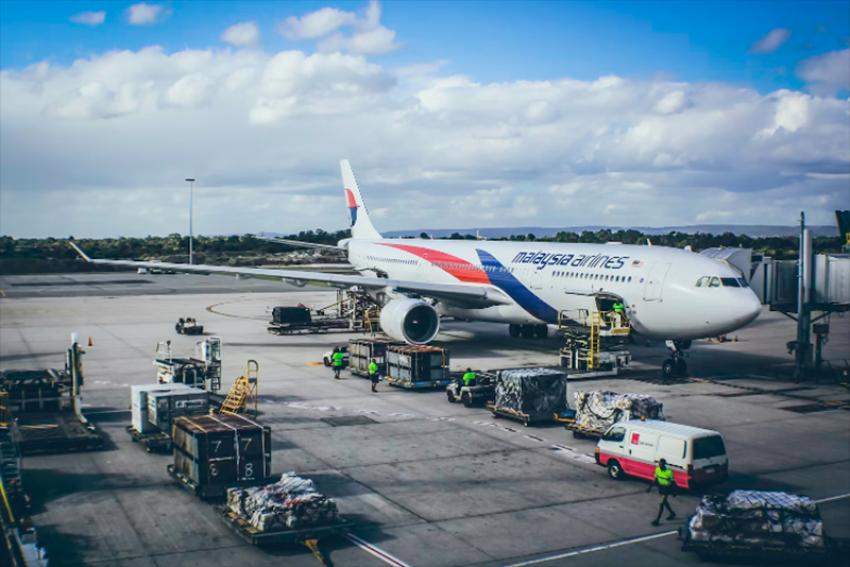 Malaysia Airlines introduce ...
Kuala Lumpur/NITN: Malaysia Airlines is offering introductory fares on their three new services between Kuala Lumpur and the Indian cities of Amritsar, Thiruvananthapuram and Ahmedabad.