2 out of 8 winners in AICTE Lilavati awards conferred to Salem's Sona College of Technology, Thiagarajar Polytechnic College teams
NITN | @notintownlive | 12 Mar 2022, 12:08 pm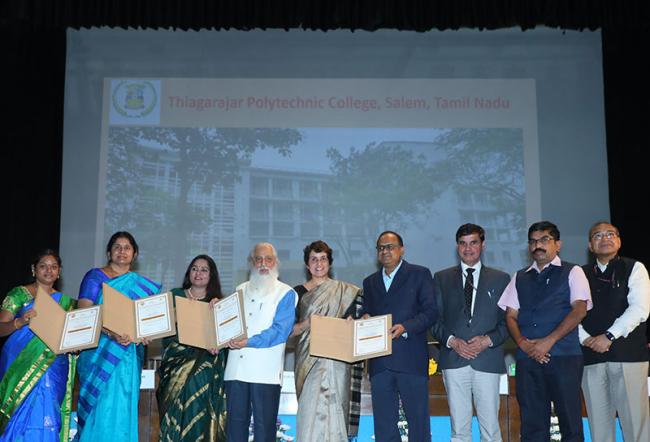 AICTE
New Delhi: Two of the eight teams chosen by the All-India Council for Technical Education (AICTE) as Winners for the 2nd edition of Lilavati Awards aimed at celebrating women's empowerment came from two Salem-based institutions -- Sona College of Technology and Thiagarajar Polytechnic College – in 'Women Innovators', and 'Literacy and Life Skills' category respectively.
Sona College's SWIFTT (Sona Women Innovators for Technology Transfer) team -- Professor of Civil Engineering Dr R Malathy; Dr Gulshan Taj, Associate Professor (Civil); Dr S Priyalatha, Associate Professor (Fashion Technology) and Ms A Shiney Pearlin, 3rd Year Fashion Tech student bagged the first prize in the 'women innovators' category for demonstrating 16 patented technologies.
Under this theme, 16 patented technologies -- plastic paver blocks, semi-automatic trolley for women labourers engaged in construction, IOT based smart irrigation, mosquito repellent clothing, replacement of 70 pc sand in concrete with shredded plastic among others -- were demonstrated that help rural women, budding women entrepreneurs and Self-Help Groups improve livelihood.
Over 300 women, mainly from rural areas, have been trained by Sona College team on these technologies. In addition, these technologies have been also transferred to Tamil Nadu government departments and private sector companies.
This is the second consecutive year that a team from Sona College of Technology has won the national Lilavati award.
Thiagarajar Polytechnic College's team led by Dr A Gandhimathi, along with faculty colleagues G Latha, R Ayanar, M Sumaiya Mubeen, and 2nd year student R Kiruthika won the award for imparting 'Literacy and Life Skills' to nearly 14,500 beneficiaries that included young and adult learners as well as nearly 225 school and college drop outs during pandemic who were counselled, encouraged and supported to re-join classes.
The team provided digital literacy to rural women and trained 6800 girl students of various schools and colleges through more than 100 life skills programmes and enhanced the livelihood of 1600 girls and women by providing placements.
Thiagarajar Polytechnic too has bagged an award for the second year in a row.
Named after the great mathematician Lilavati, this year's edition saw a total of 27 teams comprising faculty and non-faculty members and students from colleges across India won the award aimed at celebrating women's empowerment.
The Union Minister for Women and Child Development Smriti Zubin Irani lauded AICTE for awarding women who have contributed to social causes beyond academics.
The Minister exhorted AICTE to further strengthen academic prospects for women just as government schemes have helped many women led initiatives to blossom.
India has many women innovators, scientific minds with new ideas that can turn into an enterprise.
These women need not only venture capital and investment but also corporate support to help convert their innovations into commercial success.
As enrolment of women in STEM subjects grows further India can hope to see more women leaders in space technology, machine learning and AI, Irani added.
Greeting women on International Women's Day, Dr Vinita Sahay, Director, Indian Institute of Management, Bodh Gaya, said that women are well represented in the field of education and it was heartening to see scores of women technologists and innovators being felicitated by AICTE.
"We can celebrate Women's Day for some time but eventually we don't need it as Indian women are doing better than their peers globally. Women pilots globally represent only 4.5 per cent of the pilots while in India the number is touching 17 per cent. Similarly, representation of women on the boards of Indian companies that was under 3 per cent in 2014 has grown to 17 per cent in 2021, almost as per with the global standards. For some time, it is good to have reservations for women on boards of companies or in elected parliamentary fora," Dr Sahay added.
Women need to have parity with men with a lot of grace and dignity. Her message to the young women is to be at their feminine best where femininity is invisible to male colleagues and should not even feel that they are working with someone of a different gender, said the IIM Bodh Gaya Director, one of the two women IIM directors in India.
Dr Sahay hoped that irritants like issues like gender-based wage disparity, harassment at work place will be a thing of the past once the representation of women in workforce increases.
Commenting on the Lilavati Awards, AICTE Chairman, Professor Anil Sahasrabudhe, said, "We were overwhelmed with the response that we got for the Lilavati Awards. With over 500 entries nationally the judges had a tough time selecting the 27 best teams. The award intends to create an environment of equality and fairness for women in all institutions regulated by AICTE."
The AICTE national competition received 500 entries in eight categories--Women and Adolescent Health, Self Defence, Environment, Sanitation & Hygiene, Literacy and Life Skills, Women Entrepreneurship, Legal Awareness, Technology for Women and Women Innovators.
From AICTE Vice Chairman Professor MP Poonia, Advisor- I Mamta R Agarwal, Professor Member Secretary Rajive Kumar touched on the genesis of the Lilavati awards and the judging process of the awards.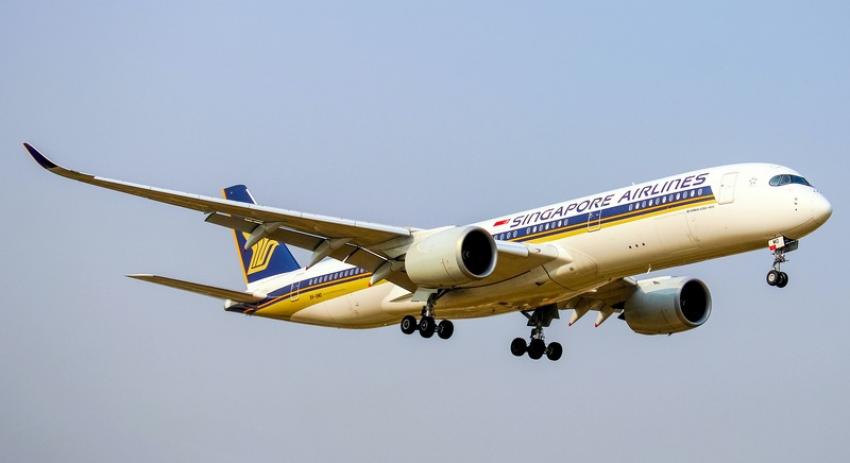 Garuda Indonesia and Singap ...
Garuda Indonesia (GA) and Singapore Airlines (SIA) have announced their plans to establish a joint venture arrangement, aimed at strengthening their cooperation, expanding passenger capacity between Singapore and Indonesia, and offering customers more travel options between the two countries.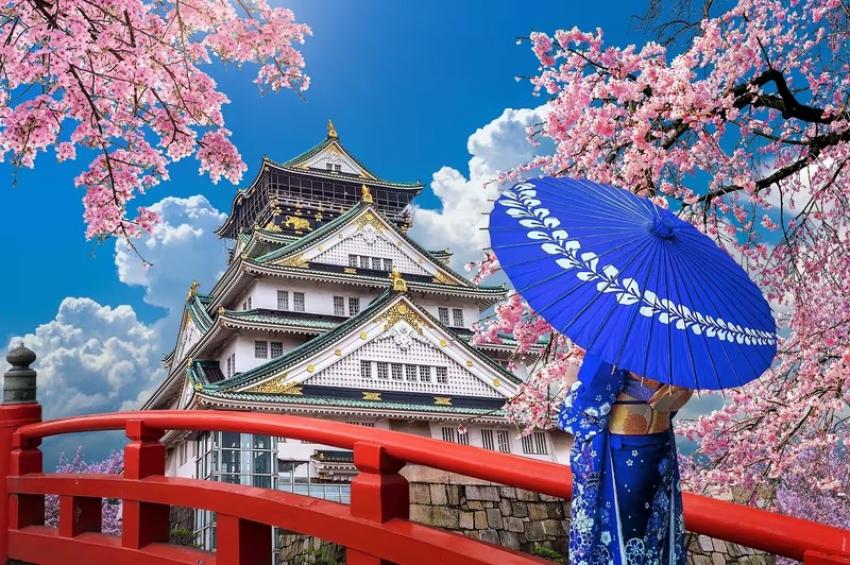 Etihad Airways to launch Os ...
Abu Dhabi/UAE: Etihad Airways announced its plans to launch five weekly flights to Osaka, Japan, starting from October 1, 2023. This move will establish a vital link between one of the world's most culturally vibrant cities and Etihad's extensive global network.