Where walls breathe art
NITN | @notintownlive | 15 Mar 2021, 02:12 am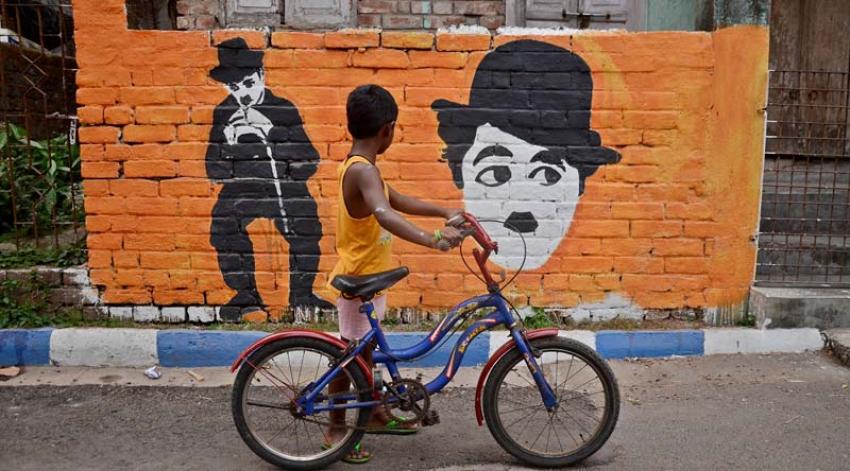 Street Art
Indian cities are not known for the walls of buildings transformed into art galleries as in the West. There is no Bansky yet in India where city walls are mostly usurped by politicians for flaunting their election posters. But one Kolkata neighbourhood recently showed the way, turning it into a graffiti hotspot. Photo journalist Avishek Mitra captures the change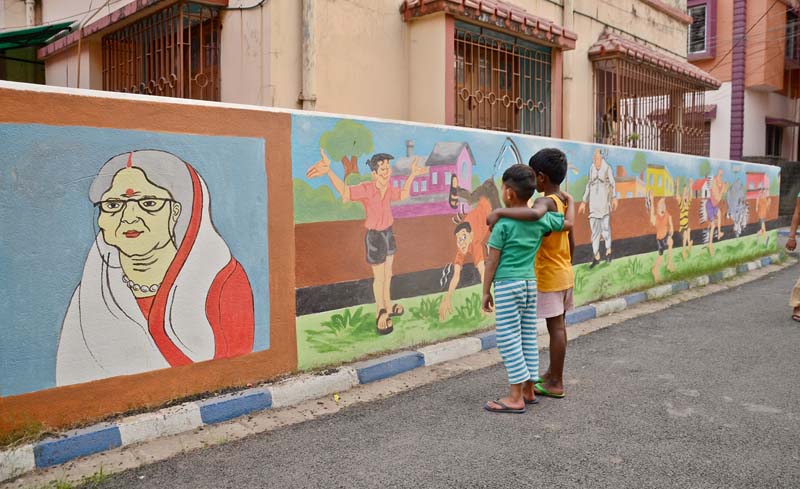 About three decades ago, Wynwood , a neighbourhood in Miami, was synonymous with drugs, crime and prostitution. Decades later, this once-forlorn patch of Miami, which was primarily known as a working class district inhabited by Puerto Ricans, morphed into a street art showcase neighbourhood.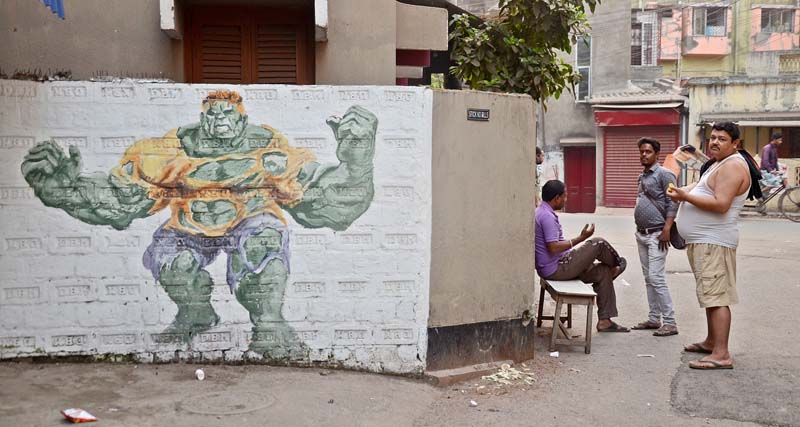 As you walk into the heart of Wynwood, you will soon realise why it is called the most instagrammable spot in America.
Graffiti spots are countless across the world now. We have the remains of the Berlin Wall in its iconic Eastside Gallery and several other zones across the western world.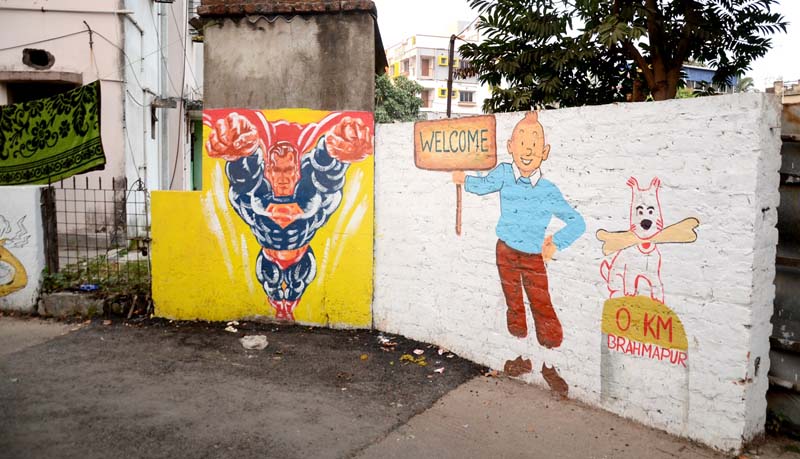 Compared to the West and some other parts of the world, Indian cities are not known for wall graffiti. Places like Delhi's Hauz Khas village- where you spot some of them- are rather rare.
However, Kolkata recently saw an entire south Kolkata neighbourhood turned into a wall graffiti hotspot launched without much fanfare. Brahmapur, a locality a kilometre from Garia near Boral has now turned into a famous locality for graffiti art.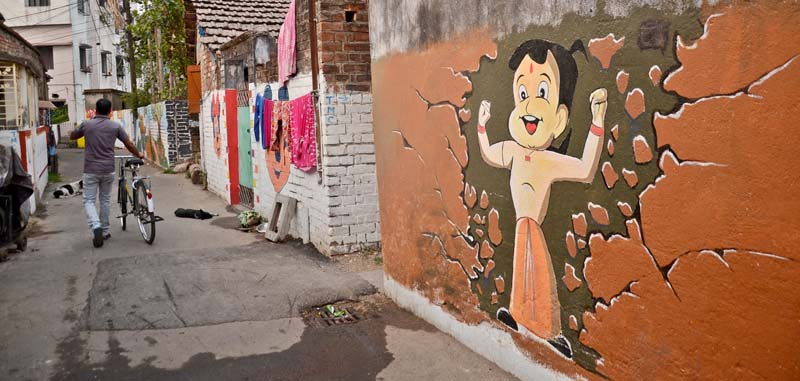 A major credit for the idea to convert the outside walls of houses goes to one of the residents, Anirban Bhattacharya, a popular actor in Bengali cinema and television as well as in the theatre circuit.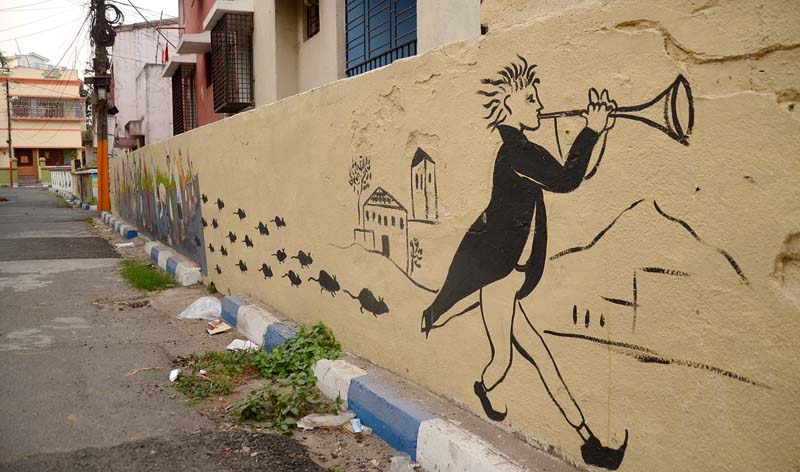 From Charlie Chaplin to Mickey Mouse and Bengal's own icons, every famous character and person finds a place in Brahmapur's wall. The locality has now become a rage and sees a steady stream of visitors wanting to savour the artistic turnover of dull house walls.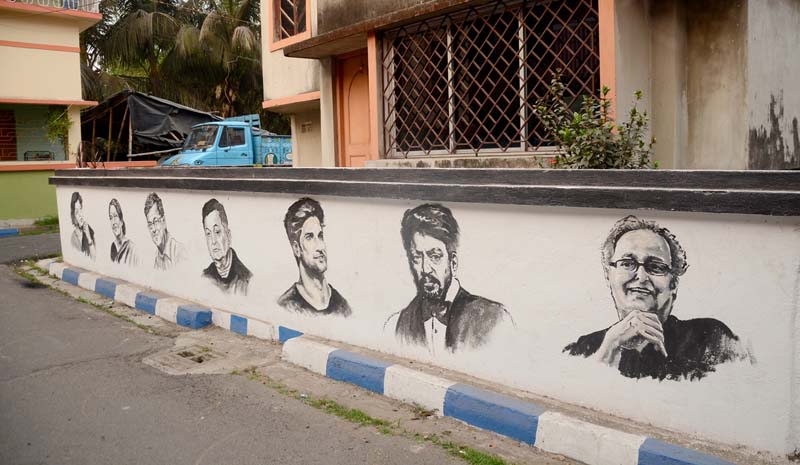 As to the initiative, Bhattacharya reveals, "2020 was a difficult year for everyone. So during our locality's Durga Puja meeting I proposed that costs could be curtailed and with the money saved we could do something instead to create and sustain a longer impression."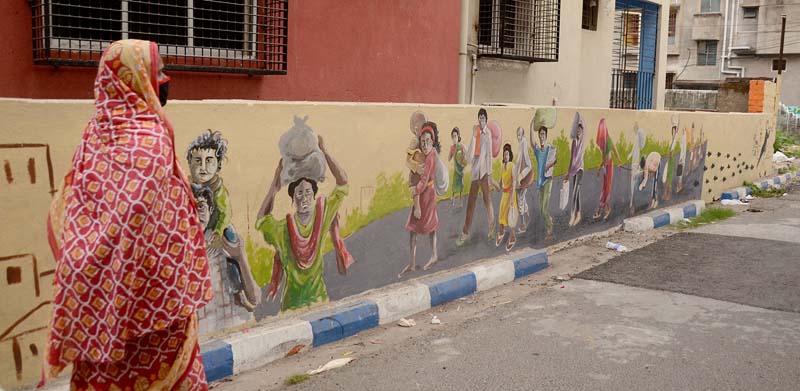 "Fortunately, everyone agreed readily. The work began during the Puja itself in October and was finished by February," he says.
Bhattacharya also shared how the idea germinated. It was on a visit to a hamlet in Jhargram district where villagers paint the walls of their cottages.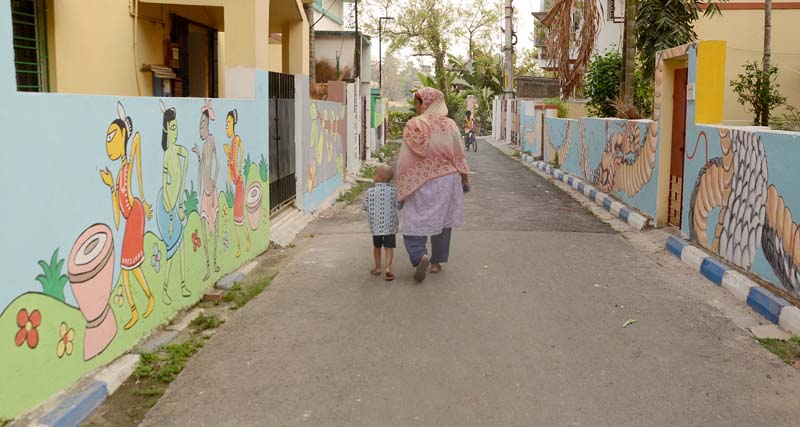 "The idea sparked from there. I also want to invite the people working in the village to come here and see our work. I would love to reach out to them," the actor says.
Says a resident speaking to TWF: "When we first started, not many were sure what it was all about. Many of them had their walls painted or white washed recently and so were reluctant. But once they saw the colourful change to the walls of neighbours , they came on board."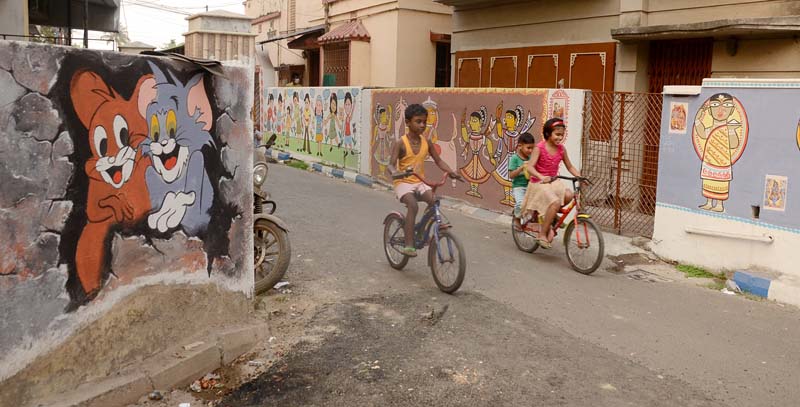 There were many local artists as well as from outside the locality who painted the walls. Most of them are friends of Bhattacharya and his wife Madhurima [also a theatre actor].
While Brahmapur can show the way for many other neighbourhoods in Kolkata, the city witnessed something similar in 2018 also when electrical junction boxes were transformed into canvases, thanks to efforts of two organisations: Trisys of communications consultant Mudar Patherya and Kolkata Architecture Foundation (KAF) with architect Abin Chaudhuri at the helm.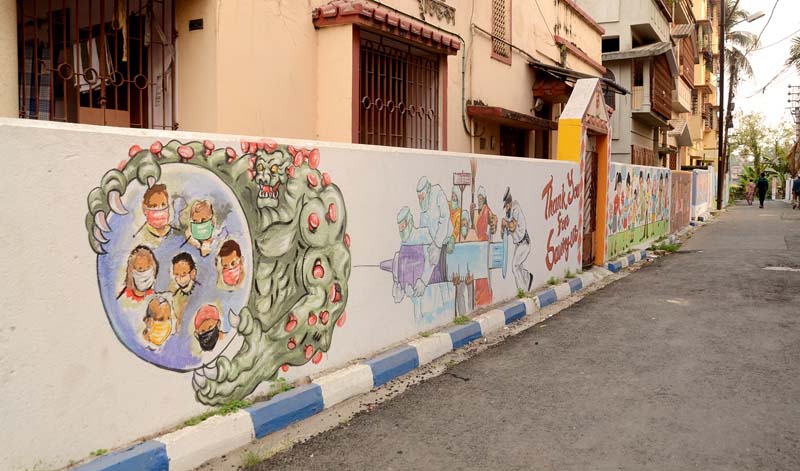 Patherya says he got permission from the Sanjiv Goenka helmed private power utility CESC to turn the boxes into street art pieces.
From Chile to France and the UK to the USA and back home in Kolkata and capital New Delhi's hipster Hauz Khas locality, street art is thriving and wooing citizens and tourists to enjoy some vibrant and thought-provoking moments while walking by.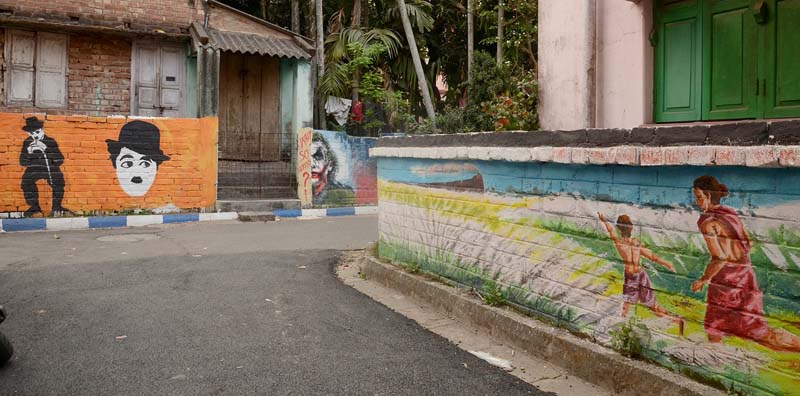 Street art in a way liberates art. It can be a tool of protest as much as entertaining, all for free. So it is natural that artists would take up not guns but paintbrushes to express their angst be when there is a terror attack on innocents or sexual harassment of women.
Walls are a-changin indeed, telling contemporary stories.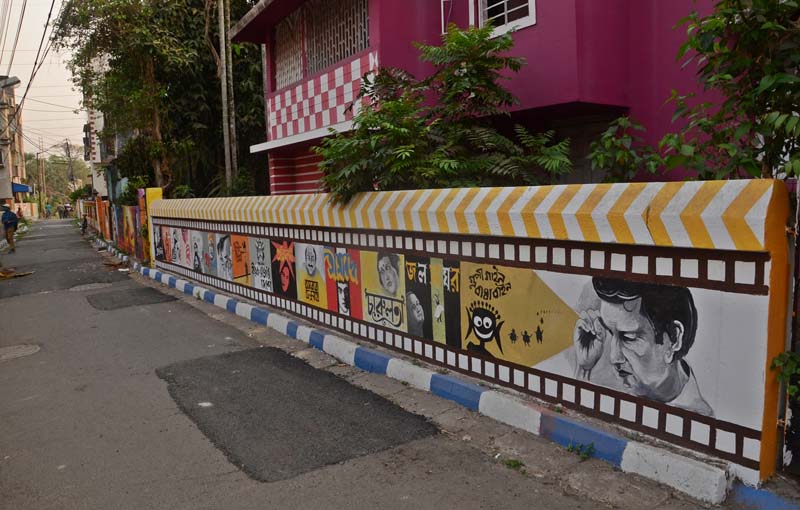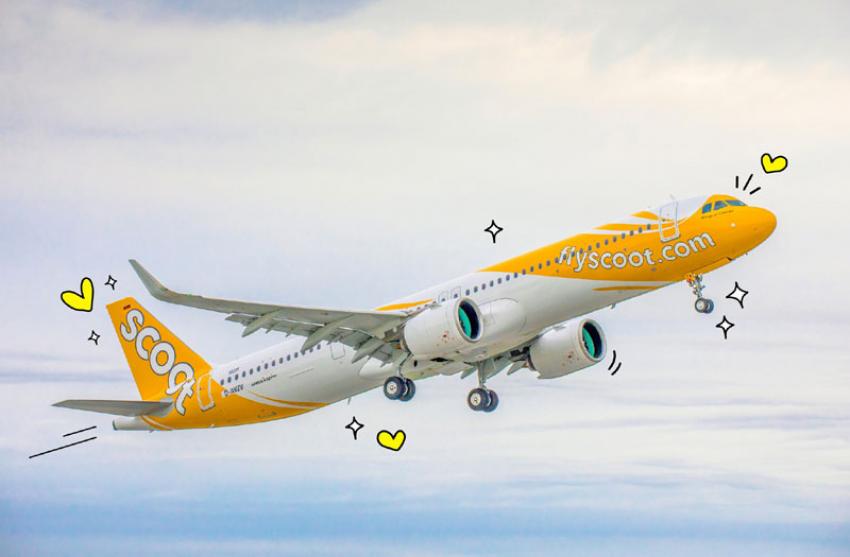 Scoot will steadily increas ...
Singapore/NITN: Scoot, the low-cost subsidiary of Singapore Airlines (SIA), announced that it will steadily resume flights to and from China buoyed by further relaxation of border restrictions imposed during the pandemic.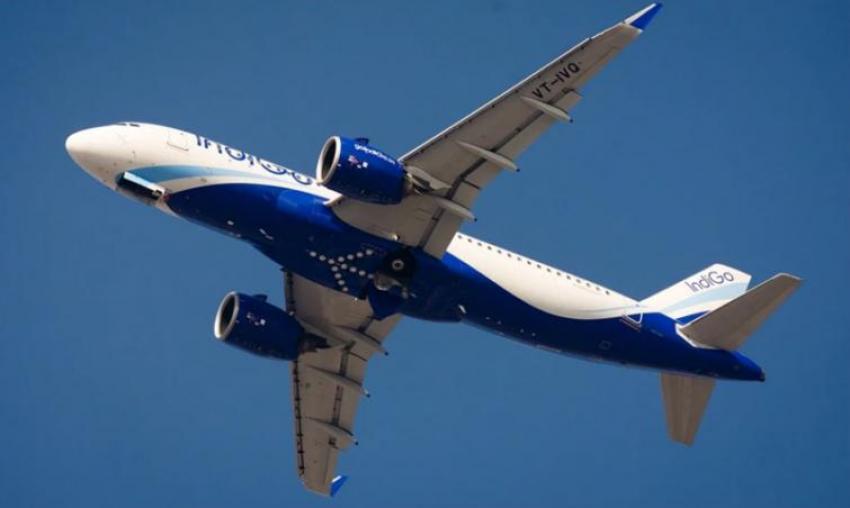 IndiGo introduces exclusive ...
Indian carrier IndiGo has announced exclusive flights between Bengaluru to Kolhapur, and connecting flights via Bengaluru from Coimbatore to Kolhapur, effective Jan 13, 2023.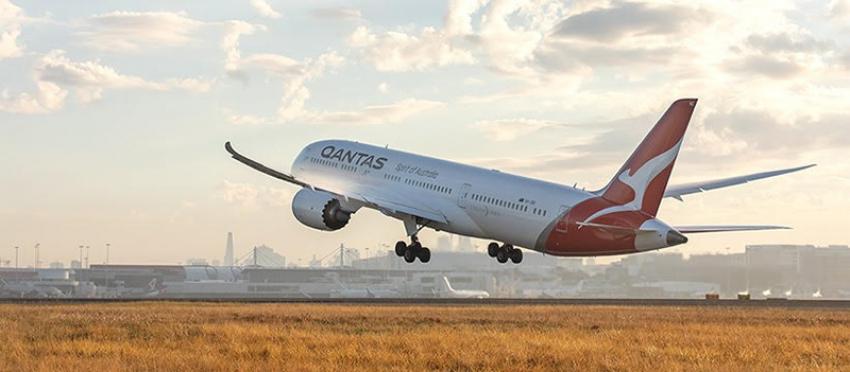 Qantas connects Australia w ...
Qantas, the national airline of Australia, created history on Sep 14 when QF 67 took off from Sydney's Kingsford International Airport to touch Bengaluru, the southern Indian city famously known as 'The Silicon Valley of The East', completing the non-stop flight in less than twelve hours.