Kolkata Litfest: A tete-a-tete with eminent translators of Hindi and Urdu literature
NITN | @notintownlive | 26 Jan 2023, 02:23 am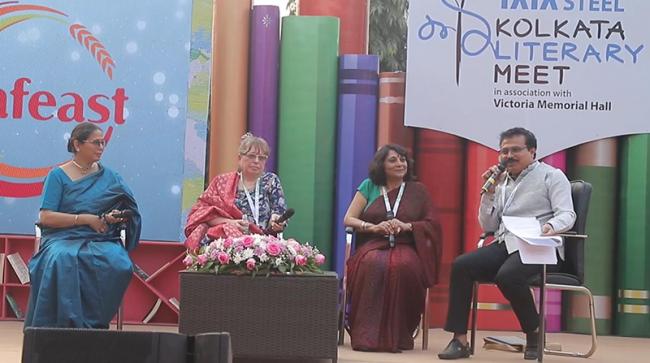 Translation
From left Baran Farooqi, Daisy Rockwell, Poonam Saxena and conversationalist Yatish Kumar at a discussion with the eminent translators of Hindi and Urdu literature into English at the Tata Steel Literary Meet 2023 in Kolkata
Author, administrative officer, litterateur and conversationalist, Yatish Kumar, conducted an hour-long lively discussion on translating from Hindi and Urdu to English with Daisy Rockwell, Baran Farooqi and Poonam Saxena during the Tata Steel Kolkata Literary Festival 2023 at the lawns of the iconic Victoria Memorial, Kolkata.
Excerpts of the conversation...
Q: Yatish Kumar: In India, if we leave aside the religious works like Ramayan, Mahabharata and Geeta, there has been very little translation of Hindi literature into other languages, whereas there has been a lot of translation of works of other languages into Hindi. So what do you feel about this and what could be the reason for this?
Poonam Saxena: Honestly, I don't really know the reason. Translation itself is becoming more visible. There are more and more translations happening now because of the interest from publishers. For a long time there was no interest in publishing Hindi literary works into English. Everybody thought nobody wanted to buy translated works as these were very boring. There was a kind of a mental block. But ever since there has been an interest in translations there has been a lot of work from Bengali and Malayalam and is getting better for Hindi.
Daisy Rockwell: It is because the publishers don't have a plan and they don't choose a particular work. It is just us translators who fall in love with a book and make a sample and submit it to the publishers. So all that gets published is the whims of the translators, the publishers don't take any initiative.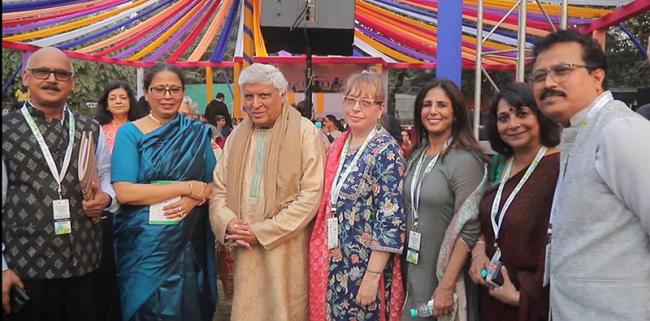 From left M K Singh, Baran Farooqi, Jawed Akhtar, Daisy Rockwell, Rachana Yadav, Poonam Saxena and Yatish Kumar at the Tata Steel Literary Meet 2023 panel discussion - Dhwani Aur Goonj Se Resonance Tak - on translators and translations of Hindi and Urdu literature into English.
Baran Farooqi: My experience is somewhat different, being in Uttar Pradesh more than 80% of the people understood and wanted Hindi only. So maybe they, the people I worked with, never felt the need for translations. Like in women's education, they never had any access to English books and were always comfortable with books in Hindi. I think there is a need for translating books into Hindi as well.
There have been a lot of translations from Hindi to Urdu and translations from Urdu to Hindi are still happening. After completing class 10, though there were books available in English, I chose to shift to a Hindi medium school because the text books in Hindi gave us a lot of clarity which the English books did not.
Q: Yatish Kumar: Translators are just like writers except they are really nice!
Daisy: Someone said that to me and I feel that it is true.
Farooqi: Well! The writers write and forget but we translators stay awake till late thinking; get sudden realisations of 'this is perhaps' what the author is trying to convey. When editors cannot read a particular language they have to rely on the translation and translators only. Translators have to contextualise a lot so writing a proper introduction often sets the stage for something memorable.
Poonam: Though the translator may have gone through each line of a book hundreds of times, people would still often say that the translation has failed to catch the spirit and the sense of the original work.
Q Yatish Kumar: Earlier the names of the translators used to be somewhere inside the book. Publishers used to hesitate to put out the name of the translator prominently. But nowadays the names of the translators are prominently displayed. Even the remuneration is more. Ageye (Sachchidananda Hirananda Vatsyayan, who was a writer-poet-translator and literary critic, was popularly known by his pen name Agyeya) had started doing translations post 1950s and earned a lot more than what he got from his own pennings.
Farooqui: When my father (Shamshur Rahman Farooqi) got his Urdu novel into English The Mirror of Beauty through Penguin, he got a much better remuneration for it than what he got from Urdu.
Q Yatish Kumar: How do translators tackle the muhawaras or metaphors which is a tough task for translators. So, while translating, how do you handle it, keep alive the spirit and soul of the original work?
Poonam: There can be no direct translations of muhawaras (Hindi idioms) for example if you say in Hindi `gadha kahin ka' - it cannot be explained away as `donkey from somewhere'. So you have to try and get an equivalent English term or phrase or selection of words to express the idea appropriately.
You have to familiarise yourself with the text very deeply, read it repeatedly, also we need to know about the writer too. His or her life, relationships, experiences and so on especially so in cases where the writer is no longer alive and cannot answer our queries. So you have to find your way in the darkness somehow.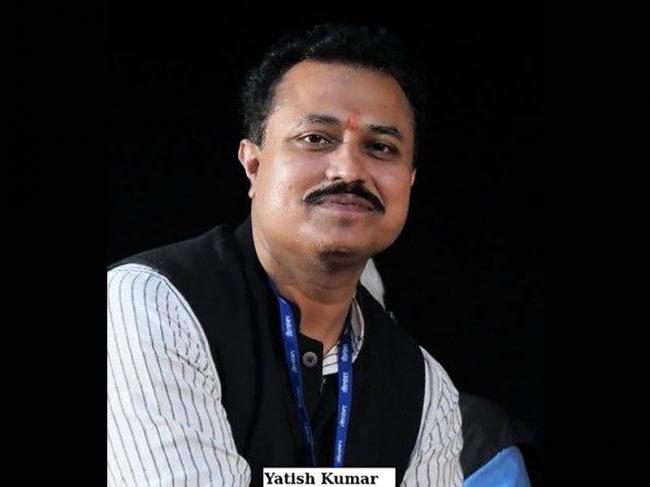 Yatish Kumar
Farooqi: Well even if the authors were alive they would have said `Oh I have forgotten' or `I shall tell you'.
Daisy: I have asked questions and the authors did not know the answer because most of the authors write instinctively and are not thinking about the nitpicky things. One thing I worry about a lot is you know the way that different words are divided up in the languages. Often after translating drafts after drafts you wake up at night panicking that a word could mean either `a smile' or `laugh'.
Farooqi: Translating poetry is far more difficult than prose. When there are many translations of a work, like in the case of Faiz Ahmad Faiz, a translator can get away with ambiguities. I say, in today's world the translators have finally got some licence to be able to say things like we would call `jigar' (liver) as heart only while translating. There is a rehabilitation of our culture happening so the meanings and analogies in our culture (in English) so we use terms boldly.
Daisy: Translation is very solitary. I was approached by Penguin to translate Bhism Sahani's Tamas and also his daughter wanted it to be redone. While translating, it was like a conversation with two other works. While Ratan's translation had left out chunks, Bhishm Sahani himself had a very flowery Victorian old-generation writing style in English. Whereas, his original work was written in a very direct and simple language.
What I loved about being the third translator is that I loved having the other books with me. It's like having a group, they were by my side and I would yell at them and say you did so stupid with certain things; sometimes they knew things I did not have the insights.
Poonam: For translators, it is often very difficult to get the right title for a book. While translating Gunahon ka Devta in English, I and our editors wrapped our heads around to get the right title. I finally decided to call it Chander and Sudha because at the very core of the novel was the doomed love story of Chander and Sudha. So it was like Romeo and Juliet. But I wish we could have retained the Hindi title for the English book as well.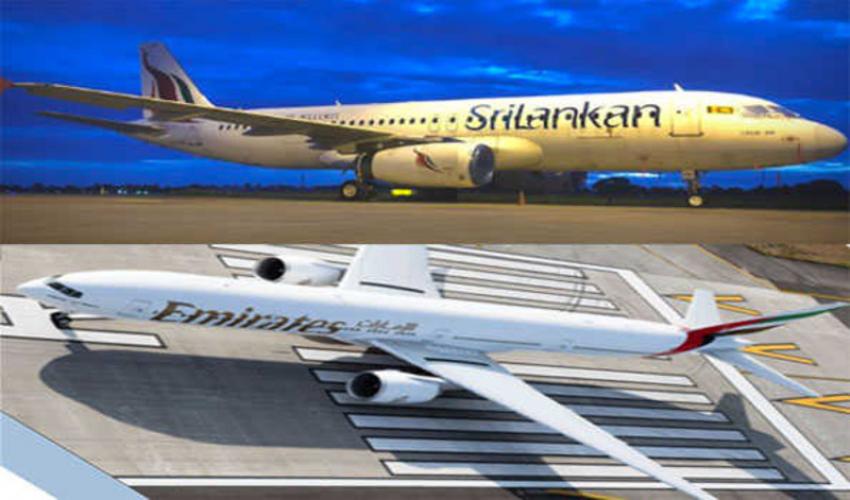 SriLankan Airlines, Emirate ...
Colombo/UNI: SriLankan Airlines and Emirates have entered into a reciprocal interline agreement aimed at bolstering connectivity for travelers.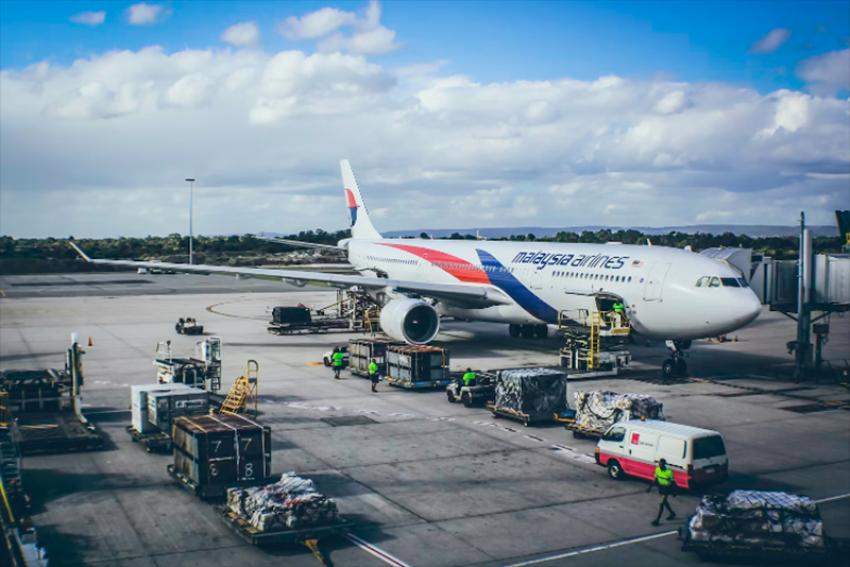 Malaysia Airlines introduce ...
Kuala Lumpur/NITN: Malaysia Airlines is offering introductory fares on their three new services between Kuala Lumpur and the Indian cities of Amritsar, Thiruvananthapuram and Ahmedabad.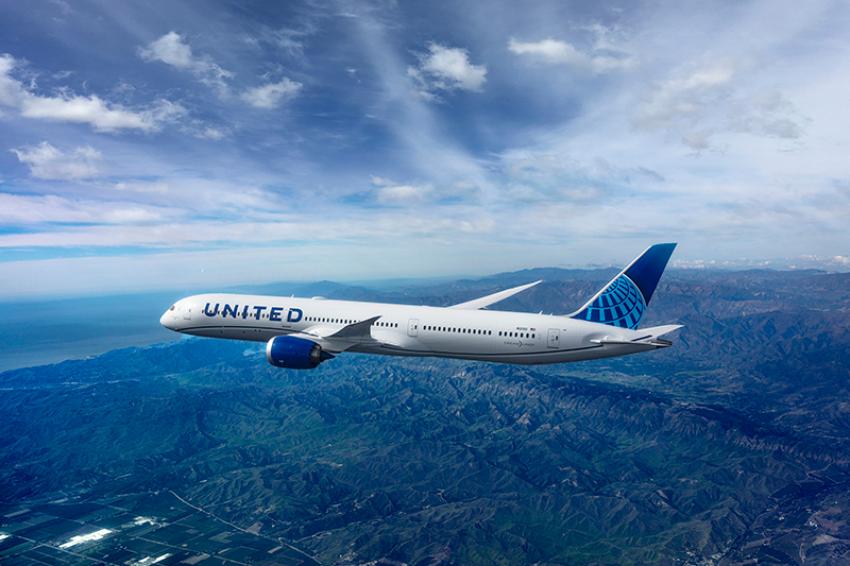 United Airlines increases n ...
New Delhi: United Airlines has announced an increase in service between New Delhi and New York/Newark, with a doubling of flights from once to twice daily during the winter season 2023/24.